Major market indexes plumbed to fresh lows in this 2022 Bear Market this past week. The S&P 500 closed the week at 3,585.62, well below its June low at 3,636.87, while the Dow ended the week at 28,725.51, well below its 29,653.29 June low. The NASDAQ Composite and small-cap Russell 2000 Indexes remain slightly above their own June lows with the NASDAQ ending the week a mere 1/10 of one percent above its 10,565.14 June low.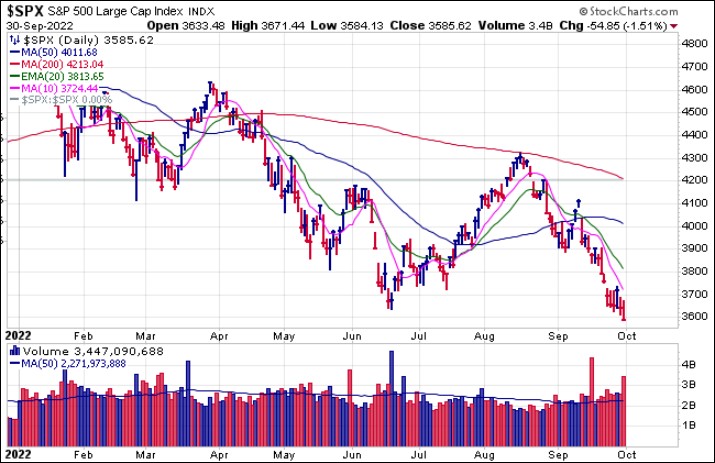 A mid-week rally attempt after the Bank of England announced it was restarting QE bond purchases in order to stave off chaos in its currency and bond market failed immediately on Thursday. The Bank of England was responding to the imminent danger that UK pension funds found themselves in if Gilt (the UK equivalent of U.S. Treasuries) yields were allowed to push higher into the 7-8% range. In our view this highlights the potential for unintended consequences as central banks inflect away from their previous QE-forever policies and begin raising rates. With so much leverage in the system the potential for triggering market dislocations rises given how thinly stretched the Everything Bubble was allowed to become by reckless central bank policies in 2020-2021.
Celsius Holdings (CELH)
has been a Punchbowl of Death (POD) short-sale set-up since it failed five weeks ago at a prior breakout point and then confirmed by breaching the 20-dema shortly thereafter. Subsequent rallies into and around the prior breakout point at 110.22, the 10-dma, and the 20-dema offered short-sale entries two weeks ago followed by a short-sale entry on a break below the 50-day moving average seven days ago on the chart below. On Friday one small rally into the 10-dma offered another short-sale entry and the stock closed negative on the day. Rallies back up into the 10-dma, 20-dema, or even the 50-dma would bring the stock into much more optimal short-sale range and can be watched for.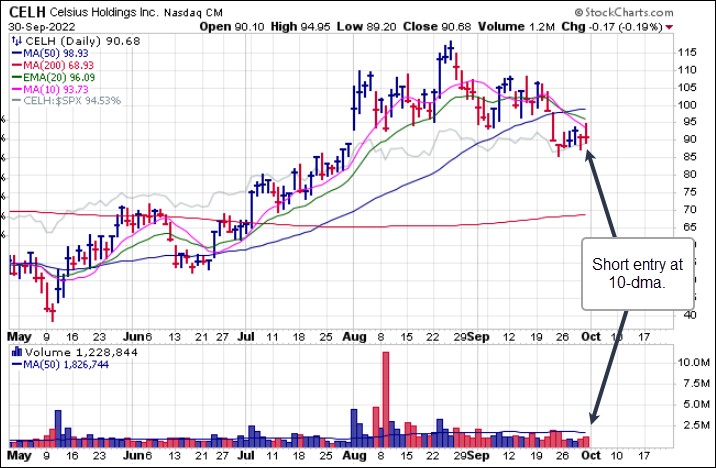 First Solar (FSLR)
is the last man standing among a solar stock group that is breaking down in broad fashion. If the group remains weak as names like Enphase (ENPH)
, Sunrun (RUN)
, and
SunPower (SPWR)
, among others continue to trend lower after recent base failures, then expect FSLR to follow suit. We would watch for any break below the 20-dema as a short-sale entry trigger from here using the 20-dema as a covering guide.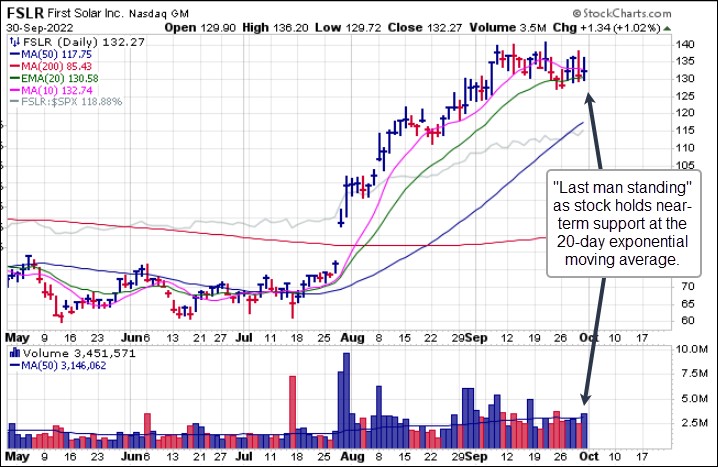 Lithium producers
Albemarle (ALB),
Lithium Americas (LAC)
,
Livent Corp. (LTHM)
,
Piedmont Lithium (PLL)
, and
Sigma Lithium (SGML)
are mostly in short-sale entry positions with SGML being the only exception. It rallied back above its 10-dma on Friday but can be watched for any reversal back below the line as a possible short-sale entry trigger. The other four are near short-sale entries as follows: ALB at the 50-dma, LAC at the 200-dma, LTHM at the 20-dema, and PLL at the 200-dma and 50-dma. In each case one would prefer to short as close as possible to the moving average referenced at which point the referenced moving average is used as a tight covering guide.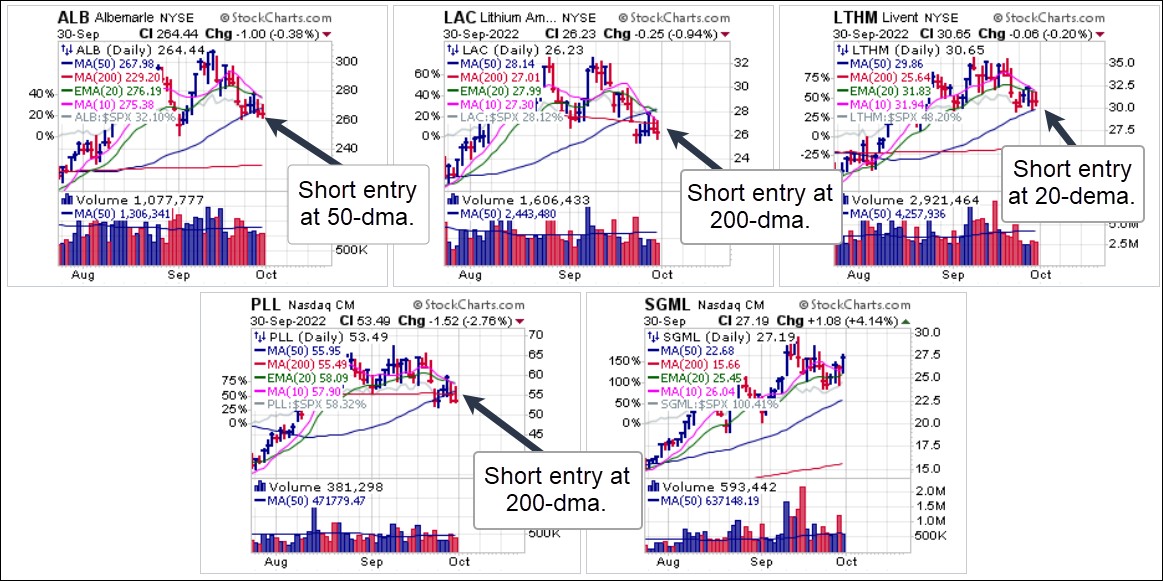 The
Market Direction Model (MDM)
remains on a
SELL
signal.