Current Focus List

The VoSI Focus List is a compilation and reference list of stocks for which Pocket Pivot or Buyable Gap-Up Reports have been issued and which have been deemed suitable for inclusion on the Focus List. Not all stocks for which a Pocket Pivot or Buyable Gap-Up report has been issued will necessarily be added to the list. It is not intended as a "buy list" or a list of immediately actionable recommendations. Stocks on the list may or may not be in proper buy positions, and investors should exercise discretion and proper judgement in determining when and where stocks on the Focus List can be purchased. The following notes are intended to assist in this process. Please note that members can enlarge the Focus List image by clicking on the body of the email and then holding the Control Key while pressing the "+" key until it is large enough to read.
General Observations:
Major market indexes suddenly found their world getting rocked on Thursday as a broad sell-off came out of nowhere. Leading stocks were hit hard, with numerous failed breakouts and failures at near-term showing up suddenly in names that were otherwise acting well as of Wednesday's close when the
NASDAQ Composite
and
S&P 500 Indexes
both logged all-time highs. The selling continued into early Friday before some leading names attempted to rally from oversold positions deep within their chart patterns. This occurred as the NASDAQ Composite found support at and bounced off its 50-dma. Whether this is the start of a deeper correction or just another 2- to 4-day sell-off that the market shrugs off and then turns back to the upside remains to be seen. Stick to your selling guides and be prepared to move with the market as near-term volatility and uncertainty sets in.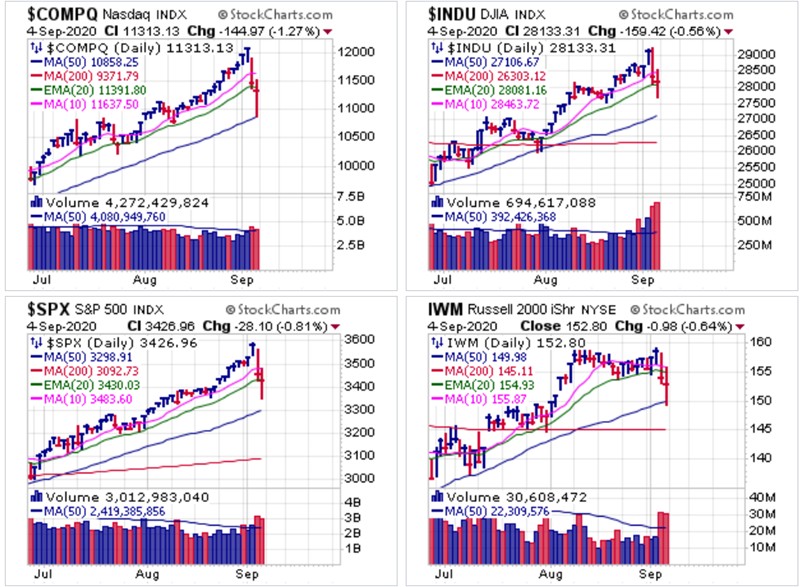 The
Market Direction Model (MDM)
remains on a
BUY
signal. See below for further discussion as 500 years of historical cycles serve as a worthwhile guide.
Focus List Stocks Expected to Report Earnings this Week:
Lululemon Athletica (LULU)
on Tuesday after the close.
Notable Action:
The proverbial apple cart was upset this week for a number of big-stock alt-currency NASDAQ names on the Focus List. In each case sharp sell-offs eventually found support deep down in their patterns on Friday. The situation with these names remains unclear, and we would watch for selling guides to be triggered based on the Seven-Week Rule. In each of the four names below we can see that the 50-dma would serve as your maximum selling guide if one has held a position from much lower in the patterns. A number of stocks have produced sizeable profits by adhering to this rule over the last few months. As concerns leading stocks and major indices, QE remains at full mast so if history is any guide, stocks, precious metals, and hard assets should continue to rise, albeit in a sloppy uptrend at times, as fiat currencies debase. The brief strength in the dollar is likely a dead cat bounce though other major currencies such as the euro and pound are also being debased. Fiat's race to "zero" is afoot.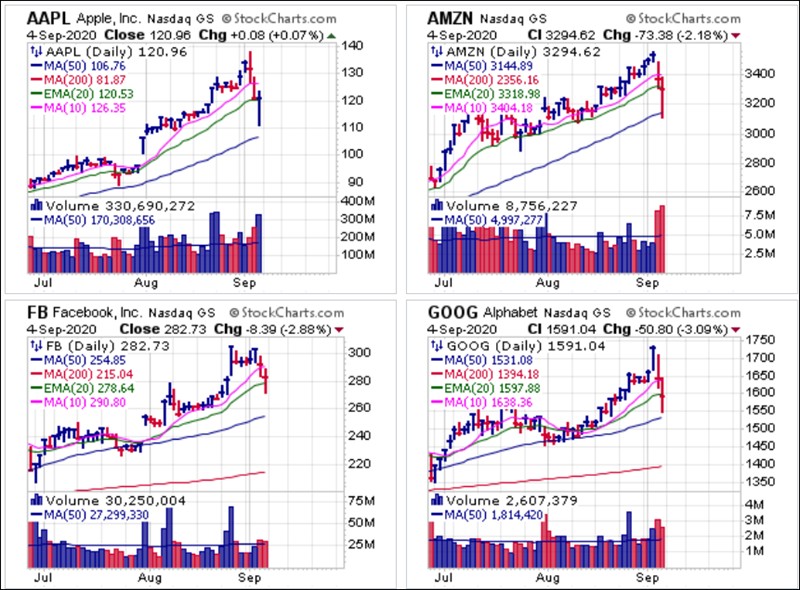 Precious metals continue to base. The
Sprott Physical Gold Trust (PHYS)
and the
Sprott Physical Silver Trust (PSLV)
sit in four-week consolidations following their sharp moves in July into early August. Watch for support along the 50-dma for the
PHYS
and the 20-dema for the
PSLV
. Silver, which tends to be more volatile than gold, may experience a deeper pullback if, and we emphasis "if," stocks sell-off further as they did in March when the metals were dragged down as well. For now, the
PHYS
and
PSLV
continue to base as we await the next optimal entry points to appear.

Bitcoin and therefore the
Grayscale Bitcoin Trust (GBTC)
is even more volatile than precious metals as an alternative-currency, and that has suddenly shown up in a breach of the 50-dma and the top of the prior consolidation. Note how Friday's pullback shook out through the 50-dma and closed above the line after pushing deep into the prior base. the move from mid-July into early August corresponded to the move in precious metals, but
GBTC
has now lost its technical coherency. While the undercut & rally (U&R) entry along the lows in mid-July is still in force, the current volatility has thrown a monkey wrench into any entry possibilities in the near-term at these higher levels vs. mid-July.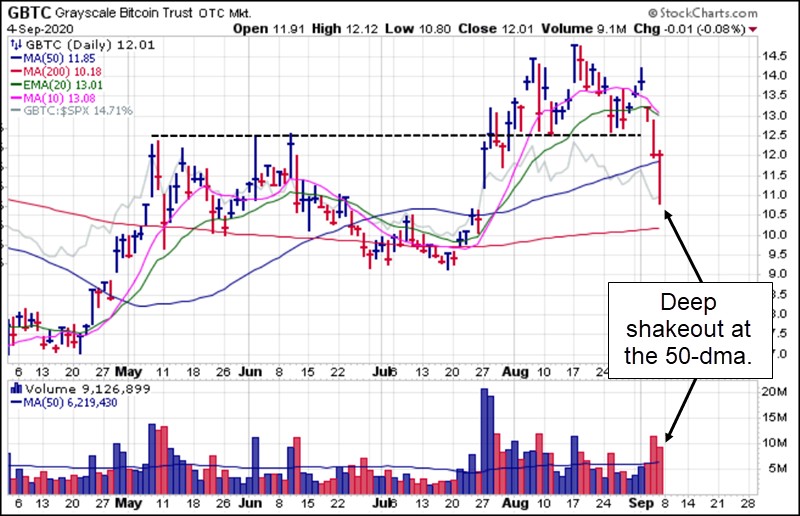 The monthly chart of bitcoin itself shows the current correction is a normal occurrence based on its long term price history. Odds greatly favor eventual higher prices as all blockchain tailwinds that have been discussed in prior reports remain in force. In the meantime, it would not be unusual for bitcoin to correct further as 30%+ corrections from peak during bitcoin bull markets is standard.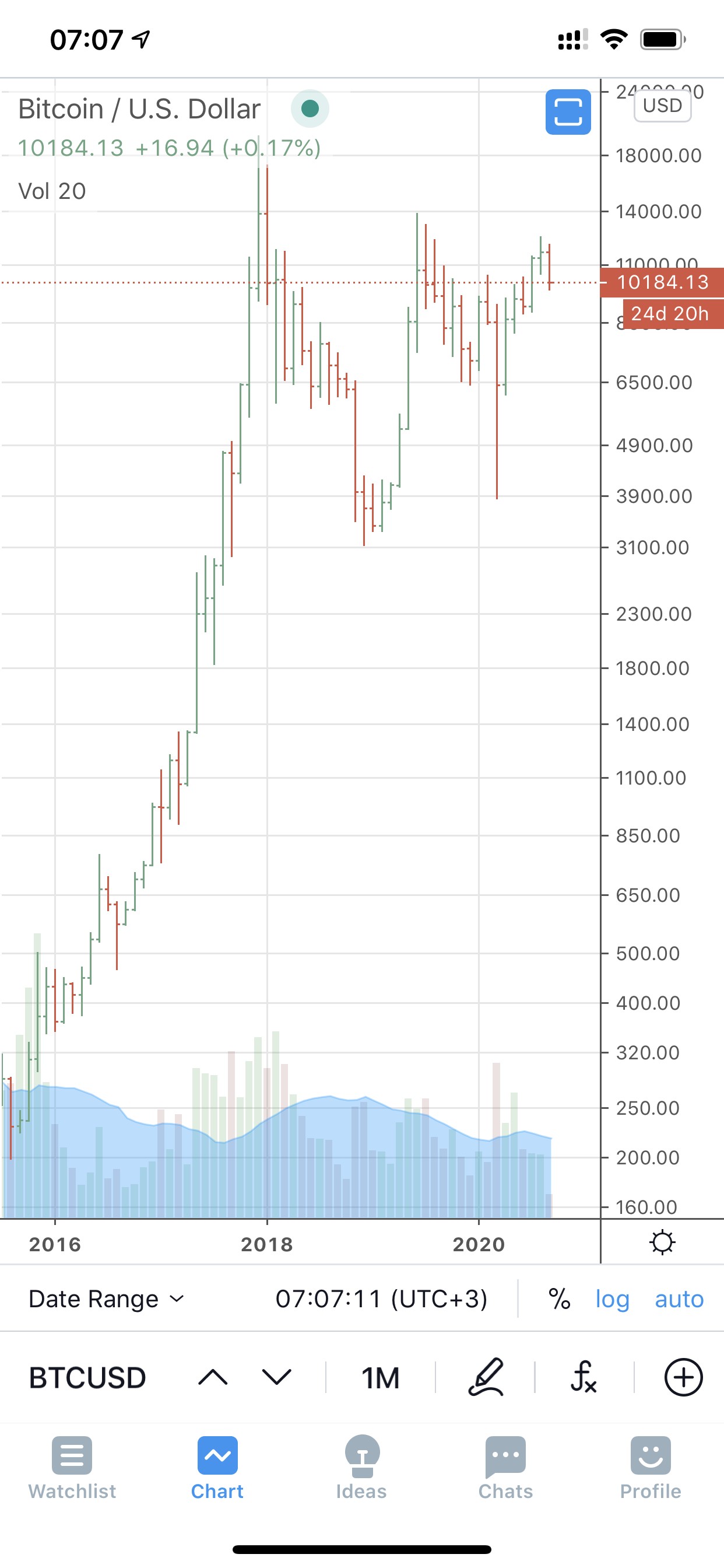 Ethereum is also just getting started as numerous real use cases emerge in the blockchain space. The current correction seems steep on a daily chart but the monthly shown below puts it into perspective.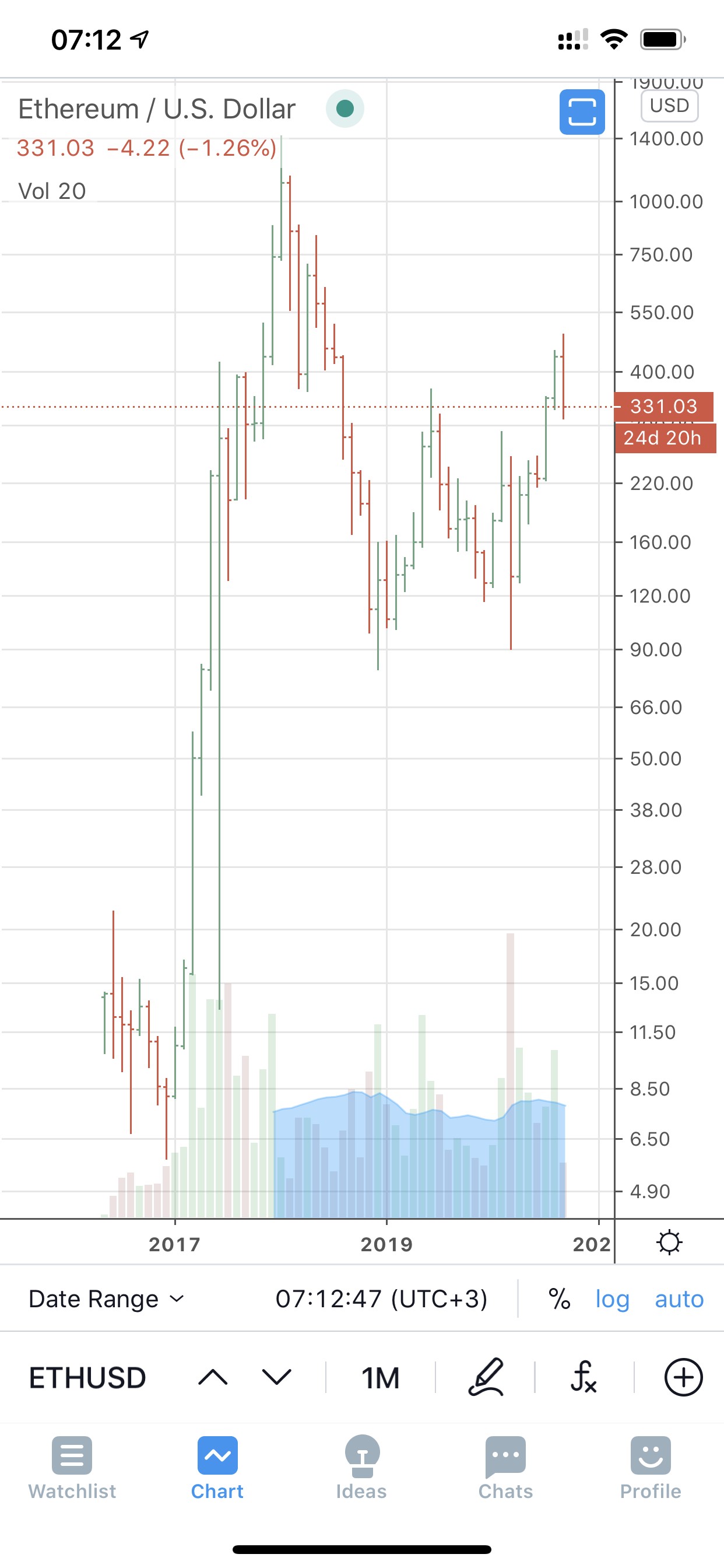 The Grayscale ethereum ETN ETHE shows its premium is near 12 month lows thus once ethereum itself finishes its correction and starts higher once again, ETHE should greatly benefit as it tends to swing to extremes in both directions relative to the price action of ethereum.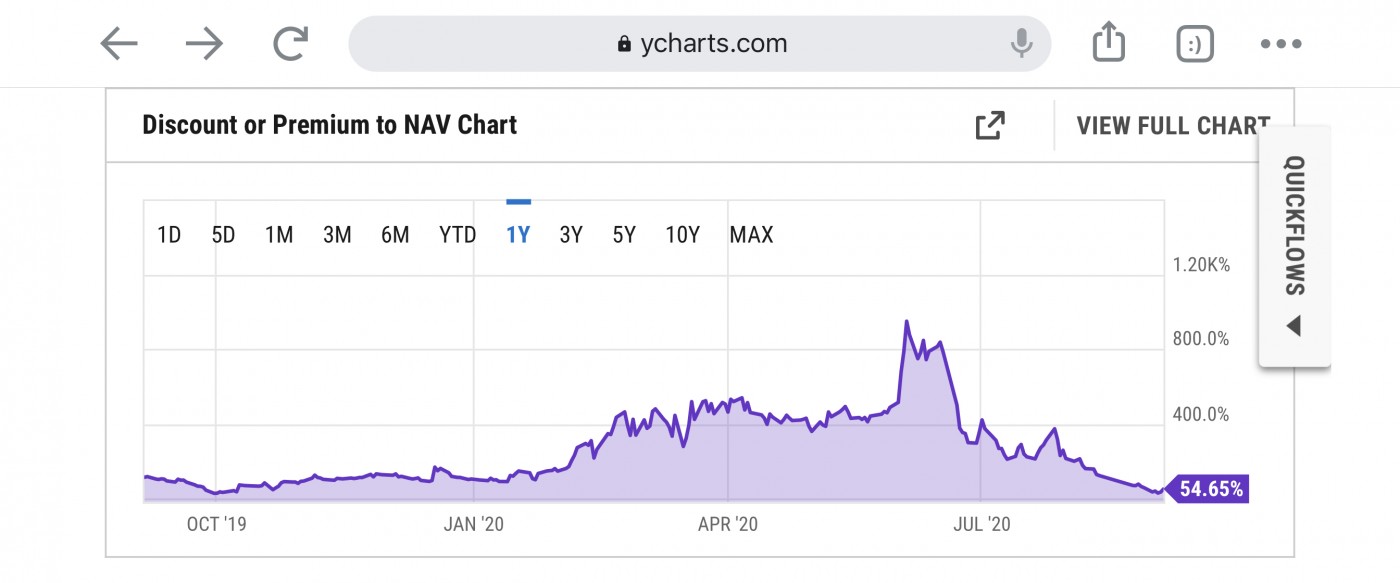 Cryptocurrencies tend to correct far more than ethereum but also keep in mind the best ones tend to vault higher by a few hundred percent or more in just weeks so a 50% correction is also standard during corrections before the dust clears and new highs are made once again. As one of many examples, here is a monthly chart of Chainlink (LINK):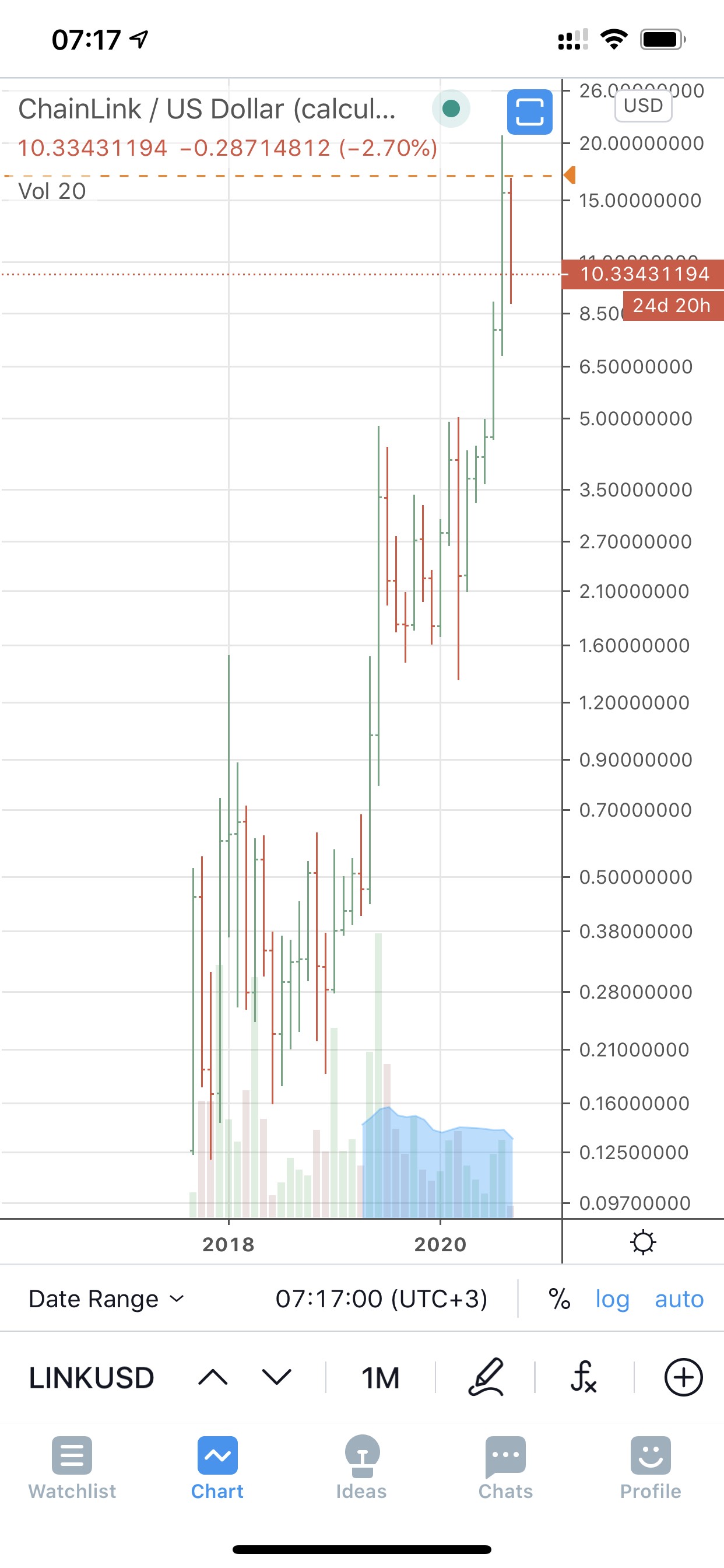 Naturally, given levels of volatility that stands at least an order of magnitude greater than seen in stocks, one must keep their position sizing in context with their risk tolerance levels. 97% of traders end up losing money in cryptocurrencies because they cannot deal with the sharp corrections along the way. Greed ends up pushing them into names far too late then fear ends up pushing them out, often at steep losses. The huge swings in price shown in the y-axis above shows how greed and fear are massively amplified when it comes to trading cryptocurrencies.
Here is a monthly chart of the king of decentralized finance, Aave (LEND). With cryptocurrencies, a low price has nothing to do with a company's fundamental and technical strength. Market cap is far more important.