Current Report Watch List

The VoSI Report Watch List is a compilation and reference list of stocks for which Pocket Pivot or Buyable Gap-Up Reports have been issued. It is not intended as a "buy list" or a list of immediately actionable recommendations. Stocks on the List may or may not be in proper buy positions, and investors should exercise discretion and proper judgement in determining when and where stocks on the List can be purchased. The following notes are intended to assist in this process. Please note that members can enlarge the List image by clicking on the body of the email and then holding the Control Key while pressing the "+" key until it is large enough to read.
General Observations:
The major market indexes ended a volatile week roughly where they started as economic and trade news sent the index breaking hard early in the week. Tuesday's gap-down move recovered off the intraday lows as it undercut a prior November low and rallied (a typical U&R move) back to the upside into the end of the week as volume tapered off. The strong jobs number on Friday ensures that the Fed will do nothing when it meets this week while mouthing the usual policy stance that they have "done their job" but stand ready to "adjust" policy in order to maintain economic growth as the government measures it. Despite the strong index gains, the action among individual stocks remains sloppy and mixed.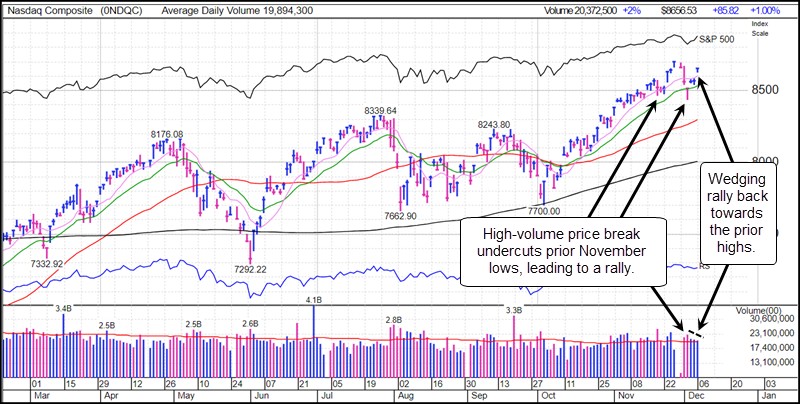 The
Market Direction Model (MDM)
remains on a buy signal. With global recession an ongoing threat and the trade talks at yet another impasse, expect QE to increase while interest rates drive lower. Japan launched its biggest fiscal package in three years hoping to lift its economy as it has been hit by the Chinese slowdown as well as its own trade war with South Korea. Hard assets, stocks, precious metals, and bitcoin are beneficiaries thus expect them to remain on overall bullish trends while susceptible to the correction within the context of an overall bull market.
Among names on the Report Watch List, we note that
Alphabet (GOOG)
,
Apple (AAPL)
, and
Lululemon Athletica (LULU)
all posted all-time highs this week.
We reported on several new names this past week, including
Activision Blizzard (ATVI)
which posted a pocket pivot at the confluence of its 10-dma, 20-dema, and 50-dma on Thursday. It is actionable here, but pullbacks to the moving averages would offer slightly lower-risk entries.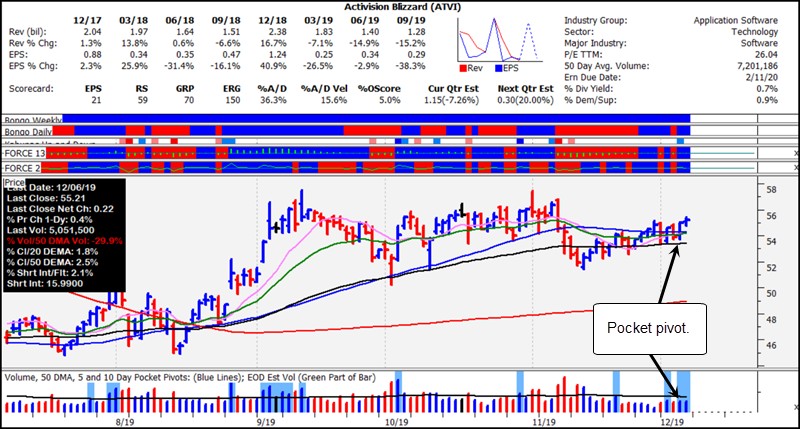 Adaptive Bio-technologies (ADPT)
was another new report after posting a bottom-fishing pocket pivot (BFPP) along its 10-dma, 20-dema, and 50-dma on Thursday. That ran into resistance at the black 65-day exponential moving-average on Friday. This brings it back into the moving averages where an entry carries lower risk if one uses the moving averages as tight selling guides. ADPT is a recent IPO that had a small move after it came public. That move ended in early September and the stock trended down below the $25 price level. It is trying to build a bottom in here, and the first signs would be bottom-fishing pocket pivots along the lows. Selling guides should be kept tight here since the current pattern can also be interpreted as a bear flag, so if the BFPP fails one should exit quickly.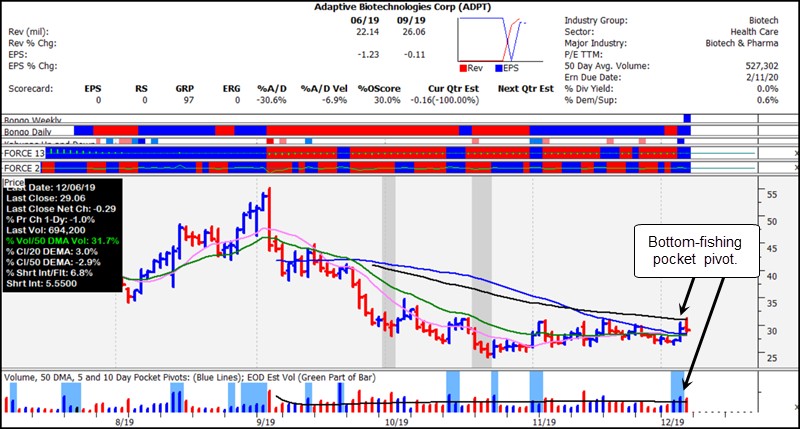 Agnico-Eagle Mines (AEM)
was reported on this past week after it posted a buyable gap-up move on Tuesday. That move was holding tight until the jobs number came out on Friday. Strong economic data is viewed as a negative for precious metals and therefore also the miners and other precious metals-related stocks. While the news was negative for gold and silver on Friday, it is not clear whether it is a one-off or whether the market will begin anticipating a stronger economy going forward. Thus, AEM should be watched closely as it pulls into support at the 10-dma and 20-dema while also filling the prior gap. We also note that
Franco-Nevada (FNV)
, not shown, which owns gold production streams rather than mining the stuff itself, has also pulled down into the lows of its current base as it approaches the 50-dma.
Crocs (CROX)
posted five-day pocket pivots on both Tuesday and Wednesday of this past week, which we reported on. We prefer to see clusters of five-day pocket pivot signatures in lieu of a single ten-day pocket pivot, so the two at the 50-dma and then the 20-dema, combined with the third one on Thursday's trend line breakout attempt would suffice. On Friday, CROX pulled back into the 10-dma and 20-dema as volume declined, bringing it into a lower-risk entry position.
Penumbra (PEN)
is dipping below its 20-dema as volume declined to less than half of normal on Friday. This brings it right back to where it posted its initial pocket pivot that we reported on not quite two weeks ago. Watch for any undercut and rally moves back through the lows of the November consolidation or the 20-dema as U&R long entry opportunities, should they occur.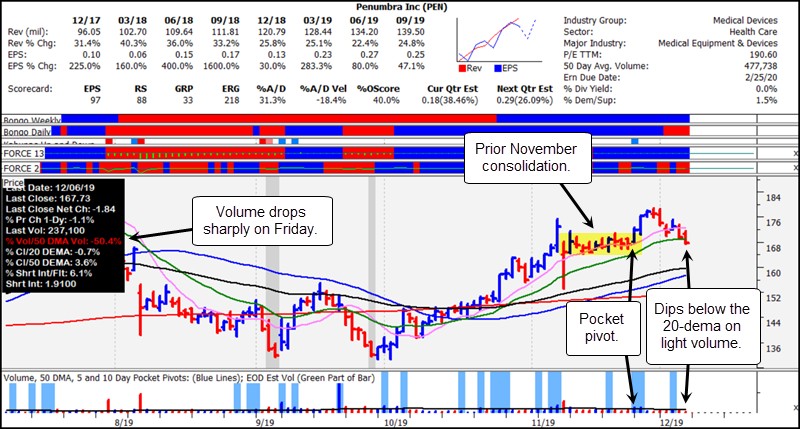 Shopify (SHOP)
illustrates the facility of maintaining an opportunistic approach where one seeks to capitalize on volatility in order to obtain the lowest-risk entries. We reported on SHOP's initial pocket pivot seven trading days ago, but at that point the stock was extended. Fear not, because the sharp pullback to the 50-dma on Monday provided opportunistic buyers with another entry chance. That led to a second pocket pivot on Tuesday that carried higher and held tight into the end of the week. Rumors that three other tech companies are interested in buying SHOP helped propel the stock higher in the middle of the week, so be be advised that any final quashing of such rumors could send the stock back to the downside. However, it was interesting to see how well the stock held up after the company stated that they are adamantly opposed to being bought out.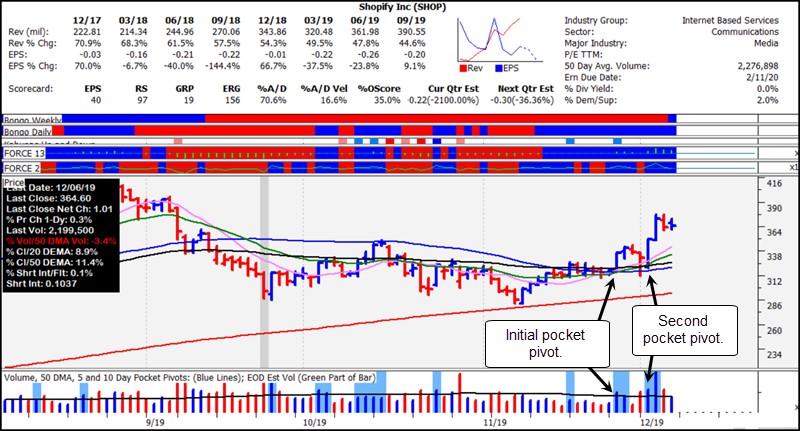 Visa (V)
posted a pocket pivot at the 10-dma on Friday, its fourth pocket pivot in the past month. Despite all the pocket pivots, V hasn't been able to muster much upside even in the face of the major market indexes making new highs. Whether this means the stock is revving up for a move higher remains to be seen, but all of the pocket pivots in the pattern remain active using either the 10-dma, 20-dema, or 50-dma as selling guides, depending one's risk preference.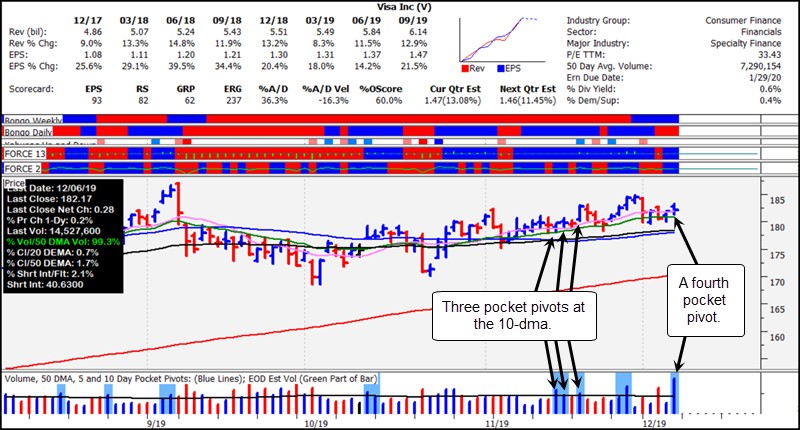 Overall, the list shows a mixed bag of action with three stocks posting new highs while the others mostly chop back and forth even while the major market indexes forge all-time highs. This is the continuation of the odd paradox driven by QE which has created such an environment. Thus, it has been easier to simply remain long the indexes per the Market Direction Model's buy signal which was issued several weeks ago.
Moving-Average Color Key:
Magenta = 10-dma, Green = 20-dema, Blue = 50-dma, and Black = 65-dema.