Current Report Watch List

The VoSI Focus List is a compilation and reference list of stocks for which Pocket Pivot or Buyable Gap-Up Reports have been issued and which have been deemed suitable for inclusion on the Focus List. Not all stocks for which a Pocket Pivot or Buyable Gap-Up report has been issued will necessarily be added to the list. It is not intended as a "buy list" or a list of immediately actionable recommendations. Stocks on the list may or may not be in proper buy positions, and investors should exercise discretion and proper judgement in determining when and where stocks on the Focus List can be purchased. The following notes are intended to assist in this process. Please note that members can enlarge the Focus List image by clicking on the body of the email and then holding the Control Key while pressing the "+" key until it is large enough to read.
General Observations:
The major market indexes remain near their recent highs as the market uptrend continues. With the indexes as extended as they are, the potential for a pullback or short-term correction is always a possibility, but it remains a matter of watching one's stocks first. After spending the first three days of the week rallying to new highs, the
NASDAQ Composite Index
pulled back in concert with the S&P 500 and the Dow as they all posted -0.4% declines on Friday's short post-Thanksgiving trading session. The uptrend remains intact.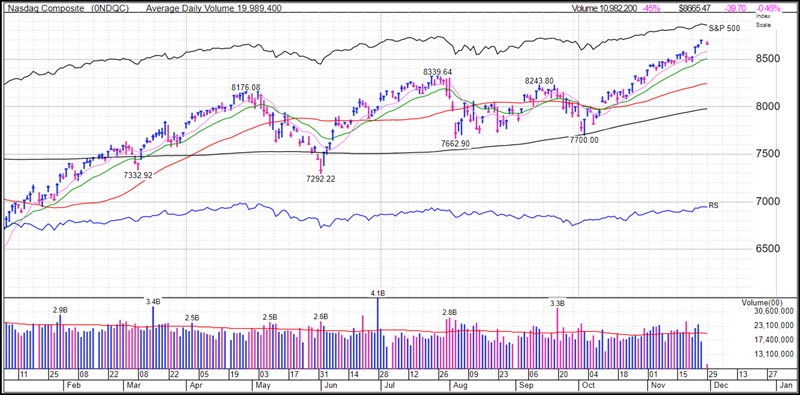 The
Market Direction Model (MDM)
remains on a buy signal. "No-QE" appears to have launched in the form of QE4 as Dr K writes in the upcoming Market Lab Report.
We reported on two new names this week,
Penumbra (PEN)
and
Shopify (SHOP)
, both of which posted pocket pivots this past week. PEN posted a pocket pivot on Monday and has continued to move higher as it approaches its July highs. We view Tuesday's pocket pivot as a cup-with-handle breakout as well. Pullbacks to the rising 10-dma would offer lower-risk entries now that the stock is near-term extended.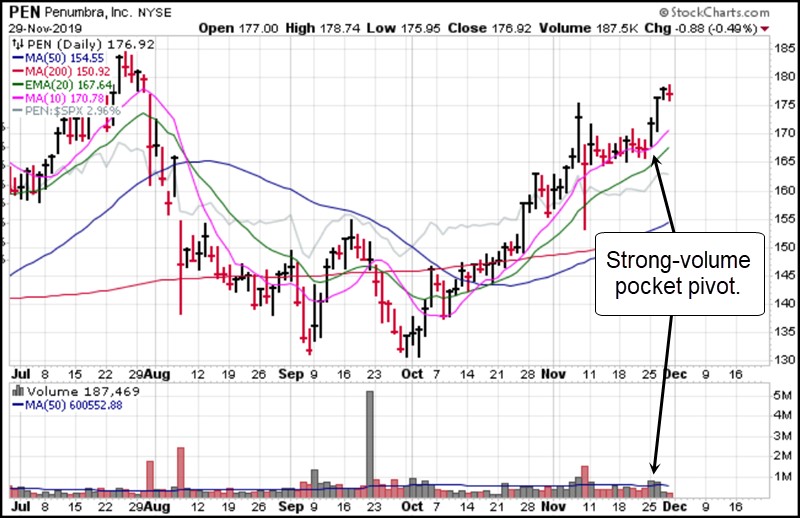 Shopify (SHOP)
meanwhile posted a big move on Tuesday that qualified as a roundabout type of pocket pivot at the confluence of the 10-dma, 20-dema, and 50-dma. Volume was heavy. The stock is near-term extended, however, so as with PEN, pullbacks to the rising 10-dma would offer lower-risk entries from here.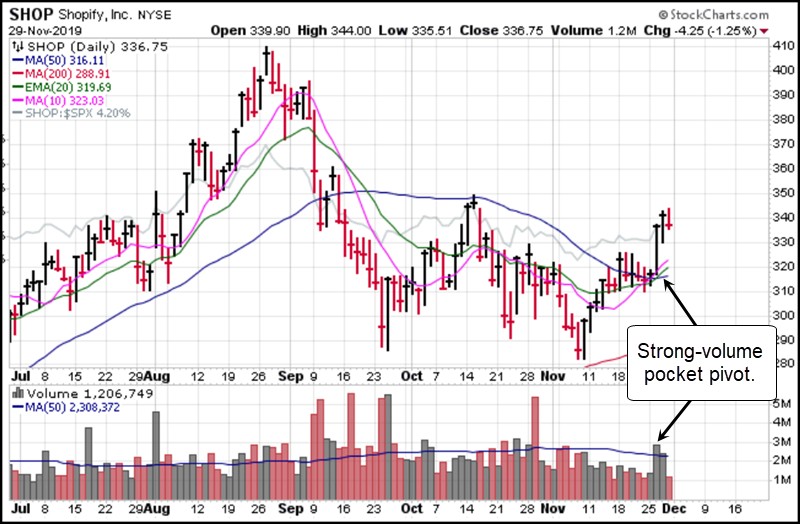 Ambarella (AMBA)
was also reported on Tuesday as a potential Buyable Gap-Up after it gapped up following Monday's after-hours earnings report. However, the stock never set a firm intraday low, hence was never actionable as a buyable gap-up. It then reversed to close in the red and is now back below its 10-dma, 20-dema, and 50-dma.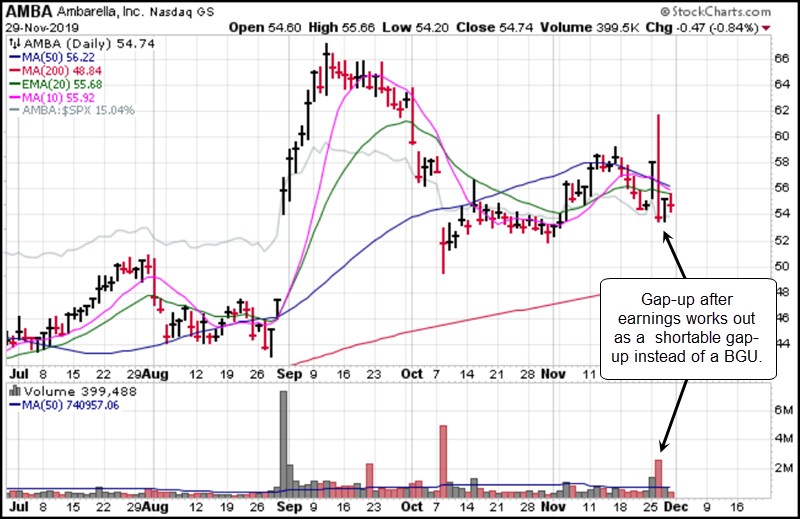 While one of the two gold-related names that were previously on our Report Watch List,
Franco-Nevada (FNV)
continues to base,
Kirkland Gold (KL)
was slammed after it announced a $3.6 billion buyout of another Canadian gold miner, Detour Gold. KL shares took a big detour as a result, gapping down through its 200-dma. As a matter of policy we advise quickly selling stocks that havea gapped down on big volume, limiting losses for anyone who bought the stock along the 50-dma based on our prior Pocket Pivot Reports. KL finally bottomed and rallied back above the 200-dma on Friday, issuing a classic Ugly Duckling long set-up known as a moving-average undercut & rally (MAU&R) that would have triggered right at the 200-dma. An alert trader who understands such Ugly Duckling set-ups (discussed in our weekly webinars and in the VooDoo Reports) might have been able to take advantage of the move. However, KL remains compromised as the market shifts out the benefits, or lack of them, of this newly announced buyout.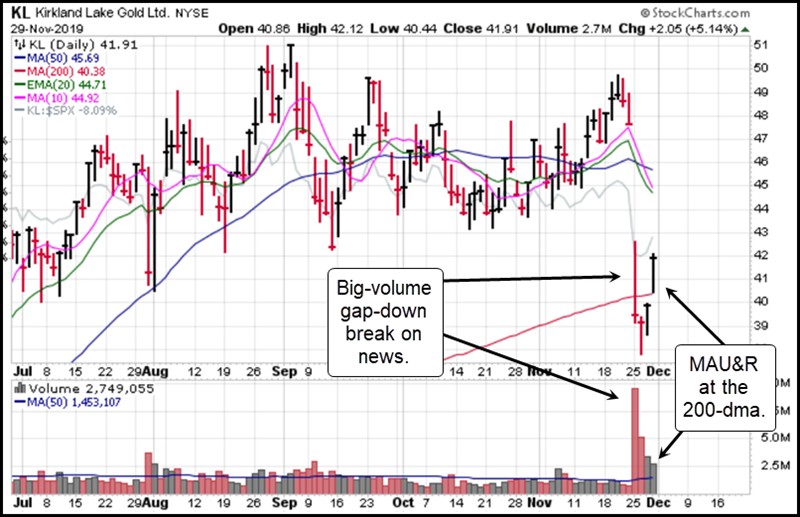 Other stocks on our Report Watch List continue to move slowly higher, and it remains a matter of taking the opportunistic approach of looking for pullbacks into 10-dmas and 20-demas as lower-risk entries when they occur. In addition to the pocket pivots we've added to our Report Watch List, Gil has also reported on three other names in recent VooDoo Reports which have posted Ugly Duckling types of set-ups off their recent lows. We would refer members to the VooDoo Report archives for these reports.