Current Focus List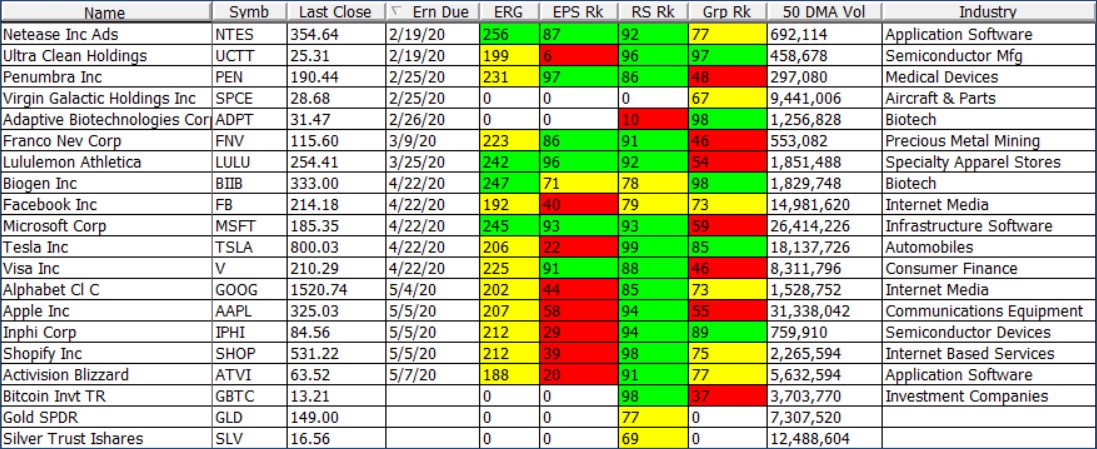 The VoSI Focus List is a compilation and reference list of stocks for which Pocket Pivot or Buyable Gap-Up Reports have been issued and which have been deemed suitable for inclusion on the Focus List. Not all stocks for which a Pocket Pivot or Buyable Gap-Up report has been issued will necessarily be added to the list. It is not intended as a "buy list" or a list of immediately actionable recommendations. Stocks on the list may or may not be in proper buy positions, and investors should exercise discretion and proper judgement in determining when and where stocks on the Focus List can be purchased. The following notes are intended to assist in this process. Please note that members can enlarge the Focus List image by clicking on the body of the email and then holding the Control Key while pressing the "+" key until it is large enough to read.
General Observations:
Despite all the negative news regarding COVID-19 (formerly known as coronavirus) the
NASDAQ Composite Index
posted an all-time closing high on Friday as it tracks tight sideways with volume declining. For now, the market uptrend remains intact, although a correction could show up at any time given the extended nature of the general market and most leading stocks.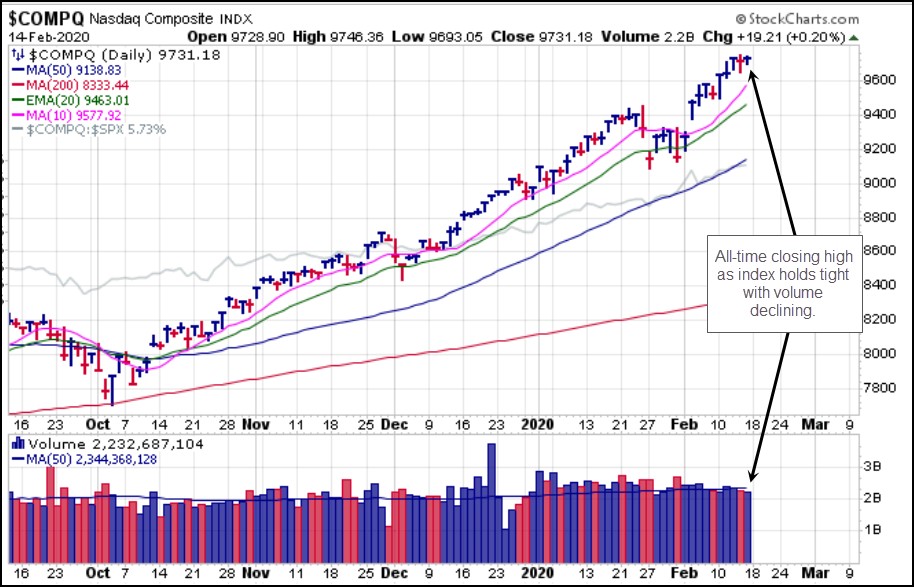 The
Market Direction Model (MDM)
remains on a
BUY
signal. Since Dec 24, 2018 when Fed Chair Jerome Powell announced the Fed would end quantitative tightening and do whatever it takes to avert a bear market, major U.S. exchanges have been trending higher with the occasional sharp pullback (always watch your stops!). The market has most recently defied the coronavirus exogenous crisis due to central banks always being at the ready to reach for their quantitative easing morphine drip. The PBOC today announced it would be providing additional stimulus to counter the hit to its economy due to the coronavirus. London markets are rallying on the news.
Removed from the List this Week:
Agnico Eagle Mines (AEM)
after missing on earnings and gapping down hard. AEM is a good example of why we never advocate playing "earnings roulette" by holding a stock through an earnings report unless and only unless one has a reasonable profit cushion, say 10% or more. Also removed was
Crocs (CROX)
.
Focus List Stocks Expected to Report Earnings this Week:
Netease (NTES)
and
Ultra Clean Holdings (UCTT)
. See list above for dates. Note that the list has been sorted by nearest Earnings Due Date first for easy reference.
Notable Action:
One didn't need to occupy themselves this past week with anything other than
Virgin Galactic Holdings (SPCE)
which we reported on as a pocket pivot breakout on Monday when the stock was trading just above $20. It ended the week at 28.68 for a 39% gain in just five days. Private space travel and space tourism is sure to be a compelling investment theme going forward, and we are pleased to have caught this one where we did. It has since gone parabolic and is quite extended on the upside as we await the next lower-risk set-up to develop on any pullback or consolidation from here. When it comes to issuing Pocket Pivot Reports, SPCE realizes our ideal of quality over quantity.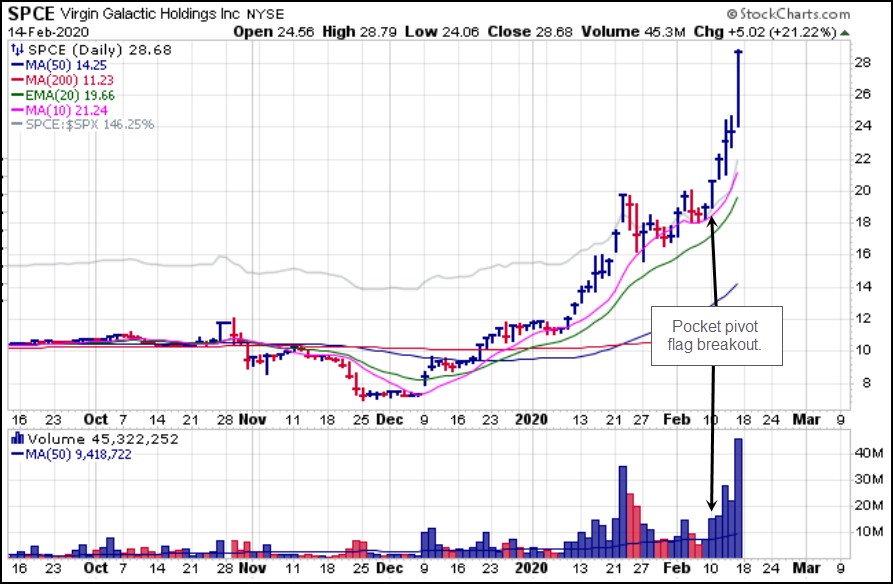 Shopify (SHOP)
has been on our list since we first reported on it as a pocket pivot down around $330 back in November of last year. Since then the stock has trended in a relatively orderly manner to all-time highs and gapped up on Wednesday after reporting earnings. That gap-up was sold into as the stock approached the $600 price level and it closed near its intraday lows. However, it continues to hold above the 529 low of Wednesday's BGU price range and so is technically still in a buyable position using the 529 price level as a tight selling guide.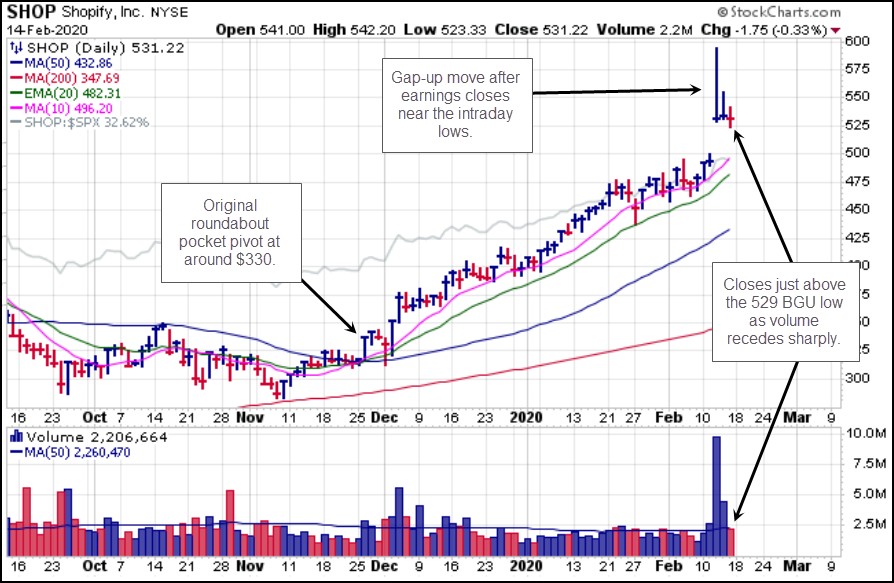 Tesla (TSLA)
offered and price a roughly 2.6 million share secondary offering worth $2 billion on Friday. The company announced the secondary on Thursday and the stock responded by rallying, which is no surprise since 2.6 million shares are not even one-sixth of the stocks 18.1 million share average daily volume, thus it was not as if the company was dumping an onerous amount of stock into the market. It was absorbed in orderly fashion on Friday as TSLA held tight at the 10-dma with volume declining. This puts the stock in a lower-risk entry position using the 10-dma as a tight selling guide.
Inphi (IPHI)
is holding support along the 10-dma. We discussed last weekend that the pullback into the 10-dma following the failed gap-up attempt after earnings could provide a lower-risk entry and so far that has been the case. IPHI has pushed a little higher as it follows the rising 10-dma and remains in a buyable position using the 20-dema as a tight selling guide.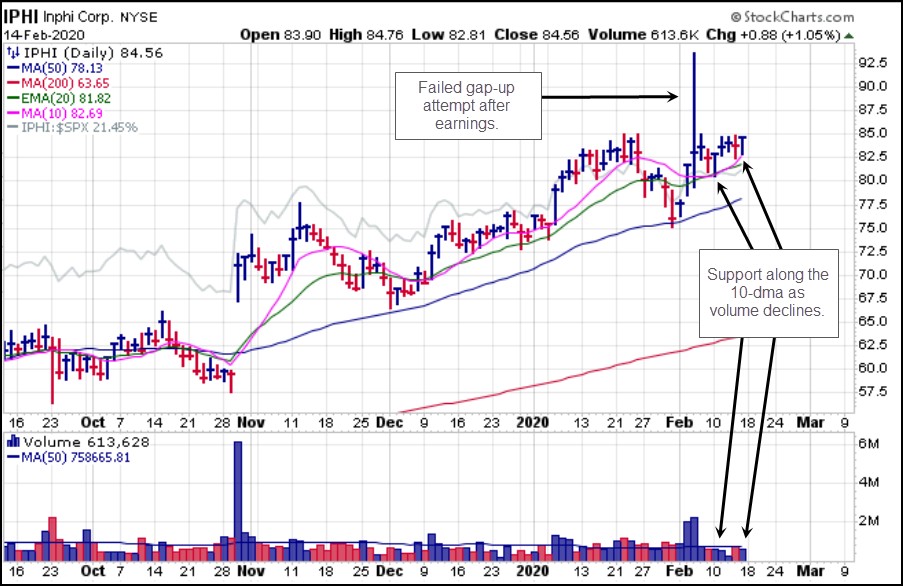 We continue to like precious metals as well as Bitcoin in the form of the Grayscale Bitcoin Trust (GBTC) ETN. We believe the Fed will eventually be forced to lower rates or resume aggressive QE measures which should be bullish for all three. Individual stock positions that continue to act well should be held until trailing stops and selling guides are triggered. As the market continues higher the risk of a pullback rises, but is certainly not assured. Meanwhile, stick with lower-risk set-ups when seeking to enter new positions or adding to existing positions. In times like these, when Black Swans lurk, thinking through a proactive defensive exit plan ahead of time is strongly advised.