Current Report Watch List

The VoSI Report Watch List is a compilation and reference list of stocks for which Pocket Pivot or Buyable Gap-Up Reports have been issued. It is not intended as a "buy list" or a list of immediately actionable recommendations. Stocks on the List may or may not be in proper buy positions, and investors should exercise discretion and proper judgement in determining when and where stocks on the List can be purchased. The following notes are intended to assist in this process. Please note that members can enlarge the List image by clicking on the body of the email and then holding the Control Key while pressing the "+" key until it is large enough to read.
General Observations:
The market made it through what can only be described as a "hairy" week as tensions between the U.S. and Iran flared up early in the week and then just as quickly settled down. The major market indexes, however, have been getting quite extended to the upside, and they ended the week on a down note. As we move into earnings season, investors may want to sit back and avoid adding to positions ahead of earnings reports. Existing positions with a reasonable profit cushion can normally be held through earnings, but in cases where a profit cushion is relatively thin, it may be more prudent to back away and avoid playing "earnings roulette."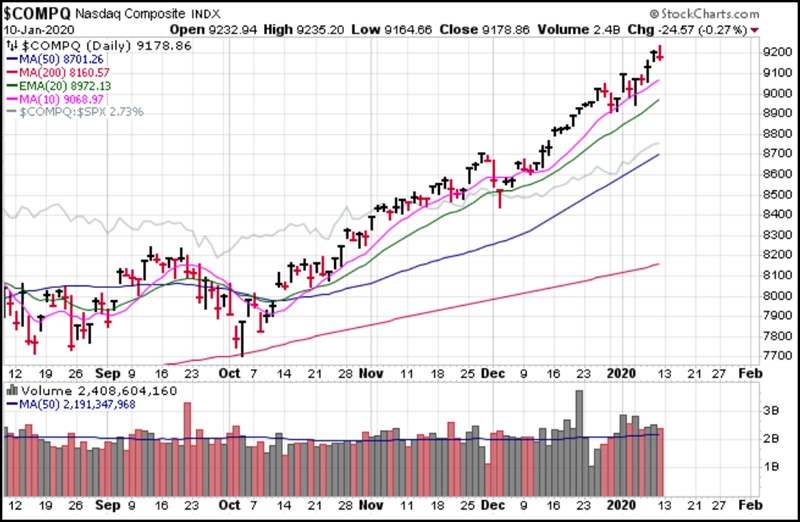 The
Market Direction Model (MDM)
remains on a buy signal.
Notable Action:
Most of the names on the Report Watch List have held up well, but in most cases the uptrends have been slow.
Tesla (TSLA)
has been one major exception with a very high-velocity move higher over recent weeks.
Apple (AAPL)
has been a slow but steady mover as it has recently cleared the $300 price level, which can be viewed as a Livermore Century Mark Buy using the $300 as a selling guide.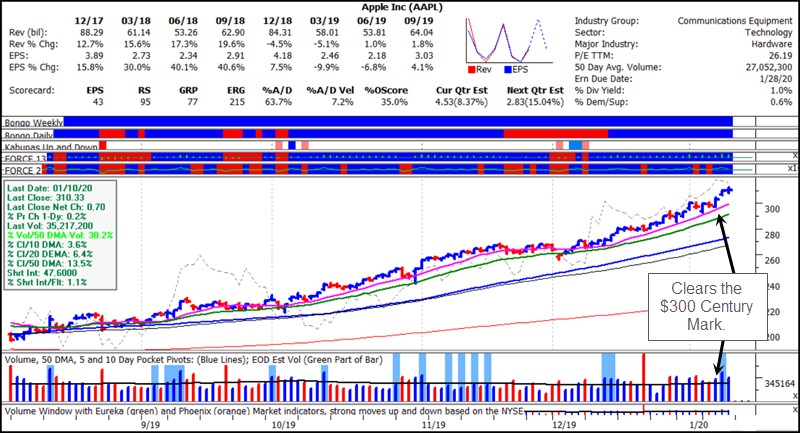 Activision Blizzard (ATVI)
has pulled into its 20-dema with volume drying up on Friday. This puts it in a lower-risk entry position using the 20-dema as a tight selling guide. Note that ATVI broke out in early December but has shown zero upside thrust following the breakout, typical of most leading stocks.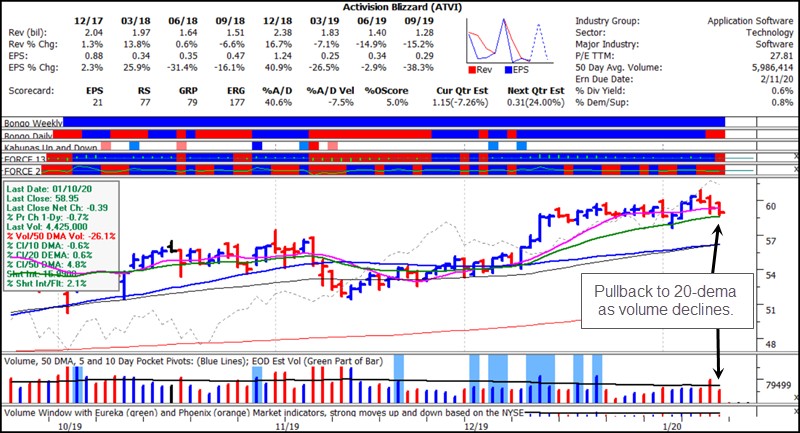 Franco-Nevada Corp. (FNV)
, which owns gold production streams and does not mine the metal itself, pulled into the top of its prior base and the $100 Century Mark on Thursday, offering buyers a lower-risk entry at that point. The stock remains in buyable range on the basis of being a Livermore Century Mark buy situation using the $100 Century Mark as a selling guide. One could also give the stock more room down to the 50-dma depending on risk-preference.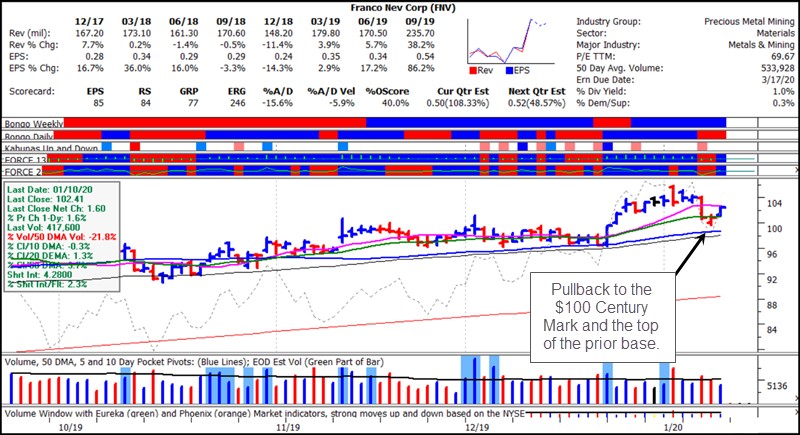 Lululemon Athletica (LULU)
is another slow grinder that is now pulling into its 10-dma as volume dried up to -41.9% below average on Friday. This puts it in a lower-risk entry position using the 10-dma or 20-dema as selling guides depending on risk preference.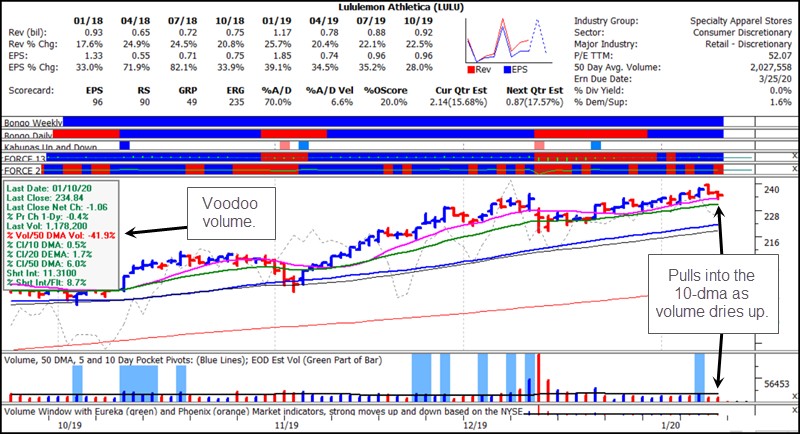 Penumbra (PEN)
recently violated its 50-dma and headed lower before finding support near the mid-December low and the 200-dma. It posted a pocket pivot on Friday which can be viewed as actionable using the 10-dma/20-dema confluence as a tight selling guide.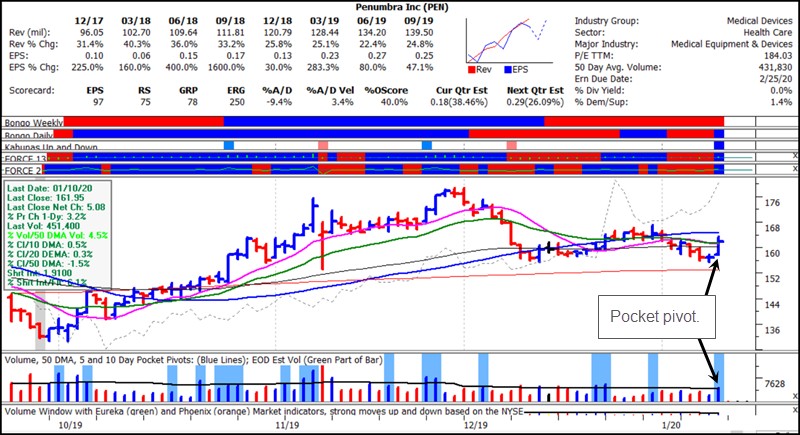 Tesla (TSLA)
is without question the monster stock of late 2019 and early 2020 as it rockets higher. The stock came within 1.20 of the $500 Century Mark on Thursday but reversed to close in the red. The question here is whether TSLA can clear the $500 Century Mark with the same kind of authority it cleared the $400 Century Mark back in mid-December, or whether the $500 price level serves as near-term resistance. That remains to be seen, and may eventually be resolved when the company reports earnings at the end of January.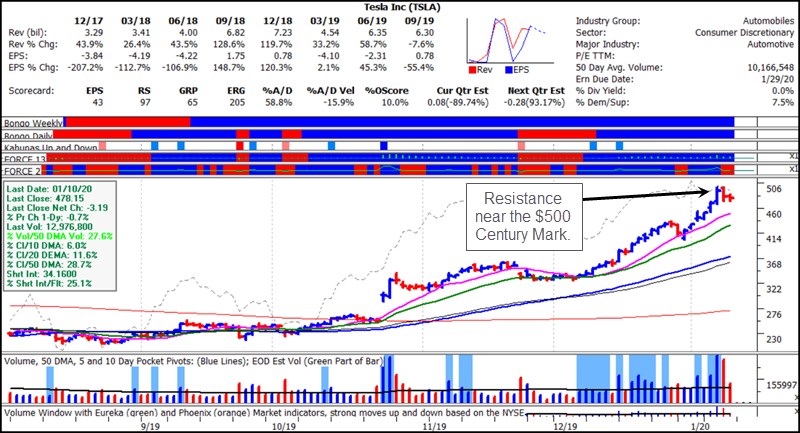 Ultra Clean Holdings (UCTT)
is back below its 50-dma and is on the verge of violating the moving average. A close below Friday's close would constitute a technical violation of the 50-dma and should be watched for.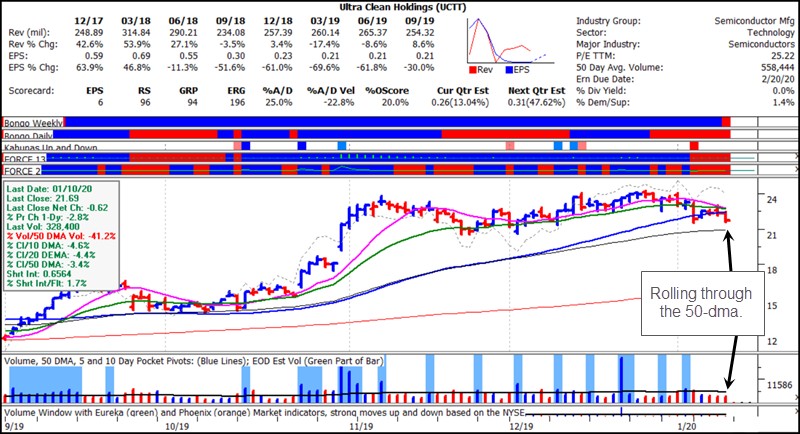 With the market in an extended state, we have not wanted to overload the Report Watch List with more names. The current list is, in our view, more than adequate, and in hindsight has included two of the strongest and most persistent names leading the market, AAPL and TSLA. On Friday, January 3rd, we reported on the
Bitcoin Grayscale Trust (GBTC)
after it had posted a marginal undercut & rally (U&R) long set-up the day before by undercutting the prior 7.91 low on an intraday basis, hitting a low of 7.90 before closing at 7.98. The next day, GBTC then posted a bottom-fishing pocket pivot at the 10-dma. We issued our report at that time, when GBTC was trading at 8.39.
GBTC has since cleared its 50-dma, then pulled in to test and hold support at the 20-dema, and closed Friday back above the 50-dma on heavy volume. Members acting on our initial report January 3rd would now be in low enough to sit through this current volatility. So far, the 20-dema has held as near-term support, so may be used as a selling guide unless one chooses to use the slightly lower 10-dma or to simply stay with the GBTC until it approaches break-even for the position.