Current Report Watch List

The VoSI Report Watch List is a compilation and reference list of stocks for which Pocket Pivot or Buyable Gap-Up Reports have been issued. It is not intended as a "buy list" or a list of immediately actionable recommendations. Stocks on the List may or may not be in proper buy positions, and investors should exercise discretion and proper judgement in determining when and where stocks on the List can be purchased. The following notes are intended to assist in this process. Please note that members can enlarge the List image by clicking on the body of the email and then holding the Control Key while pressing the "+" key until it is large enough to read.
General Observations:
Major market indexes remain in uptrends as the Big-Three major market indexes, the NASDAQ Composite, the S&P 500, and the Dow, all posted all-time highs on Friday. There is nothing to be gleaned from the charts - the uptrends are persistent and beyond reproach on their face. However, an interesting divergence occurred on Friday where NASDAQ breadth turned negative, with declining stocks leading advancers, 1769 to 1428. In a distorted QE-infused market, however, the reliability of such indicators can often be in question. For now, the trend remains to the upside and it remains to be seen whether narrowing leadership may or may not be an issue for this market. As we move through the meat of earnings season we will get a better sense of the current market rally's future potential.
The
Market Direction Model (MDM)
remains on a
BUY
signal.
The Report Watch List above is sorted by Earnings Report Date, sorted by earliest report date. This provides a snapshot of stocks on the list that are expected to report earnings very soon. Unless one has a reasonable profit cushion in a stock on the list ahead of earnings, holding through earnings may not be advisable, since one is then playing "earnings roulette." If we do not have a reasonable profit cushion in a particular stock ahead of an impending earnings report, then our preference is to lay back and see what sort of actionable set-up might emerge once the company in question has reported earnings. Earnings reports are frequently associated with ensuing high-velocity price movement that can create high time-value trading opportunities.
Apple (AAPL)
,
Facebook (FB)
,
Microsoft (MSFT)
, and
Tesla (TSLA)
are all expected to report within the next two weeks. The first three are extended, so not actionable, while TSLA may be in a climactic top, at least on a near-term basis. So far, the stock has held the 10-dma and closed above the $500 Century Mark. It is rare that we see a stock post two Livermore Century Mark Buy points within a month. TSLA peaked early this week after being up 8 out of 10 days in a row and having the biggest single-day price move in its pattern since it began this current epic run after earnings back in October. Based on the Seven-Week Rule, one would now use the 10-dma as a maximum selling guide if one has not already sold into the climactic action this past week.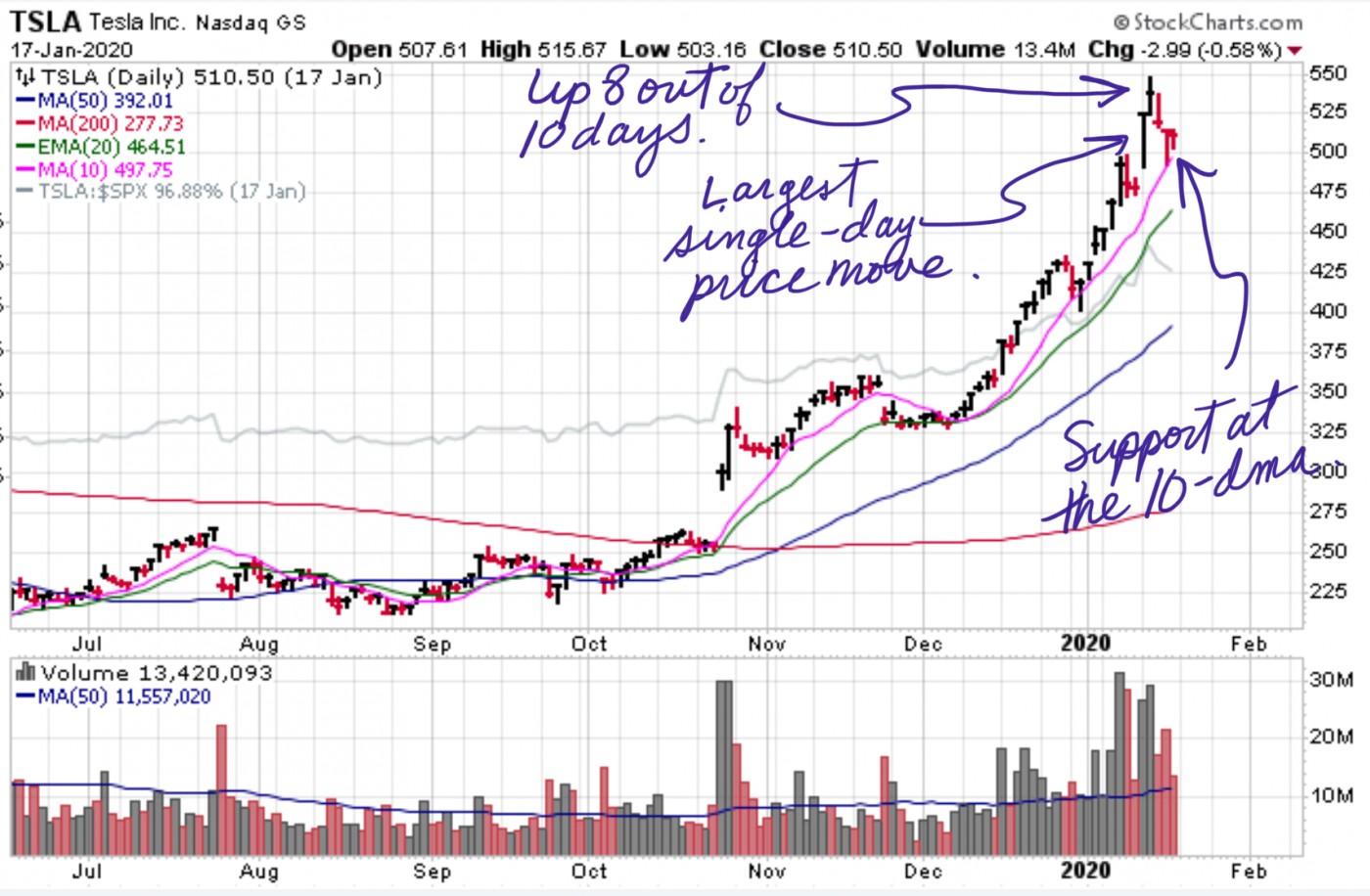 As the major market indexes have gone higher, they have been led by alt-currency stocks. These would include names on the Report Watch List like AAPL, GOOG, FB, MSFT, and V, as they represent big-stock, established and reliable companies that serve as alternative-currencies in a market that is awash in QE. These names have mostly gone parabolic as of late, which indicates that the moves are starting to take on a somewhat frothy character and may at least be more vulnerable to pullbacks at this stage. The chart of
Visa (V)
is certainly one to marvel at as money desperately looking for a place to go piles into the stock.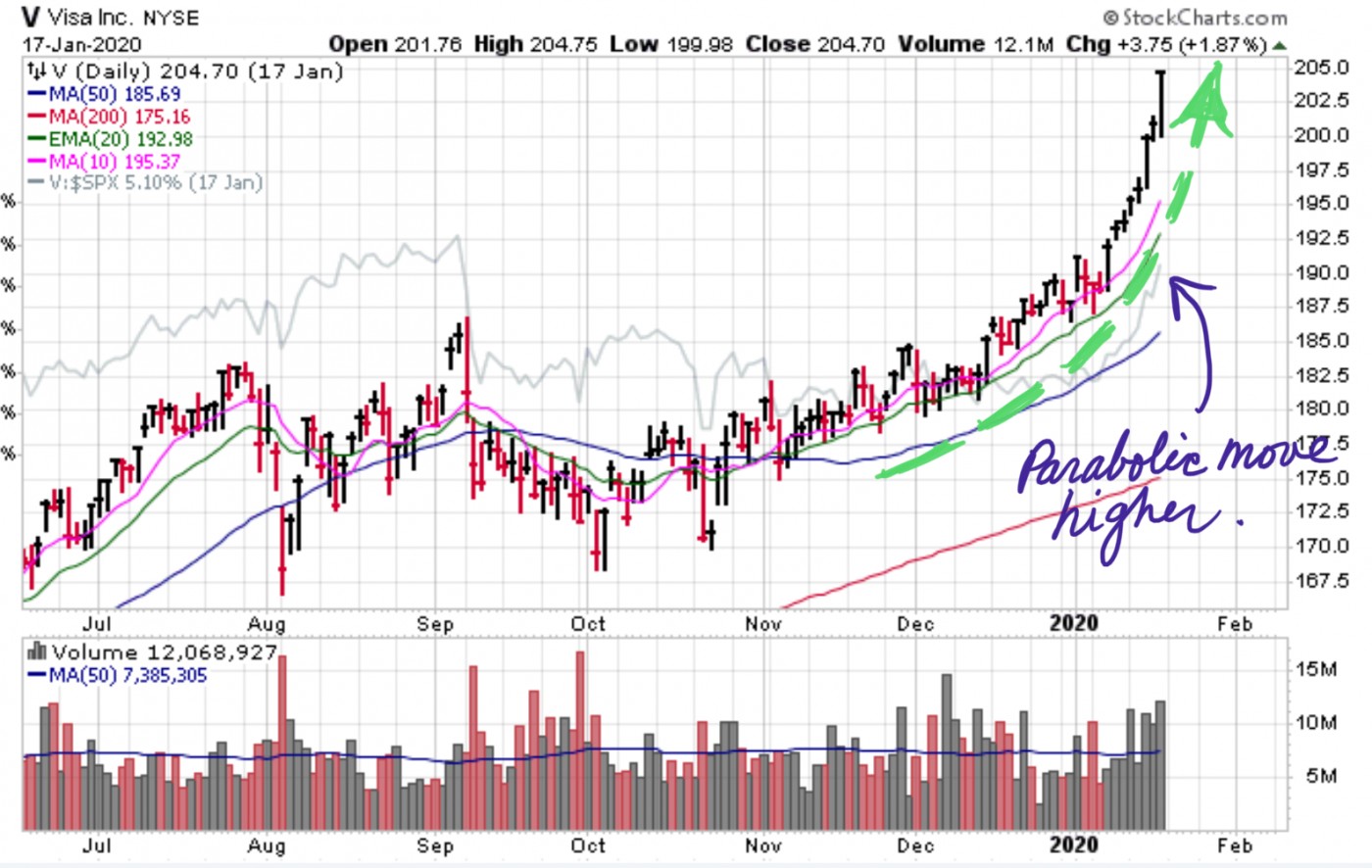 Numerous other stocks on the list have become quite extended since we first reported on them, including ATVI, CROX, NTES, LULU and SHOP.
Crocs (CROX)
is pulling into its 20-dema for the second time in a week where it could offer a lower risk entry opportunity, but the stock was best bought within the prior base when we first reported on a pocket pivot it posted along its 50-dma before breaking out.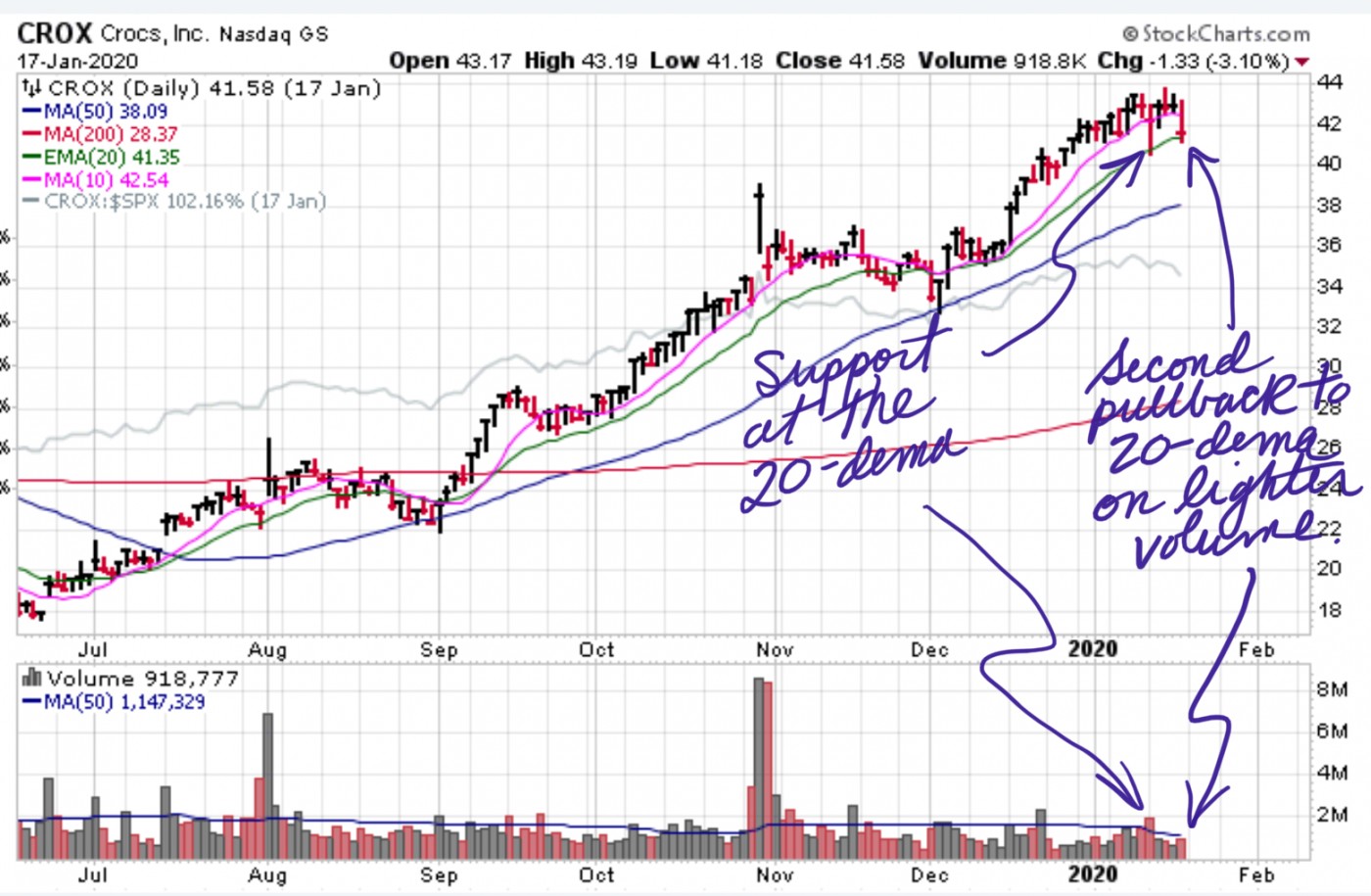 Bio-techs on the list have fared less well. Both
Biogen (BIIB)
and
Adapative Biotechnologies (ADPT)
have recently broken below their 50-dma and will be removed from the list. Meanwhile, semiconductors have continued to act well, and both
Inphi (IPHI)
and
Ultra Clean Holdings (UCTT
) have been moving to new highs. IPHI is currently extended, while UCTT broke out this past week after shaking out through the lows of its prior base. It remains within buying range of the breakout for those who like to do so.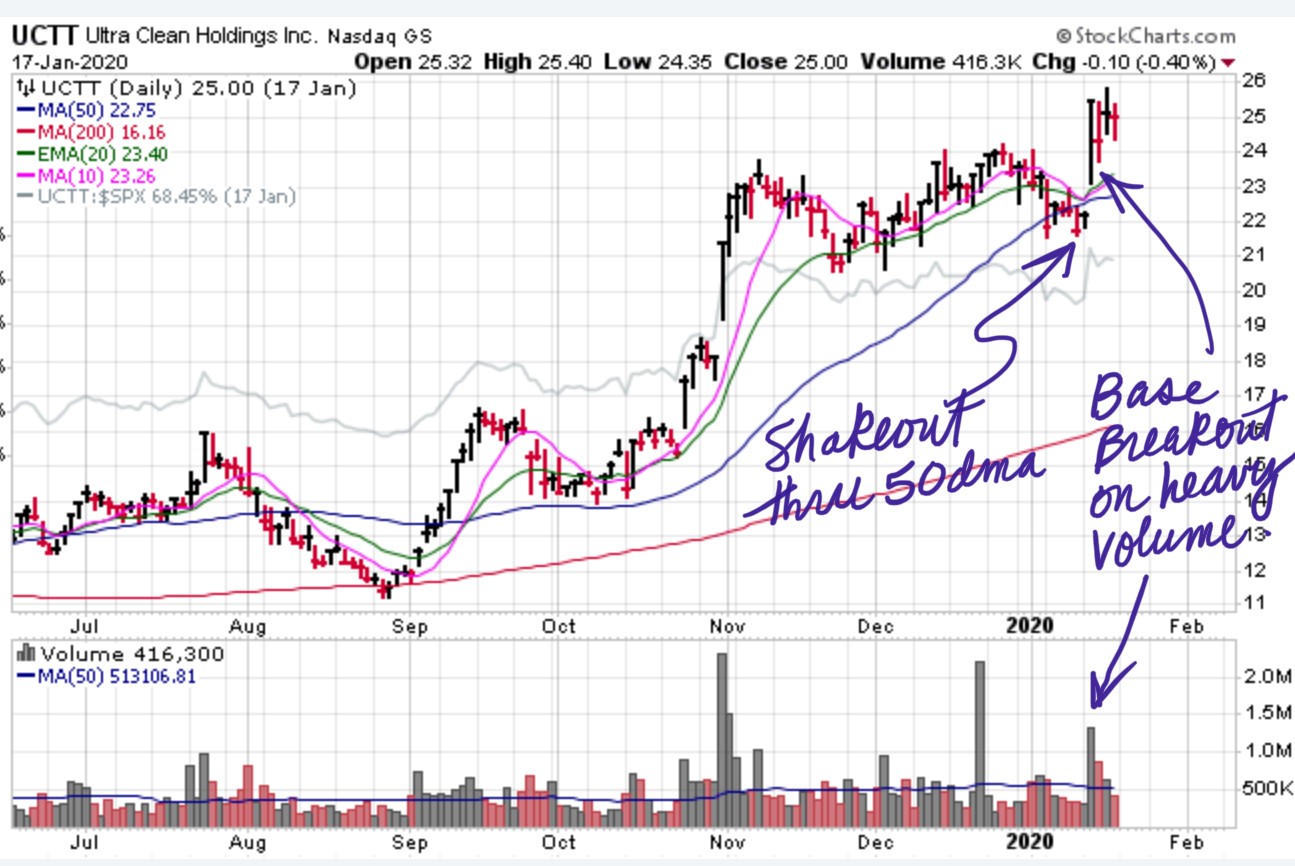 Two weeks ago we reported on the
Grayscale Bitcoin Trust (GBTC)
after it posted an undercut & rally long entry signal along its prior lows. It is now moving through and above a prior declining tops trendline after finding support at the 20-dema last week. The 200-day moving average looms just above, and constitutes the next hurdle for GBTC to clear if its current upside move is to continue.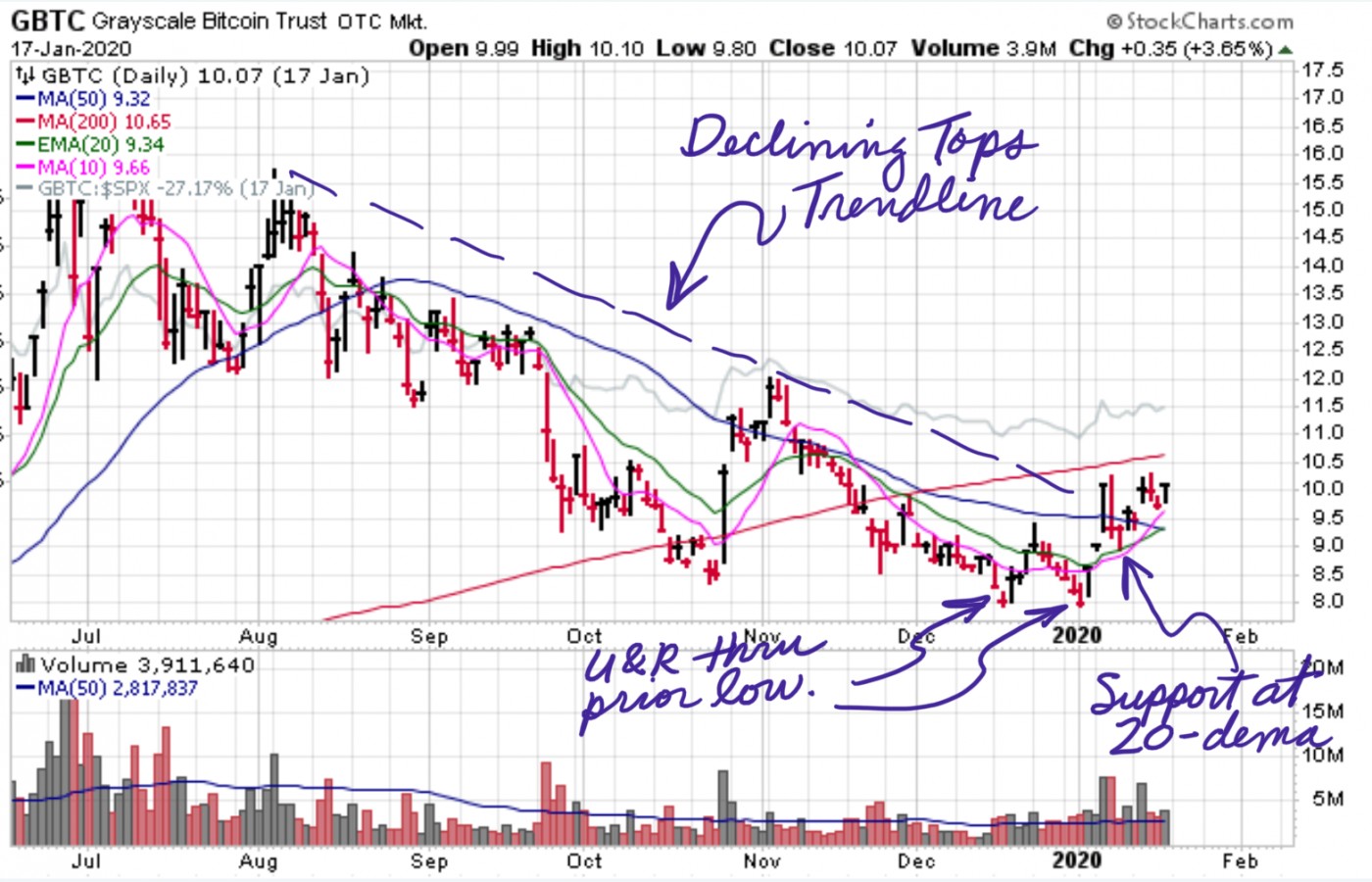 Along with silver and gold we believe Bitcoin via the GBTC has a strong chance of performing well in 2020 as global central banks are forced to keep their respective feet on the QE pedal among other tailwinds that have been discussed in prior reports such as
this one
. Meanwhile, as leading stocks become ever more extended, the odds of a sharp pullback or correction, something that would not be abnormal given the extent of the current run-up, increase. Stay alert and know where your trailing stops are as we progress through earnings season, where the futures fate of many stocks and the general market as well will likely be at stake.