Current Report Watch List

The VoSI Report Watch List is a compilation and reference list of stocks for which Pocket Pivot or Buyable Gap-Up Reports have been issued. It is not intended as a "buy list" or a list of immediately actionable recommendations. Stocks on the List may or may not be in proper buy positions, and investors should exercise discretion and proper judgement in determining when and where stocks on the List can be purchased. The following notes are intended to assist in this process. Please note that members can enlarge the List image by clicking on the body of the email and then holding the Control Key while pressing the "+" key until it is large enough to read.
General Observations:
Major market indexes ran into distribution around their recent new highs on Friday. Both the
NASDAQ Composite
and
S&P 500 Indexes
posted big outside reversals on higher, above-average volume. The selling was blamed on news relating to the current coronavirus outbreak. However, both the indexes and leading stocks have been extended for quite some time, and a pullback, even at least a short-term correction, is not to be unexpected. For now, investors should simply review their trailing stops and profit objectives (where they have them in long positions) for the purpose of playing a strong defense and being prepared for any worsening market pullback.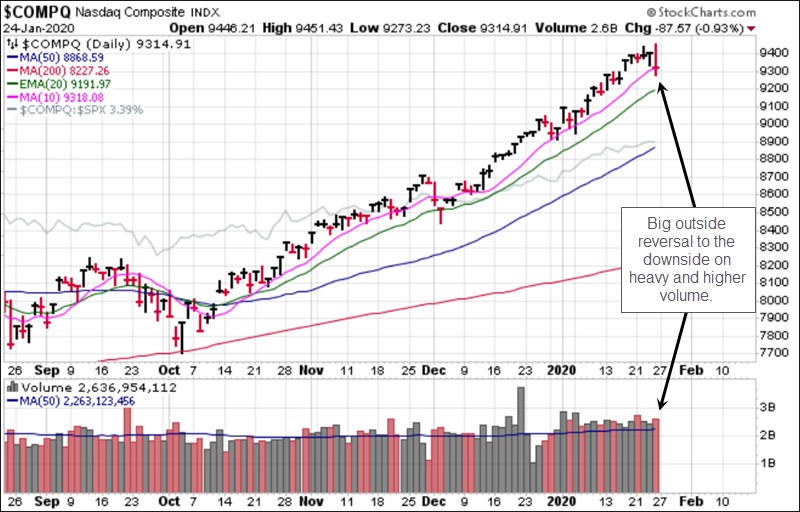 What is perhaps most fascinating about this market is the fact that the NASDAQ Composite chart above correlates nearly perfectly to the chart below showing the Fed's Balance Sheet. Note the sharp upside expansion of the balance sheet that gathered momentum in October, annualized at over $1 trillion, right when the market bottom and the NASDAQ bounced off its 200-dma to commence what has been an impetuous rally.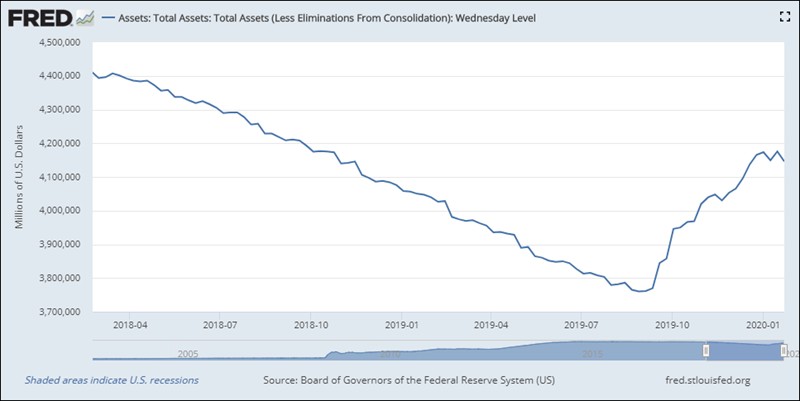 This is why we have continued to favor gold and silver. Notably, both the
SPDR Gold Shares (GLD)
and the
iShares Silver Trust (SLV)
were up strongly on Friday. The GLD has posted two five-day pocket pivots at its 10-dma while the SLV posted a strong ten-day pocket pivot at the 10-dma.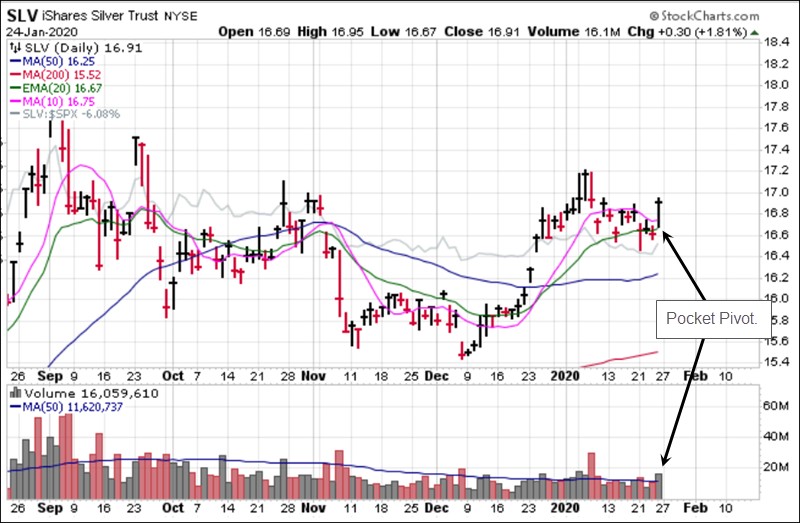 The
Market Direction Model (MDM)
remains on a
BUY
signal.
Report Watch List Stocks Expected to Report Earnings this Week:
Apple (AAPL)
,
Facebook (FB)
,
Microsoft (MSFT)
,
Tesla (TSLA)
,
Biogen (BIIB)
and
Visa (V)
. See expected report dates on the list above in the "Ern Due" column, which is sorted by earliest report date first.
Notable Action:
We see no reason to go piling into new positions currently, or adding to existing positions. In particular, investors should assess the desirability of holding a particular position into earnings. If the profit cushion is sufficient, then one may elect to hold at least half. Otherwise, we do not advise playing "earnings roulette".
Unless
Biogen (BIIB)
comes to life after earnings when it reports this week, it will be removed from the list.
Nanostring (NSTG)
will be removed as it has broken down sharply. Its inability to hold support at the 10-dma and 20-dema after showing a strong move nearly two weeks ago was its death knell.
Adaptive Biotechnologies (ADPT)
has been weighed down by a pending secondary offering of 8 million shares as it has plumbed its prior October lows. On Friday the company finally priced the offering at 26.50, triggering a massive-volume bottom-fishing pocket pivot. ADPT is expected to report earnings on March 24th, so that is not a factor for the stock at this time. The 50-day moving average at 29.11 represents near-term support so it can serve as a selling guide if one chooses to act on this pocket pivot, whether right here or on a pullback to the 50-day line.
Bitcoin is by nature a volatile beast, and so the
Grayscale Bitcoin Trust (GBTC)
will naturally reflect that same volatility. It has moved well above the undercut & rally (U&R) long set-up it posted at the 7.92 low of December 17th on January 2nd. It again posted a U&R on Friday, this time through the 8.95 low of January 9th. GBTC also shook out through the 50-dma and closed above it on Friday, which can be viewed as an add point to the January 2nd U&R long entry, using the 8.95 low as a selling guide.