Current Report Watch List

The VoSI Report Watch List is a compilation and reference list of stocks for which Pocket Pivot or Buyable Gap-Up Reports have been issued. It is not intended as a "buy list" or a list of immediately actionable recommendations. Stocks on the List may or may not be in proper buy positions, and investors should exercise discretion and proper judgement in determining when and where stocks on the List can be purchased. The following notes are intended to assist in this process. Please note that members can enlarge the List image by clicking on the body of the email and then holding the Control Key while pressing the "+" key until it is large enough to read.
General Observations:
The 2020 market has started out looking somewhat like 2019 in that news has sent the markets up sharply and then down sharply over the first two days of trading in the New Year. News of more QE from the Chinese central bank sent the indexes sharply higher on Thursday, but the market reversed course on Friday on news that the U.S. had assassinated a top Iranian general in Iraq. The NASDAQ Composite Index was hit with heavy selling on Friday but held above its 10-dma. The market action may be dominated by the after-effects of Friday's news as the situation now becomes dependent on what kind of retaliation, if any, is forthcoming from Iran. For now, watch your stops carefully.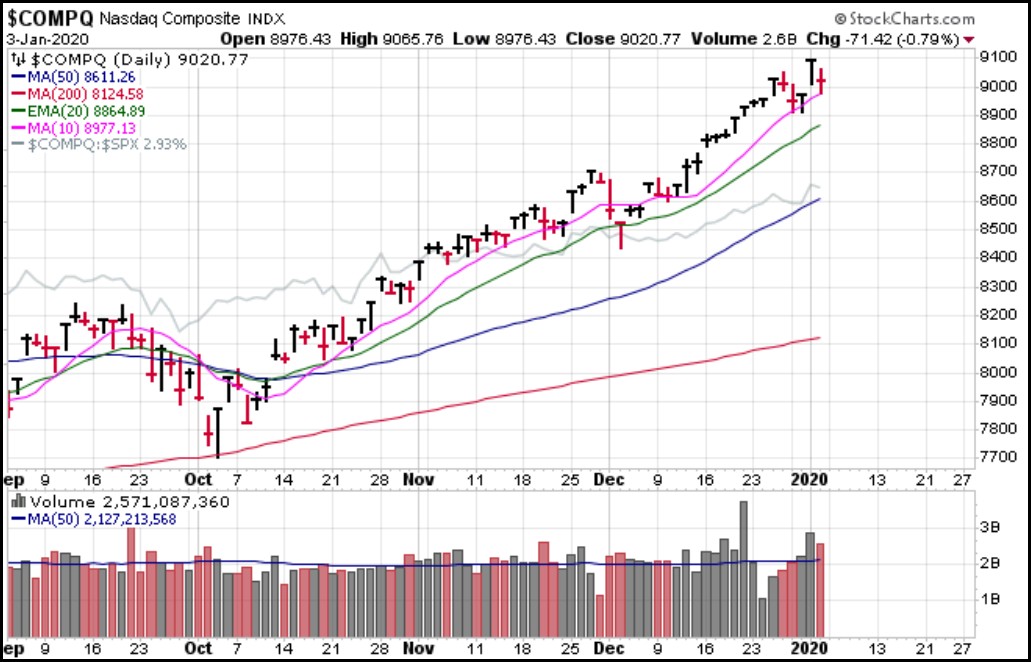 The
Market Direction Model (MDM)
remains on a buy signal.
Notable Action:
Adaptive Biotechnologies Corp. (ADPT)
is holding tight along its 50-dma. This puts it in a lower-risk entry position using the 50-dma as a selling guide. The stock has posted several pocket pivots in December as it bounces along the lows of its pattern.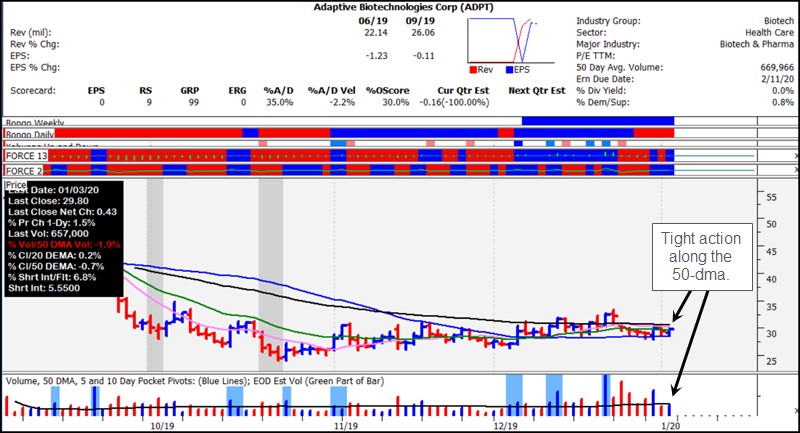 Activision Blizzard (ATVI)
found support at its 20-dema on Friday. This pullback brought it into a lower-risk entry spot along the 20-dema. We would watch for further tests of the 20-dema as lower-risk entries.
Inphi (IPHI)
is sitting tight along its 10-dma. This would offer a lower-risk entry spot, although pullbacks to the 20-dema, as we saw on Monday and Tuesday of this past week, are still the more opportunistic entries to look for.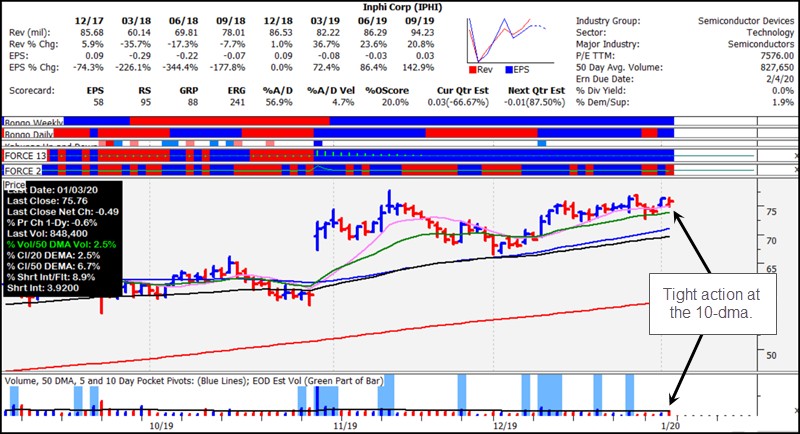 Netease (NTES)
posted a big-volume breakout on Thursday. As we have noted in recent reports, the pullback into the tight action along the 10-dma, 20-dema, and 50-dma looked to be setting the stock up for a move. This is consistent with the stock's behavior where it thrusts strongly to the upside and then pulls back into support before moving higher in jagged, stair-step fashion.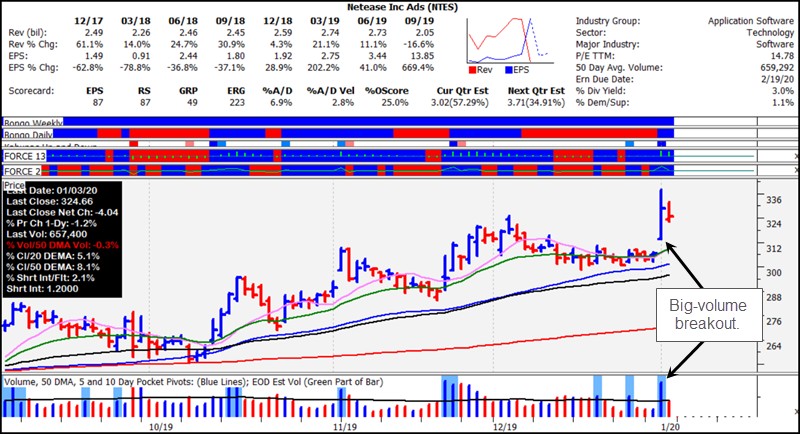 Ultra Clean Holdings (UCTT)
posted a pocket pivot at its 20-dema on Friday. This puts it in a lower-risk entry position using the 20-dema as a tight selling guide.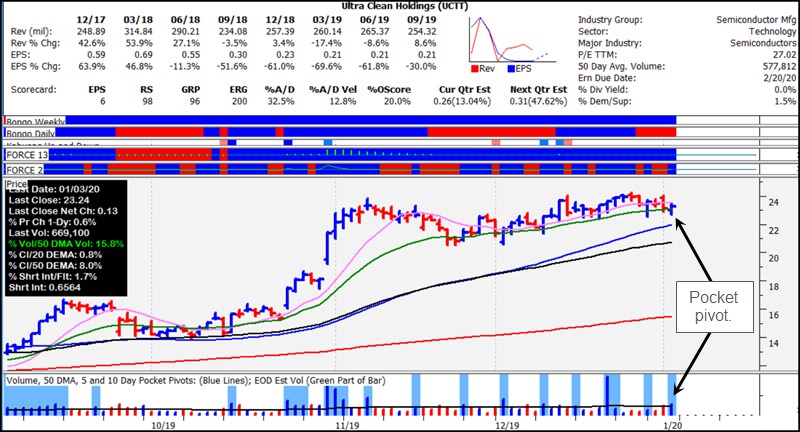 Other names pulling into or holding tight at the 10-dma include AEM, CROX, FB, LULU, MSFT, SHOP, and V. Such pullbacks can generally be viewed as entry points, depending on how extended the stock is within the overall pattern. In general, given the geo-political risk that plagues the market currently, we would be cautious about new stock purchases since the potential for escalation of the U.S.-Iran conflict remains very high.
In response to the current geo-political situation, we have favored both gold and silver on the long side though this favoratism has been expressed by numerous reports on both precious metal in this Era of QE. The
SPDR Gold Shares (GLD)
and
iShares Silver Trust (SLV)
have both been buyable
U&R long set-ups that most recently occurred down at 137.80. GLD's move on Friday has the look of a buyable gap-up, but the reality is that overnight gold futures pushed higher in continuous fashion, therefore, this cannot necessarily be treated as a typical BGU. GLD's move on Friday has brought it within 80 cents of its highest levels since April 2013.