Current Report Watch List
The VoSI Report Watch List is a compilation and reference list of stocks for which Pocket Pivot or Buyable Gap-Up Reports have been issued. It is not intended as a "buy list" or a list of immediately actionable recommendations. Stocks on the List may or may not be in proper buy positions, and investors should exercise discretion and proper judgement in determining when and where stocks on the List can be purchased. The following notes are intended to assist in this process. Please note that members can enlarge the List image by clicking on the body of the email and then holding the Control Key while pressing the "+" key until it is large enough to read.
General Observations:
The major market indexes continue to make new highs on the back of Fed Chair Jerome Powell's testimony to Congress this past week. The Head Fedhead intimated during his testimony that the Fed's traditional linkage between higher inflation and low unemployment was no longer valid, and for that reason current monetary policy might not be "accommodative enough." It is difficult to consider interest rates at 2.25% to be indicative of hawkish monetary policy, but in the Age of QE, Central Banks around the globe still stand at the verge of a new wave of QE. This underscores Stanley Druckenmiller's view that rates will go to zero.
This sent the indexes to all-time highs this week, but on light volume. Whether the new highs on light volume is problematic is yet to be confirmed. With endless QE on the menu, sellers may simply step aside and let the market rise further, or we may see buying interest pick up in the coming days. As we move into the thick of earnings season the potential for new set-ups to emerge increases, and that is one thing we will be watching for. In the meantime, it is a simple matter of understanding where selling guides and trailing stops lie, and to act accordingly based on the real-time evidence.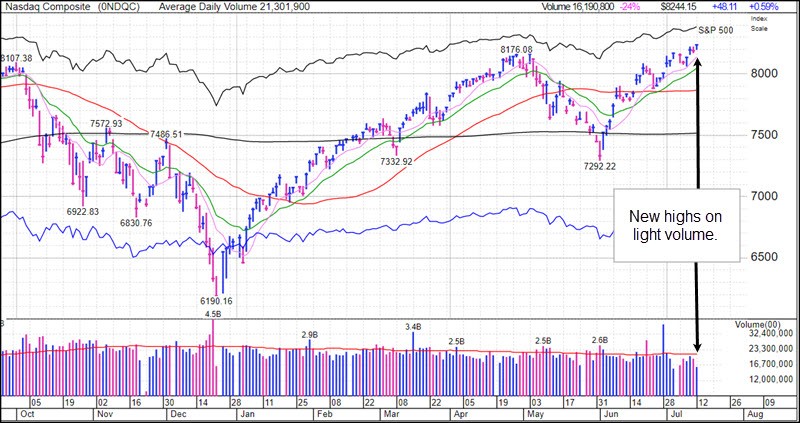 The
Market Direction Model (MDM)
remains on a buy signal.
Notable Action:
Despite the strong index action, there have been some casualties among individual stocks.
Funko (FNKO)
was removed from the Report Watch List. The stock is failing on a recent breakout attempt.
Shockwave (SWAV)
continues to trade below its 50-dma, and as yet has been unable to regain its 50-dma. The pattern looks quite ugly, but we would remain alert to any potential move back up through the prior 52.15 low as an undercut & rally (U&R) long entry.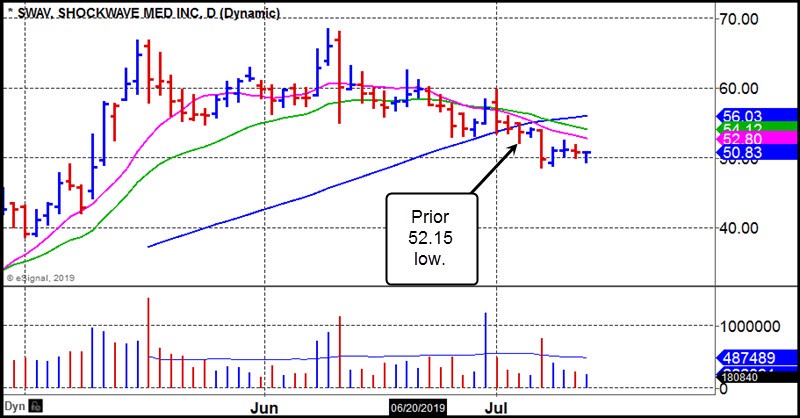 We reported on
Lyft (LYFT)
as a pocket pivot on Friday. The stock pulled an outside reversal to the upside on above-average volume. We would look for any pullbacks closer to the 10-dma at 61.81 as potential lower-risk entry opportunities.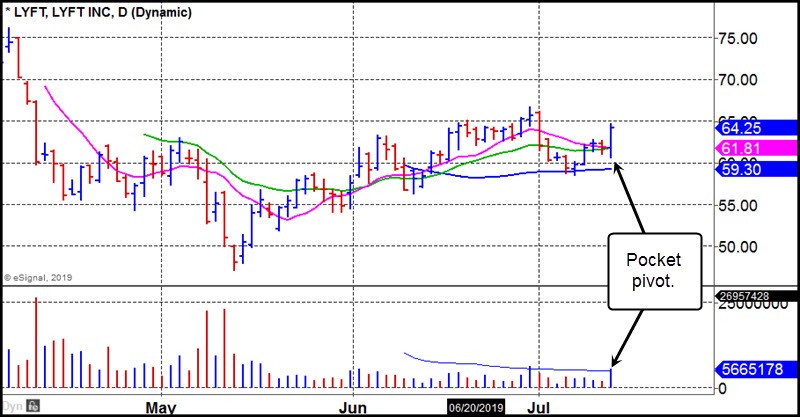 Lululemon Athletica (LULU)
posted a pocket pivot on Friday as it posted a new closing high. The stock was last buyable along the 10-dma as we noted in last weeks weekend review report.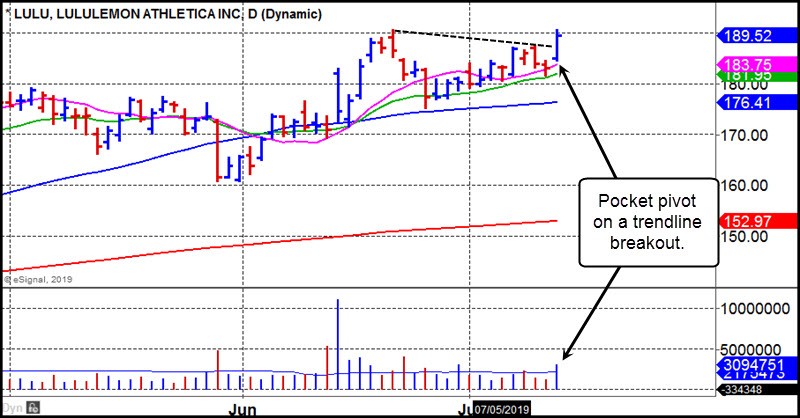 ZScaler (ZS)
has pulled into its 10-dma on very light volume. This puts the stock in a lower-risk entry position using either the 10-dma or 20-dema as tight selling guides.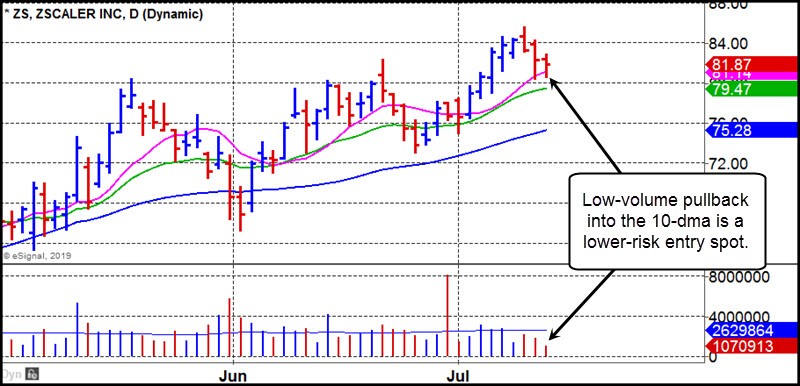 Tronox Holdings (TROX)
pulled down near the 50-dma on Friday before posting a supporting pocket at the 20-dema on heavy volume. This puts the stock in a lower-risk entry position using the 50-dma as a selling guide.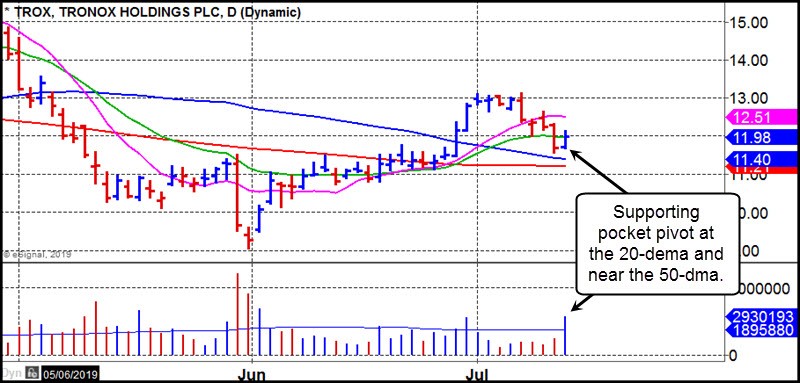 The Report Watch List at the top of this report is sorted by earliest Earnings Due Date first, and we will see several names on the list report earnings before the end of the month, including AMD, AMZN, FB, CMG, which posted a pocket pivot on Friday, TEAM, TNDM, and PAYC.