Current Report Watch List

The VoSI Report Watch List is a compilation and reference list of stocks for which Pocket Pivot or Buyable Gap-Up Reports have been issued. It is not intended as a "buy list" or a list of immediately actionable recommendations. Stocks on the list may or may not be in proper buy positions, and investors should exercise discretion and proper judgement in determining when and where stocks on the List can be purchased. The following notes are intended to assist in this process. Please note that members can enlarge the List image by clicking on the body of the email and then holding the Control Key while pressing the "+" key until it is large enough to read.
General Observations:
A three-day rally off the lows of Monday ran into resistance at the 50-dma in the
NASDAQ Composite
and
S&P 500 Indexes
Friday. The situation remains very fluid, with the potential for the market to make lower lows increasing. We note that underneath the surface, weakness among individual stocks abounds in this market. More names have been removed from the Report Watch List as a result.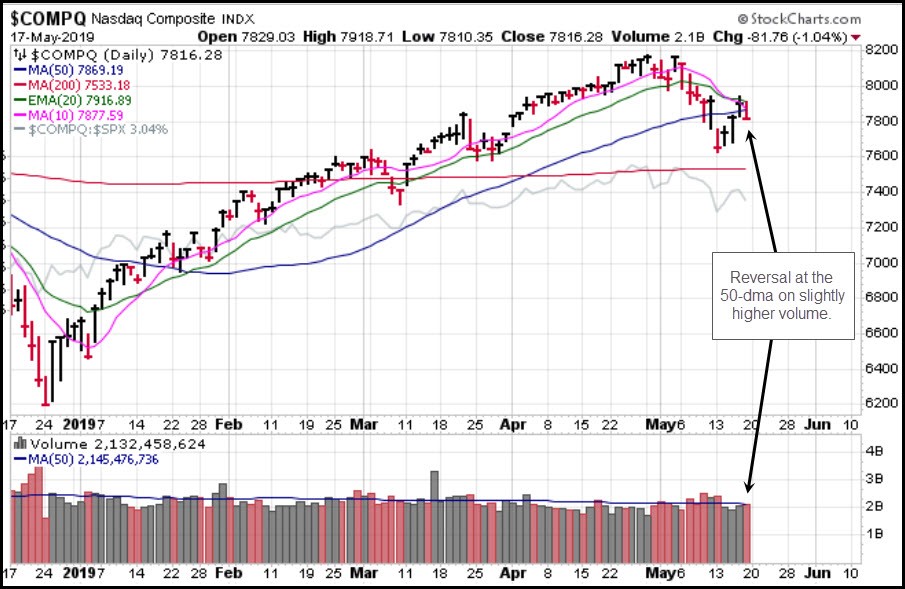 The
Market Direction Model (MDM)
has moved to a a cash signal, reflecting the current uncertainty and volatile market action.
Removed from the List this Week:
Netflix (NFLX), Mimecast Limited (MIME), Palo Alto Networks (PANW), Viavi Solutions (VIAV), World Wrestling Entertainment (WWE) and Yeti Holdings (YETI).
Watch List Stocks Expected to Report Earnings this Week:
None.
Notable Action:
Names remaining on the Report Watch List are all stocks that continue to hold up in bases. However, the fact that we are seeing expanding deterioration among names on the list, something has been going on for the past 2-3 weeks, provides meaningful evidence that individual stocks are starting to drop off like flies.
Viavi Solutions (VIAV)
has failed on a recent base breakout, and the failure brings up the possibility of treating this as a short-sale on any rallies back up into the 20-dema.

Netflix (NFLX)
posted an undercut & rally move earlier in the week, but this ran into resistance at the 50-dma. This brings up the idea of treating the stock as a short-sale target on any further weak rallies up into the 50-dma. Any eventual breach of the 200-dma would trigger a secondary short-sale point should that occur.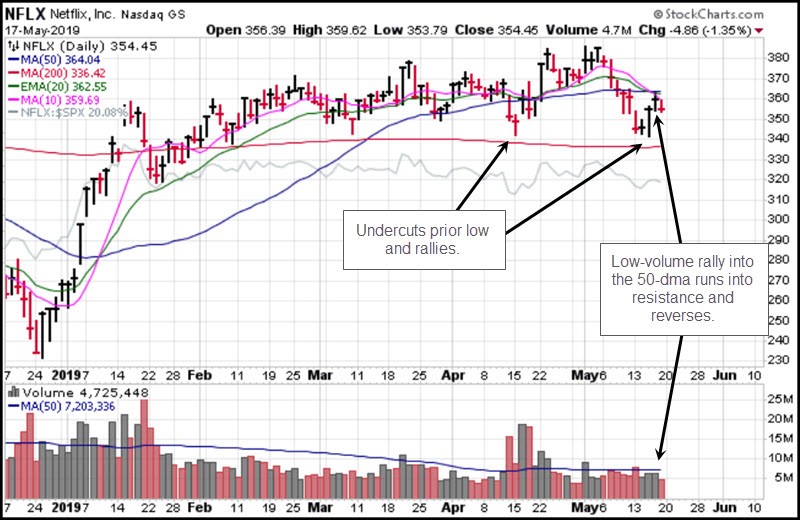 World Wrestling Entertainment (WWE)
broke down sharply after earnings, but held support at its 200-dma and posted a U&R long set-up at that point, coinciding with a bounce off the 200-dma. That led to a short, tradeable rally that eventually ran into resistance at the 20-dema and the stock then rolled over to lower lows again, breaching its 200-dma early this past week. On Wednesday, WWE posted another U&R through an early March low in the pattern and moved above the 200-dma on Thursday, only to reverse on an intraday basis and close back below the line. This is how a U&R works on the short side, as detailed in the book
Short-Selling with the O'Neil Disciples - Turn to the Dark Side of Trading (John Wiley & Sons, 2015).
in the past, U&R moves represented short-covering points, and then one could look to re-enter on the short side after the stock had rallied up to a logical point of overhead resistance.
Notice that WWE has had two U&R moves since its big downside break in late April, and both have led to brief rallies followed by breaks to lower lows. This is how U&Rs will work on the short side. In the QE market, it has been observed that U&Rs have worked on the long side as long entry signals that have led to more significant rallies, sometimes even to new highs. When that pattern changes, and U&Rs act more like short-sale U&Rs, as they did back in October-November of last year, that is a sign that the market's character may be changing to a more bearish tone. Note also that WWE has formed a head and shoulders formation and is now testing the neckline of that formation.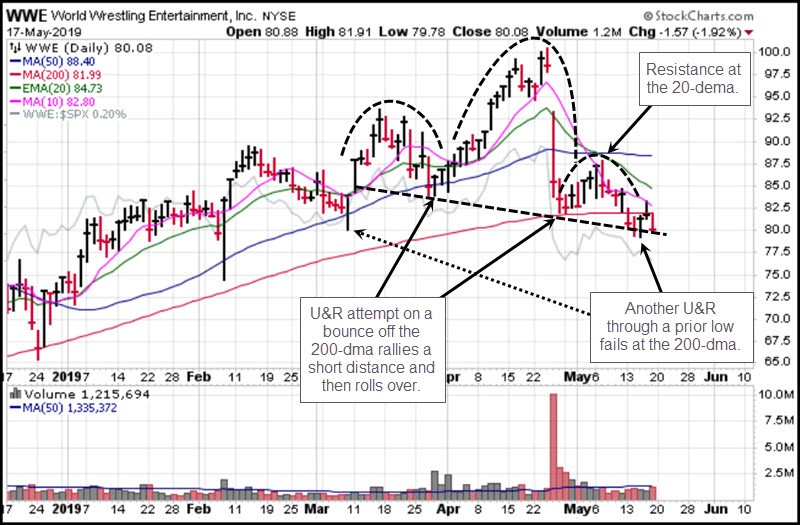 We can see the change of character in U&Rs that have been posted in Mimecast Limited (MIME). Note the U&R back in early April that led to a strong uptrend and a subsequent breakout to new highs. That breakout eventually went a very short distance before the stock failed, typical for many breakouts in this market where U&Rs have been the best entries and breakouts less successful. This past week MIME attempted to pull a U&R move through another mid-April low in the pattern, but that rally only went a very short distance before the stock ran into resistance at the 50-dma and reversed. This change of character in the way U&Rs are working for MIME may indicate that the stock is headed lower. Since this is also a late-staged failed-base (LSFB) situation, it may start to work as a short-sale target, using any rallies back up into the 50-dma as shortable moves.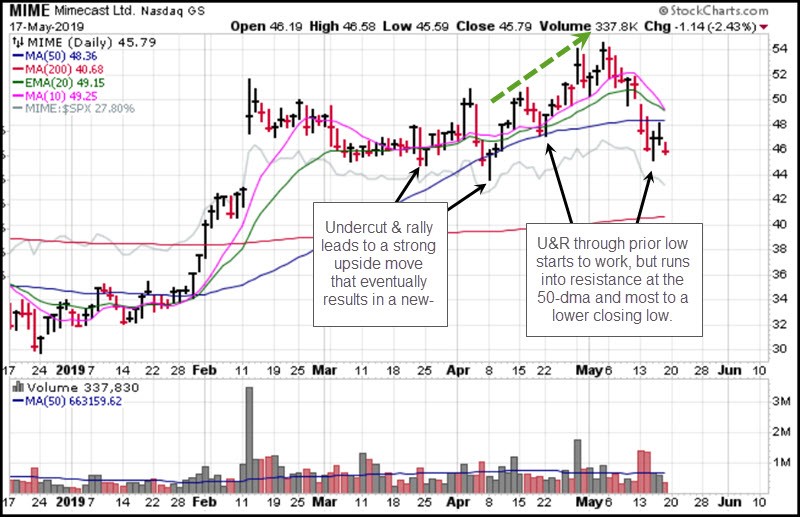 These subtle changes in how U&Rs are working in certain leading stocks that have or are starting to fail makes us suspicious about this current market environment. While the names that remain on the Report Watch List, above, are holding up in bases, we would be alert to any further failures among these names if the general market is unable to find its feet and continues to correct. Caution is advised. From a practical standpoint, this means knowing where your trailing and absolute stops are, and having an exit plan ready beforehand. At the same time, taking long positions at pullbacks to potential areas of support means using those same areas of support. such as a key moving average, as tight selling guides in order to keep risk to a minimum. In other words, play it smart.