Current Report Watch List

The VoSI Report Watch List is a compilation and reference list of stocks for which Pocket Pivot or Buyable Gap-Up Reports have been issued. It is not intended as a "buy list" or a list of immediately actionable recommendations. Stocks on the List may or may not be in proper buy positions, and investors should exercise discretion and proper judgement in determining when and where stocks on the List can be purchased. The following notes are intended to assist in this process. Please note that members can enlarge the List image by clicking on the body of the email and then holding the Control Key while pressing the "+" key until it is large enough to read.
General Observations:
The NASDAQ Composite and S&P 500 Indexes both finally broke below their 200-day moving averages on Friday, following news that came out of the blue on Thursday evening. President Trump announced late Thursday that tariffs would begin to be imposed on Mexican imports to the U.S., starting at 5% and ratcheting up to 25% each month that Mexico fails to deal with the flow of immigrants through its territory and up to the U.S.-Mexican border. This sent the market into a tailspin on Friday as the trade situation now develops a new front. This remains a highly news-oriented environment where market-moving news can come like an unexpected bolt of lightning, as was the case Thursday evening. For now, the market remains in what is now a four-week intermediate correction off the market highs of late April and early May.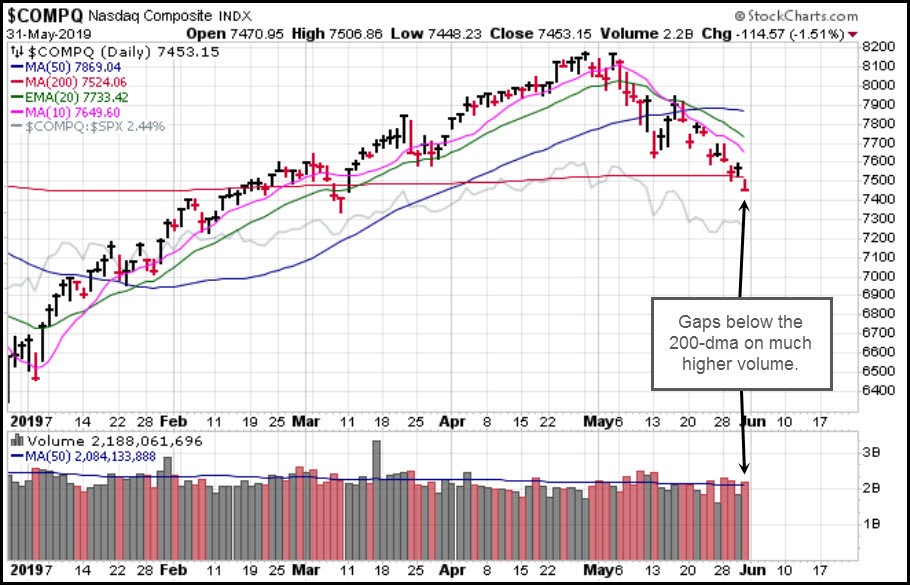 The
Market Direction Model (MDM)
remains on a cash signal.
Removed from the List this Week:
None.
Watch List Stocks Expected to Report Earnings this Week:
None.
Notable Action:
Names on the Report Watch List continue to drop like flies, as we predicted would likely be the case in any continued market correction. We began seeing names breaking down as early as April, a harbinger of the month-long decline we've saw in May.
Chipotle Mexican Grill (CMG)
,
Facebook (FB)
,
Lululemon Athletica (LULU)
, and
ZScaler (ZS)
have all recently broken below their 50-dmas and are on the verge of complete failure. Perhaps the brightest spot in this market has been the movement in Bitcoin. We were on top of that with a Voodoo Report that was issued on March 18th when the Grayscale Bitcoin Trust (GBTC) was trading at 4.60-4.70 and we recommended purchase at that time. Since then, both Bitcoin and GBTC have rocketed higher as the GBTC has nearly tripled in a little over two months.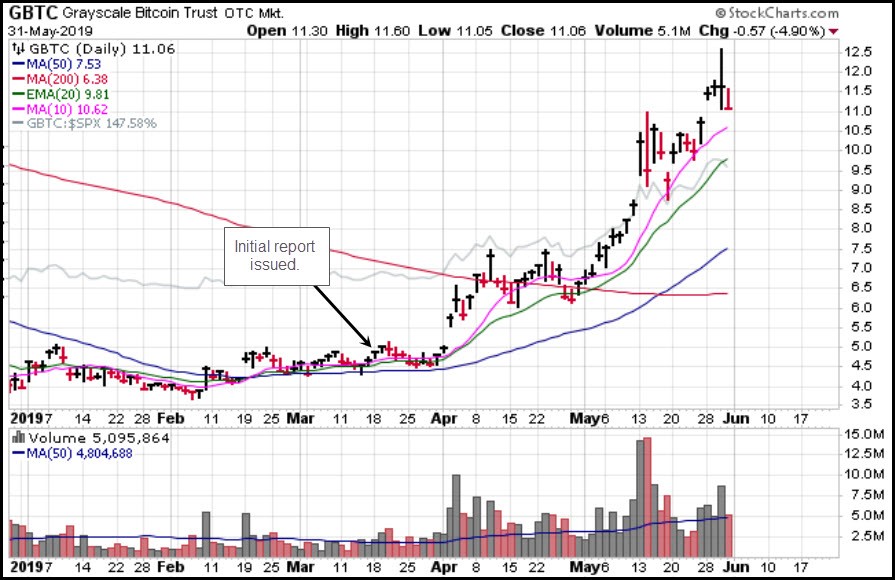 Despite the general carnage, there have been a few bright spots on the report watch list.
Heico Corp. (HEI)
gapped up on earnings Wednesday and has since streaked to a closing high of 121.59 on Friday. We first report on the stock after it previously gapped up on earnings April 1st when it was trading around $98.
Tandem Diabetes Care (TNDM)
, below, posted a pocket pivot on Thursday, and during Friday's sharp market sell-off held support at the 10-dma as volume declined to -27% below-average.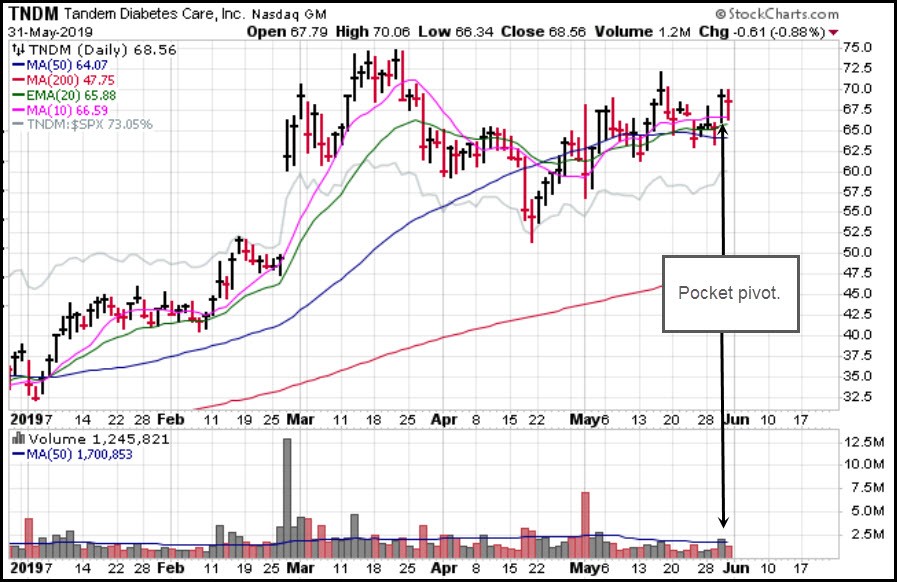 Other names on the Report Watch List that haven't broken down, such as CyberArk Software (CYBR), Funko (FNKO), IAC/Interactive (IAC), ServiceNow (NOW), Paycom (PAYC), Atlassian (TEAM), and Wingstop (WING)
are attempting to hold along support levels such as the 20-dema or 50-dma. Overall, however, this remains a weak environment, where the odds of success are severely diminished, while the odds of failure increase. We reported on
Etsy (ETSY)
Tuesday as a Short-Sale Set-Up as it was rallying up into its 50-dma following a late-stage failed-base type of set-up. The stock then plummeted nearly 10% over the next two days, but for now we would look for any reflex rallies back up to the 20-dema or further up to the 50-dma as lower-risk entries on the short side.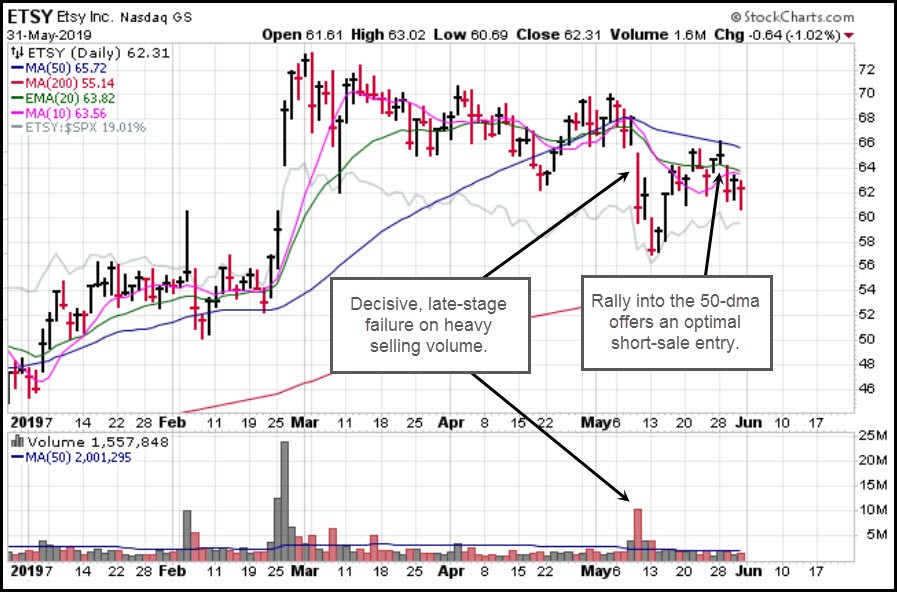 We issued a Pocket Pivot Report on
Tronox Holdings (TROX)
, a rare-earth metals company, on Wednesday evening with the idea that it may benefit from a Chinese ban on exports of these metals to the U.S. However, the TROX pocket pivot would have been best bought, if at all, on pullbacks to the 10-dma, but the company released its current business outlook and immediately failed at the 10-dma. Anyone trying to buy this on that pullback to the 10-dma would have quickly been stopped out, which argues for the strict adherence to and setting of tight stops in this market. However, anyone reading the news coming from the company on Thursday would likely have prudently stepped aside.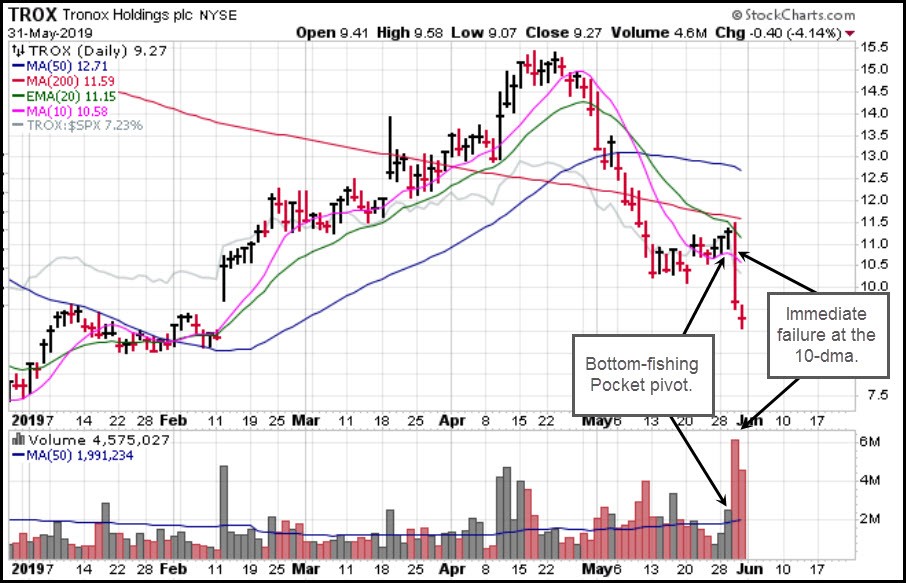 It seems that the fortunes of any security, including the
SPDR Gold Shares (GLD)
, can change quickly in this crazy market environment. We issued a BGU Report over two weeks ago when the GLD gapped up through its 50-dma on strong volume. That move quickly failed, but the GLD again found its feet near the April and May lows and launched back up through the 50-dma on Friday. Volume was much heavier on this latest moves, likely due to the fact that the 10-Year Treasury Yield, is now at 2.14%. This puts the 10-year yield below the Fed Funds Rate, and markets are now starting to predict that the Fed will lower rates not once, but twice, before year-end 2019. This may keep the GLD moving to the upside now that it has cleared trendine resistance on this latest buyable gap-up move.