Current Report Watch List

The VoSI Report Watch List is a compilation and reference list of stocks for which Pocket Pivot or Buyable Gap-Up Reports have been issued. It is not intended as a "buy list" or a list of immediately actionable recommendations. Stocks on the List may or may not be in proper buy positions, and investors should exercise discretion and proper judgement in determining when and where stocks on the List can be purchased. The following notes are intended to assist in this process. Please note that members can enlarge the List image by clicking on the body of the email and then holding the Control Key while pressing the "+" key until it is large enough to read.
General Observations:
Despite the pullback over the past three days, the major market indexes remain in uptrends as they find support along their 10-day moving averages. Volume declined on Friday as sellers failed to swarm the market.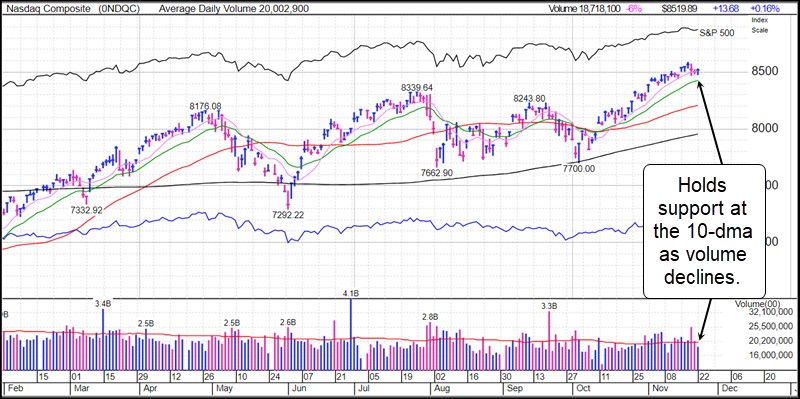 The
Market Direction Model (MDM)
remains on a buy signal.
Lululemon Athletica (LULU)
posted a pocket pivot at the 10-dma on Friday. This is interesting strength coming on the heels of a low-volume rally back up to new highs after a big-volume breach of the 50-dma. This is constructive action at the 10-dma. Pullbacks towards the 10-dma would offer lower-risk entries.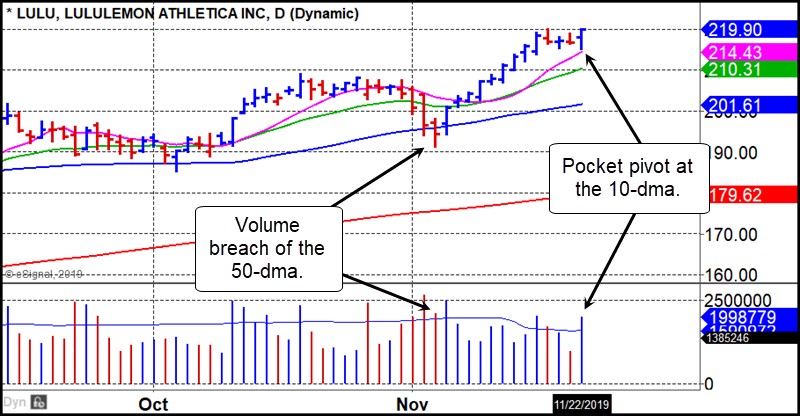 We reported on
Facebook (FB)
after it posted a pocket pivot at the 10-dma on Monday. The stock has edged higher from there, and we would watch for pullbacks to the 10-dma as potential lower-risk entries from here.
We also reported on
Visa (V)
after it posted a pocket pivot two Fridays ago and then tucked into its 10-dma on Monday. That was a lower-risk entry spot and the stock posted another pocket pivot on Tuesday as it moved higher. It has since drifted back into its 20-dema, where it may offer a lower-risk entry here along the 20-dema while using it or the 50-dma as relatively tight selling guides.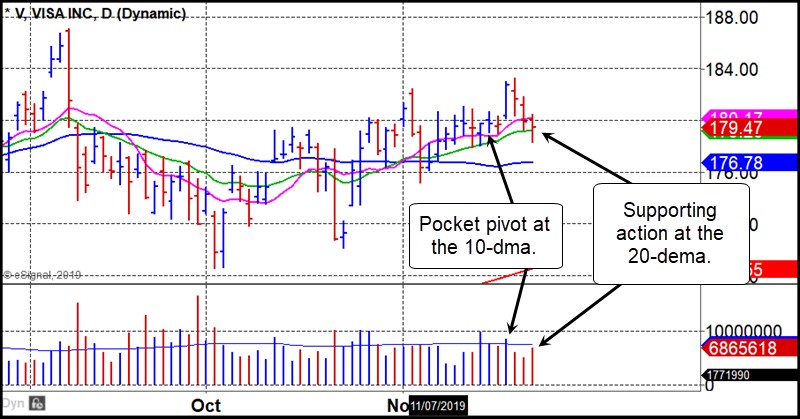 As gold and silver continue to test their current base lows, only the SLV remains in an undercut & rally position, closing Friday at 15.90, just above its prior 15.83 U&R low. GLD closed six cents below its prior 137.80 low on Friday. Thus both metals ETFs, the
SPDR Gold Shares (GLD)
and the
iShares Silver Trust (SLV)
are plumbing their lows with little in the way of decisive upside. This has also brought gold-related stocks for which we've recently issued Pocket Pivot Reports in recent weeks into areas of potential support.
Franco-Nevada (FNV)
has pulled into its 20-dema on light vollume, while
Kirkland Lakes (KL)
has pulled into its 10-dma. This brings both into potentially lower-risk entries using the short moving averages as tight selling guides. We show the daily chart of KL below.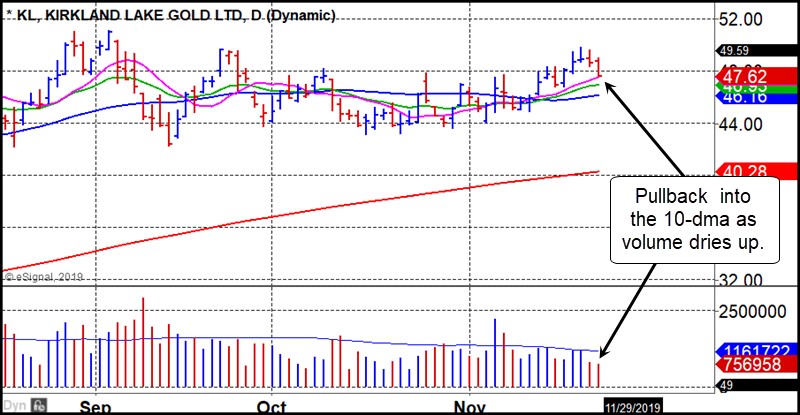 Other big-stock NASDAQ names on our list have been pulling back as of late, and we would look at pullbacks in
Apple (AAPL)
,
Alphabet (GOOG)
or
Microsoft (MSFT)
into their 20-demas as the most optimal, lower-risk entry opportunities. GOOG is in fact currently testing its 20-dema, but on higher volume, while AAPL and MSFT remain around their 10-dmas but well above their 20-demas for now.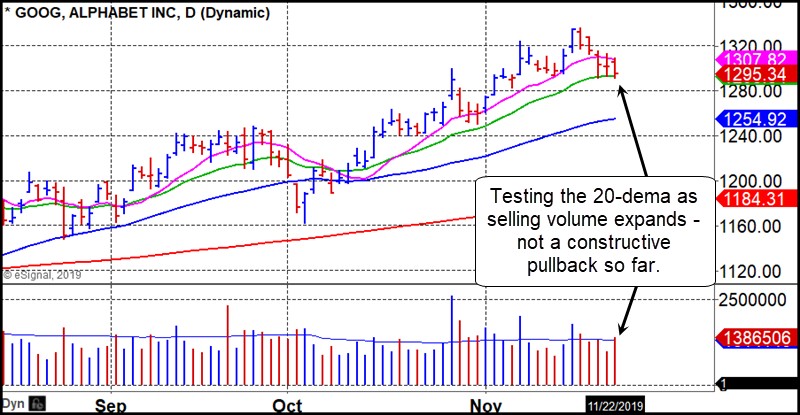 While we see some individual stocks acting well, this market does still have a rotational flavor to it, thus we would remain opportunistic when it comes to our entries on selected long ideas, looking to enter on constructive pullbacks.