Current Report Watch List

The VoSI Report Watch List is a compilation and reference list of stocks for which Pocket Pivot or Buyable Gap-Up Reports have been issued. Not all stocks for which a Pocket Pivot or Buyable Gap-Up report has been issued. It is not intended as a "buy list" or a list of immediately actionable recommendations. Stocks on the List may or may not be in proper buy positions, and investors should exercise discretion and proper judgement in determining when and where stocks on the List can be purchased. The following notes are intended to assist in this process. Please note that members can enlarge the List image by clicking on the body of the email and then holding the Control Key while pressing the "+" key until it is large enough to read.
General Observations:
Major market indexes sold off from their recent peaks as the prior week's trade news starts to wear off and the reality of an impending recession takes hold. The
NASDAQ Composite Index
was hit with distribution on Friday as leading stocks again took it on the chin, most notably in the cloud software area.
Netflix (NFLX)
also reversed and broke back below its 50-dma on Thursday and Friday following an initial gap-up reaction to its earnings report released Wednesday after the close. This remains a market where very little in the way of compelling long ideas can be found, despite the fact that the major market indexes are within a stone's throw of their all-time highs. The poor action under the surface of this market continues to to argue for caution.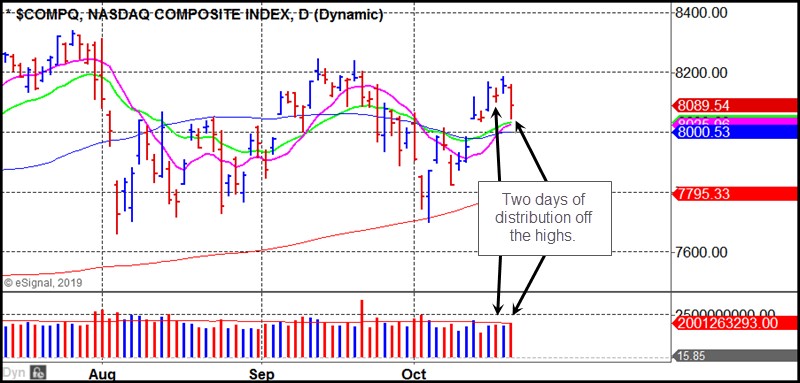 The
Market Direction Model (MDM)
remains on a cash signal.
Stocks Expected to Report Earnings this Week:
Chipotle Mexican Grill (CMG)
and
Manhattan Associates (MANH)
on Tuesday after the close.
Two of the remaining three names on the Report Watch List continue to act well. They are some of the very few names in this market that continue to act constructively, but the question remains how long that will continue.
Chipotle Mexican Grill (CMG)
posted a pocket pivot on Friday ahead of this Tuesday's earnings report. The action was strong, but we would not look to initiate a position in the stock here just ahead of earnings given our inclination to avoid playing "earnings roulette."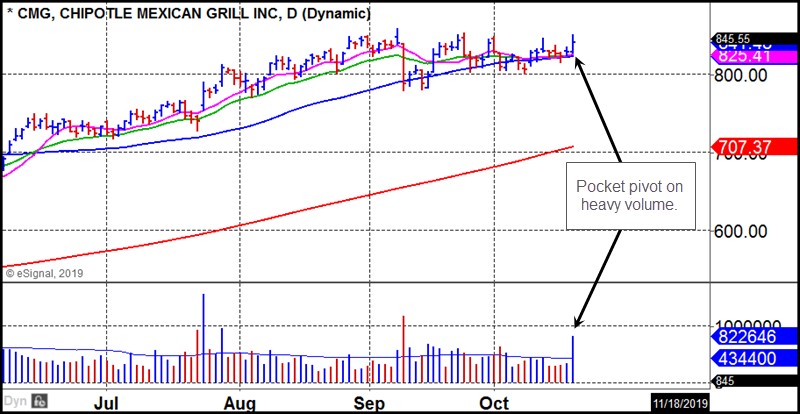 Lululemon Athletica (LULU)
broke out to new highs on Friday, but we generally take a dim view of buying breakouts in this market. The proper entry occurred in early October when LULU posted an undercut & rally (U&R) long set-up along the 50-dma, as we noted in last weekend's report.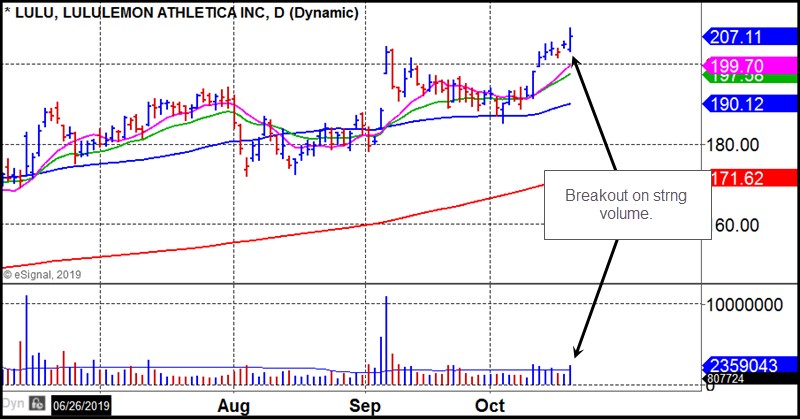 Manhattan Associates (MANH)
finally succumbed to the pressure that has plagued the cloud/software group lately. After an undercut & rally move that started in early October, the stock reached the highs of its base on weak volume. This past week, it moved lower five days in a row and finally failed on its breakout attempt when it breached the 20-dema and 50-dma on Wednesday. It offered a short-sale entry at the two moving averages on Thursday, and then broke lower on Friday as volume spiked. MANH is expected to report earnings on Tuesday after the close. We would not take a position in the stock either way ahead of earnings.