Current Report Watch List

The VoSI Focus List is a compilation and reference list of stocks for which Pocket Pivot or Buyable Gap-Up Reports have been issued. It is not intended as a "buy list" or a list of immediately actionable recommendations. Stocks on the List may or may not be in proper buy positions, and investors should exercise discretion and proper judgement in determining when and where stocks on the List can be purchased. The following notes are intended to assist in this process. Please note that members can enlarge the Focus List image by clicking on the body of the email and then holding the Control Key while pressing the "+" key until it is large enough to read.
General Observations:
The market posted an extremely volatile week as it broke hard on Tuesday and Wednesday before the Dow and the NASDAQ Composite Index finally tested their 200-dmas on Thursday morning, triggering a very sharp, manic oversold rally that sent both the S&P 500 and Dow Indexes back above their 50-dmas. The NASDAQ, however, remains below near-term resistance at its 50-dma, and volume on both the NYSE and NASDAQ exchanges remained quite low given the magnitude of the rally. The action remains extremely volatile and news-oriented, which is far more suited to nimble short-term swing-traders and day-traders than intermediate-term investors.
If the NASDAQ cannot clear its 50-dma, then it may drag the S&P and Dow back down with it, but if it can, then we may see things set up again as we head into the U.S.-China trade talks on Thursday. For now, this remains an environment for short-term traders who can take advantage of the extreme volatility, while those seeking a more coherent, trending market environment are better off in cash.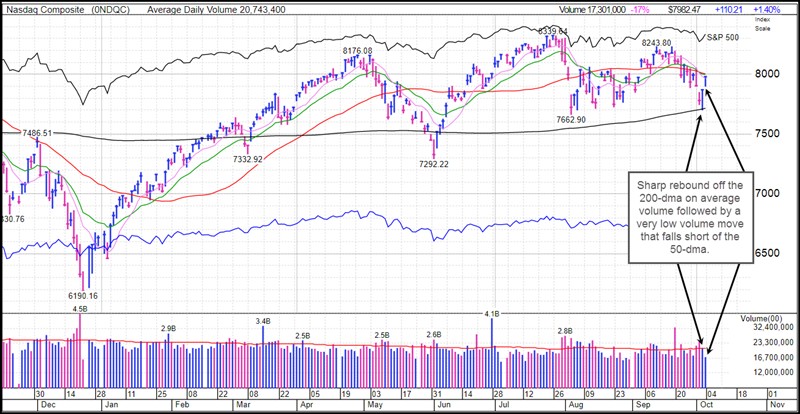 The
Market Direction Model (MDM)
remains on a cash signal.
The Report Watch List continues to have three names left as everything else has come apart, but all three survivors continue to hold up, for now.
Chipotle Mexican Grill (CMG)
was hit with heavy selling volume four weeks ago on news, but it declined no further and is holding up in a four-week pennant formation.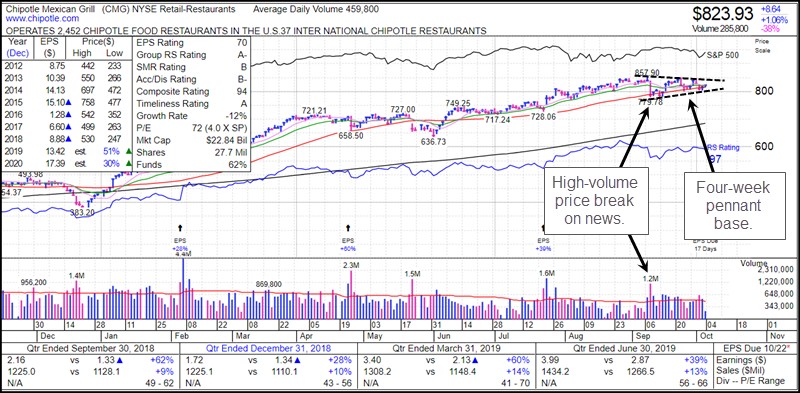 Lululemon Athletica (LULU)
failed to hold up following a BGU breakout after earnings in early September and quickly failed. It has since looked as if it would fail completely on a late-stage failed-base (LSFB) type of set-up, but it was able to hold the 50-dma this past week and posted a U&R move through the lows of its current flag formation formed since the BGU. At the same time it filled the gap-up window of the early September BGU day.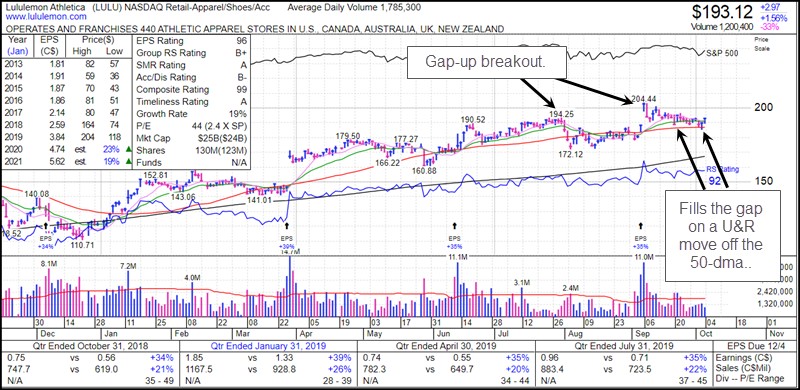 Manhattan Associates (MANH)
has escaped the group selling that has afflicted the cloud/software space over the past few weeks. MANH had posted a pocket pivot two weeks ago along its 10-dma, but was dragged down with the market and its group shortly thereafter. On Wednesday it posted big-volume support along the lows of its base as it then posted a U&R move back up through the prior 79.34 low in the base.