Current Report Watch List

The VoSI Report Watch List is a compilation and reference list of stocks for which Pocket Pivot or Buyable Gap-Up Reports have been issued. It is not intended as a "buy list" or a list of immediately actionable recommendations. Stocks on the List may or may not be in proper buy positions, and investors should exercise discretion and proper judgement in determining when and where stocks on the List can be purchased. The following notes are intended to assist in this process. Please note that members can enlarge the List image by clicking on the body of the email and then holding the Control Key while pressing the "+" key until it is large enough to read.
General Observations:
The major market indexes are all withing a stone's throw from their all-time highs. The
NASDAQ Composite Index
successfully retested its 50-dma on Tuesday of this past week and held on a shakeout at the line. It is now right up against its prior highs but the action among individual stock leadership is diverging sharply in many cases. The current rally has been led mostly by financials and semiconductors rallying straight up from their August lows as the market takes on a highly bifurcated and rotational tone.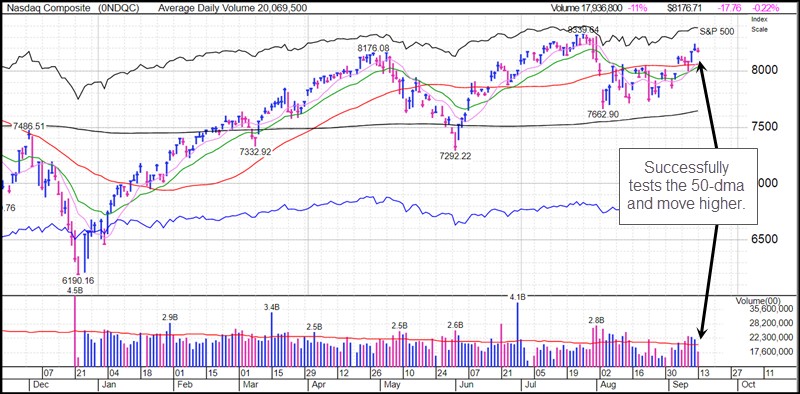 The
Market Direction Model (MDM)
remains on a buy signal.
Removed from the List:
Atlassian (TEAM)
,
Coupa Software (COUP)
,
Heico (HEI)
,
IAC/Interactive (IAC)
,
Invitae (NVTA)
,
Paycom (PAYC)
,
Pinterest (PINS)
,
The Trade Desk (TTD)
,
Wingstop (WING).
Despite the strong index action, we have seen nine stocks on the Report Watch List come apart this past week, some in spectacularly ugly fashion, such as HEI and PAYC. The others listed above have all busted their 50-day moving averages on heavy selling volume as they now plumb the lower reaches of their charts. Below are some chart examples of just how ugly the action has been among these stocks. Chipotle Mexican Grill (CMG) has also come under selling pressure and is on the verge of violating its 50-dma.
Paycom (PAYC)
broke over 20% on Monday and Tuesday as it slashed through its 50-dma on extremely heavy volume. Other payments stocks like
Visa (V)
and
Mastercard (MA)
suffered similar fates this past week as the group came under sudden and very intense, panic-like selling pressure.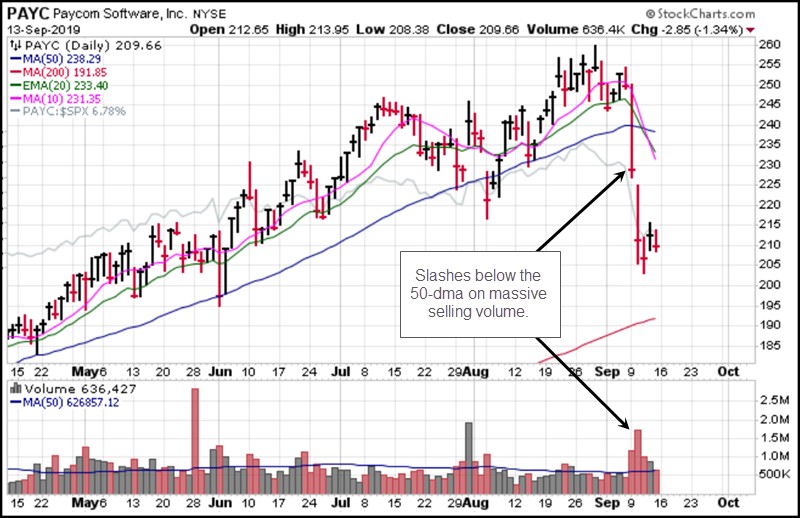 Heico Corp. (HEI)
had been holding in a consistent uptrend channel for the past three months before suddenly blowing apart on Monday as sellers swarmed the stock. It has not been able to muster even a small reaction rally as it sits just above the $125 price level.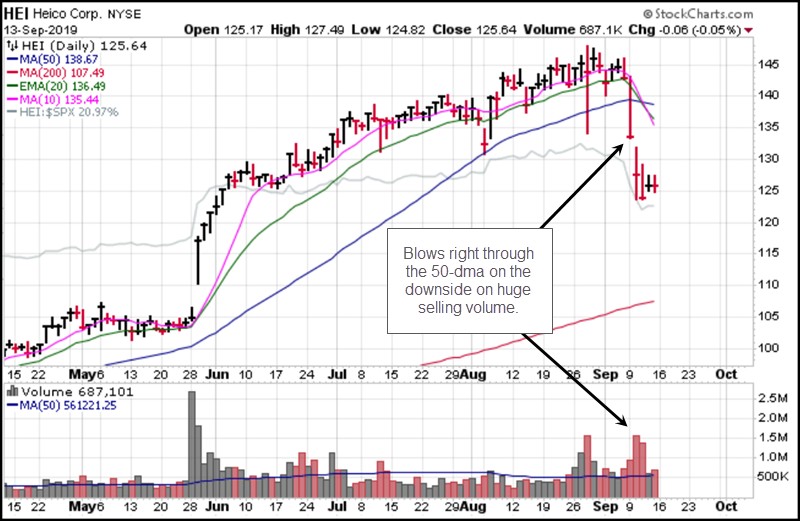 Coupa Software (COUP)
failed on a recent breakout attempt when it was slammed back below its 50-dma on Monday on heavy selling. Cloud software stocks in general have been under intense pressure for the past 2-3 weeks, and we suggested last week that COUP might not make on this recent breakout given the action in the overall cloud software group. It is now a short on rallies into the 50-dma, where it reversed on Thursday and then posted a lower closing low on Friday.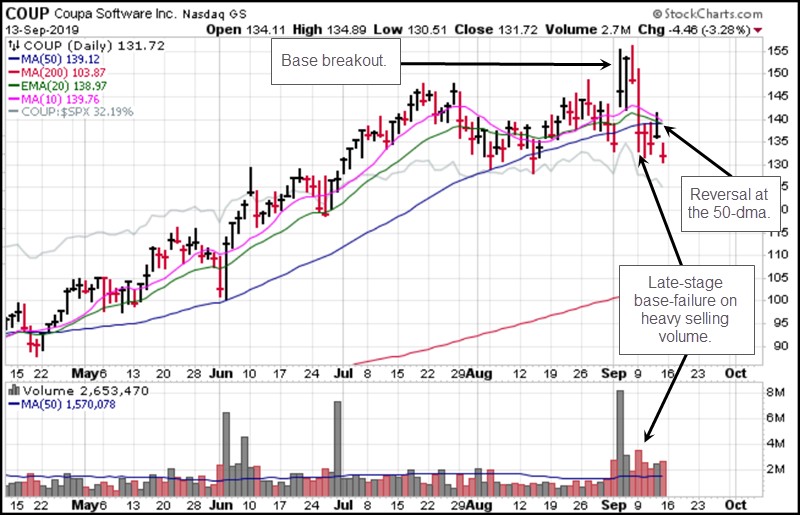 Paradoxically, despite the major index rally and move back up near to prior all-time highs, we are not finding new names to report on as long ideas. We are only seeing previously well-acting names on the Report Watch List come apart as these leading names starkly diverge from the action seen in the major market indexes. This may be a cautionary sign as to the viability of the current rally. In the meantime, since we always advise that investors should act only when the proper set-ups present themselves, there is nothing much to do on the long side of a market rally where prior leadership is deteriorating badly and current leadership consists of groups moving straight up from their August lows. We will not seek to redeploy cash until such time as we begin to see proper long set-ups appear. Stay tuned.