Current Report Watch List

The VoSI Report Watch List is a compilation and reference list of stocks for which Pocket Pivot or Buyable Gap-Up Reports have been issued. It is not intended as a "buy list" or a list of immediately actionable recommendations. Stocks on the list may or may not be in proper buy positions, and investors should exercise discretion and proper judgement in determining when and where stocks on the List can be purchased. The following notes are intended to assist in this process. Please note that members can enlarge the List image by clicking on the body of the email and then holding the Control Key while pressing the "+" key until it is large enough to read.
General Observations:
As we have written repeatedly in these reports over recent weeks, the fact that we were seeing more stocks coming off our Report Watch List even as the indexes were flirting with all-time highs made us wary of this market. While this is a highly news-driven market, the fact is that leading stocks of all stripes are rapidly becoming
formerly
leading stocks. This past week we saw semiconductors break down, most notably names like
Micron (MU)
and
Applied Materials (AMAT)
, a previously leading area of the market.
The action over the past 2-3 weeks has confirmed our suspicions. On Friday, the
NASDAQ Composite Index
broke below its 50-dma on higher volume. This comes after a sharp break on Tuesday. Regardless of what the news is, the action among individual leading stocks is the big "tell" here and has been for some time.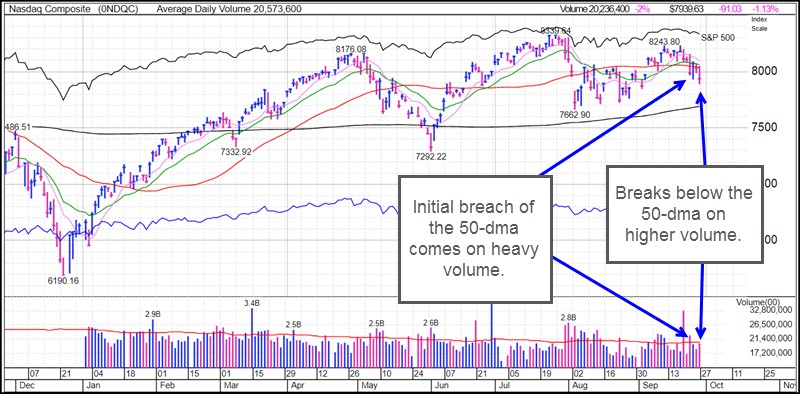 The
Market Direction Model (MDM)
remains on a buy signal for now.
Removed from the List this Week:
Advanced Micro Devices (AMD)
,
HMS Holdings (HMSY)
,
New Oriental Education & Technology (EDU)
,
Snap (SNAP)
, and
Twitter (TWTR)
.
Notable Action:
What is most notable about the Report Watch List names is that more have fallen off the list as they break support and head lower. There are now only three names left on the list, and we would not be surprised to see these come apart as well. In the meantime, we have issued Short-Sale Set-Up Reports over the past two weeks for
Beyond Meat (BYND)
,
Etsy (ETSY)
, and
Pagseguro (PAGS)
, all of which have broken down.
On Thursday, however, BYND, which was moving lower gapped up from its lows on news that McDonald's (MCD) would be initiating a 12-week trial for a new meatless burger using BYND's product. The new product will be called the "PLT" or "Plant, Lettuce and Tomato." We believe a more accurate product name would be "CLT" for "Canola Oil, Lettuce and Tomato" but that's just us. Note, however, that while BYND gapped up on the news, it did not make it as far as its 50-dma, where we first discussed it as a short-sale set-up. Instead, it ran into resistance at its prior September high and reversed to close the week just below its 10-dma and 20-dema. The stock could fail here or it could make an attempt to approach its 50-dma. We would take the more opportunistic route of looking for a move to the 50-dma, and then use the line as a cover guide.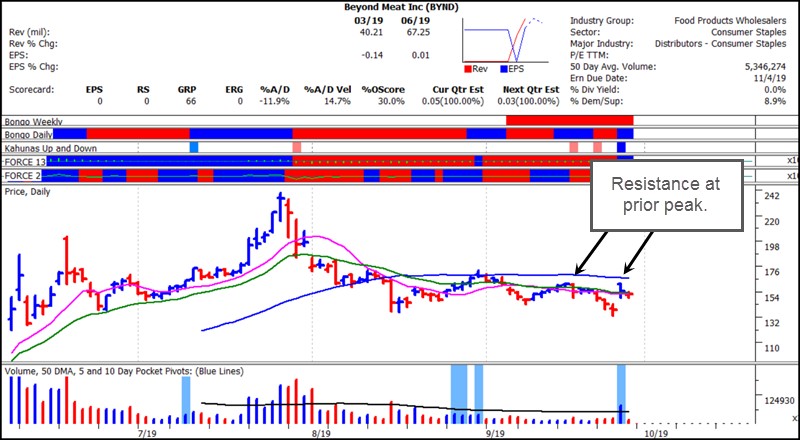 Overall this remains a very difficult market, and while it can quickly sell-off on news as it did on Friday, it can also move the other way on more positive news. That is why we believe his is an environment better-suited for short-term swing-traders and day-traders who are nimble and alert enough to capitalize on the volatility. For now, that is mostly what this market is giving traders, while investors looking for more coherent, intermediate- to longer-term trends should remain on the sidelines.