Current Report Watch List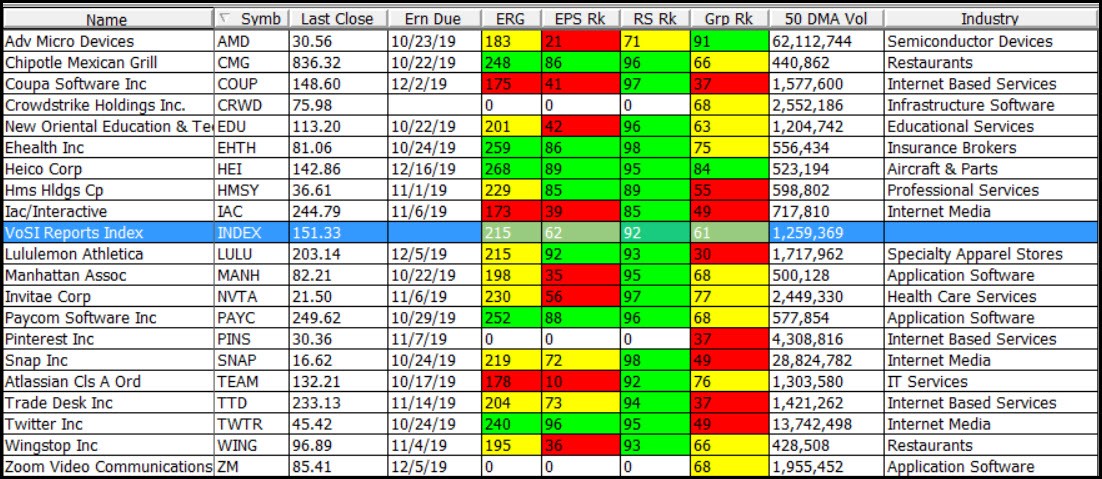 The VoSI Report Watch List is a compilation and reference list of stocks for which Pocket Pivot or Buyable Gap-Up Reports have been issued. It is not intended as a "buy list" or a list of immediately actionable recommendations. Stocks on the List may or may not be in proper buy positions, and investors should exercise discretion and proper judgement in determining when and where stocks on the List can be purchased. The following notes are intended to assist in this process. Please note that members can enlarge the List image by clicking on the body of the email and then holding the Control Key while pressing the "+" key until it is large enough to read.
General Observations:
The NASDAQ Composite, S&P 500 and Dow indexes all gapped up through their 50-day moving averages on Thursday news that the U.S. and China would be restarting trade talks in October. There was no mention of rescinding the current tariffs that are in effect on both sides, nor of any concrete agreement or concessions that may be made in the upcoming talks. Whether the Big-Three major market indexes can build on this week's gains remains to be seen, but for now the 50-day moving averages serve as a ready guide for downside support or failure.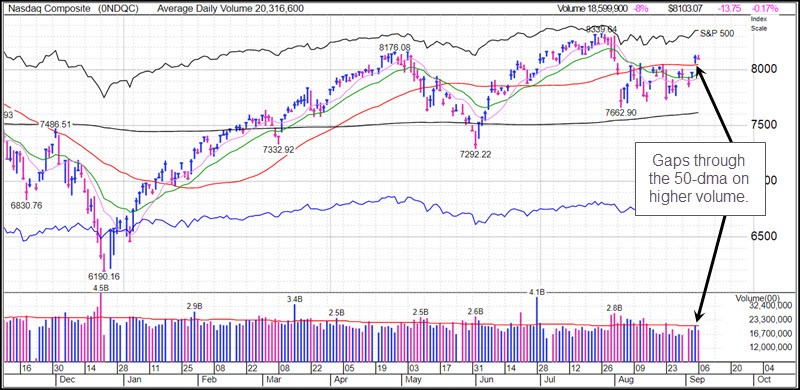 The "risk-on" area of the market as represented by the small-cap Russell 2000 Index is lagging its larger-cap brethren. The index remains below its 200-dma which is in turn below its 50-dma. If the current move to higher highs in the larger-cap indexes is real, then we might expect to see the Russell 2000 play catch-up by clearing its 200-dma and 50-dma lines soon.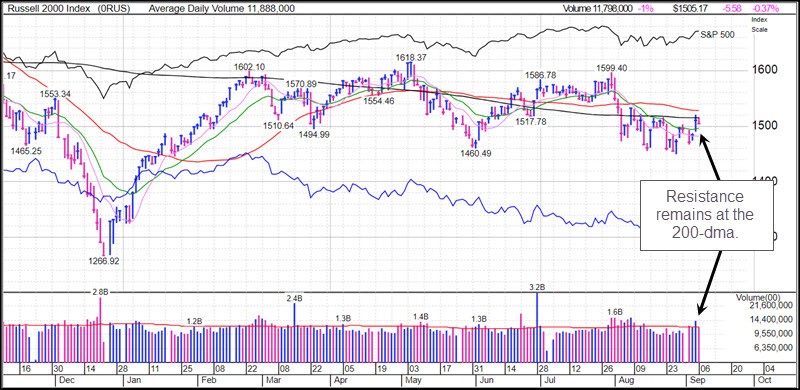 The
Market Direction Model (MDM)
went to a buy signal on Thursday.
Focus List Stocks Expected to Report Earnings this Week:
None.
Removed from the List this Week:
We've seen several names sell-off badly this past week, despite the strong index action. Both
CrowdStrike (CRWD)
and
Zoom Video Communications (ZM)
have come apart as CRWD gapped below its 50-dma and ZM posted a huge-volume outside reversal to the downside on Friday, both after reporting earnings. Both stocks were also recently hot IPOs, and the IPO space has taken a beating as of late. Another recently hot IPO,
Pinterest (PINS)
, failed on a recent breakout attempt and morphed into a short-sale play earlier in the week when it breached its 20-dema. It closed Friday at its 50-dma, and needs to find support soon. A breach of the 50-dma would seal its fate as a failed-base type of short-sale set-up.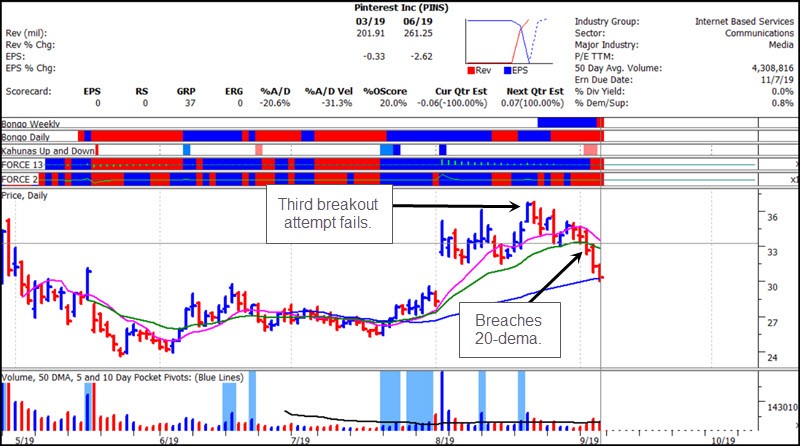 Ehealth (EHTH)
has also been removed after plunging lower this past week.
The Trade Desk (TTD)
has also breached its 50-dma and proceeded lower on Friday.
Another cloud name,
Atlassian (TEAM)
has also morphed into a short-sale play as a late-stage failed-base (LSFB) type of set-up. The stock breached its 50-dma earlier this past week and then proceeded to push lower before posting a short-lived U&R move on Thursday that carried into the 50-dma on Friday. TEAM then reversed at the 50-dma and closed negative on very heavy selling volume. The cloud space in general has come under selling pressure, and as a formerly strong leading group raises some suspicions about the current market rally.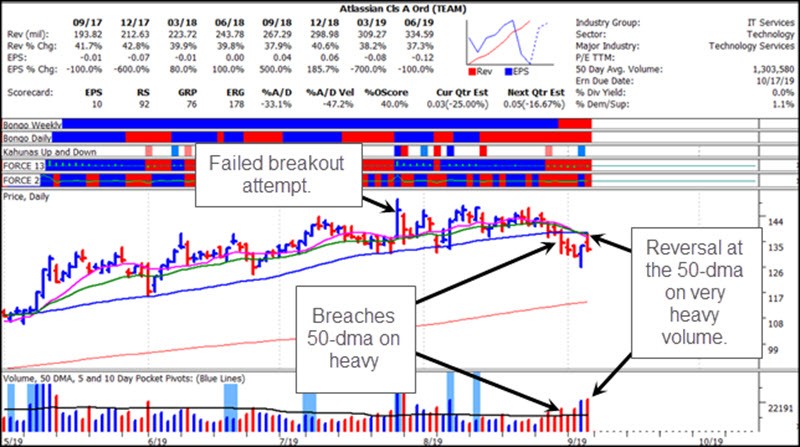 So, while the strong market index action might imply that our list of long ideas should be expanding, we are in fact seeing names on the list break down as the list contracts. This is an interesting state of affairs, which may provide some clues regarding the viability of this current market rally. While the above names are included on the list shown at the top of this report, they will be removed.
Notes on Selected Names:
We also note that other names on the list are wavering at support or worse, including
Heico (HEI)
,
HMS Holdings (HMSY)
,
IAC/Interactive (IAC)
,
Invitae (NVTA)
, and
Wingstop (WING)
. While NVTA broke support long ago, we are waiting to see how the stock acts one its prices a pending 3.9 million secondary stock offering and a $200 million convertible bond offering, the announcement of both of which has put pressure on the stock. Nevertheless, the action among all these stocks remains disappointing in the midst of a strong index rally.
Advanced Micro Devices (AMD)
also looks weak despite the big market rally at the end of the week. In fact, the stock looks like a short right here, using the 50-dma as a guide for an upside stop. Unlike most other chip stocks, which have been rallying this past week on more constructive trade news, AMD is a weak sister.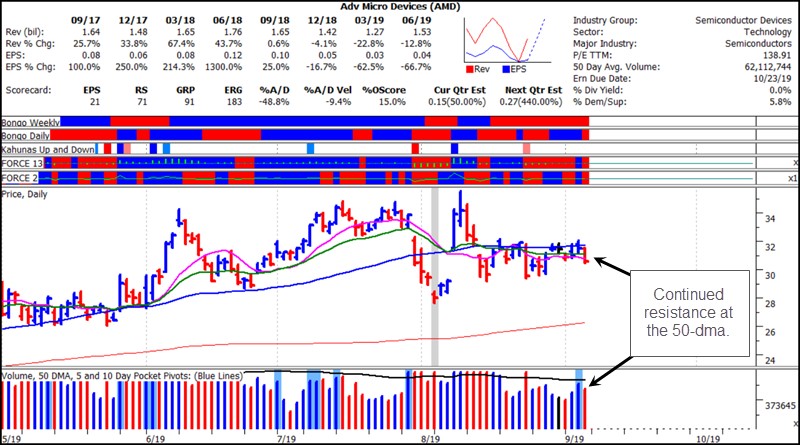 One bright spot would be the buyable gap-up (BGU) that occurred in
Lululemon Athletica (LULU)
on Friday after the company reported earnings. The move took the stock just above the $200 Century Mark, which we would view as a key reference for support since it also triggered a buy signal based on Jesse Livermore's Century Mark Rule.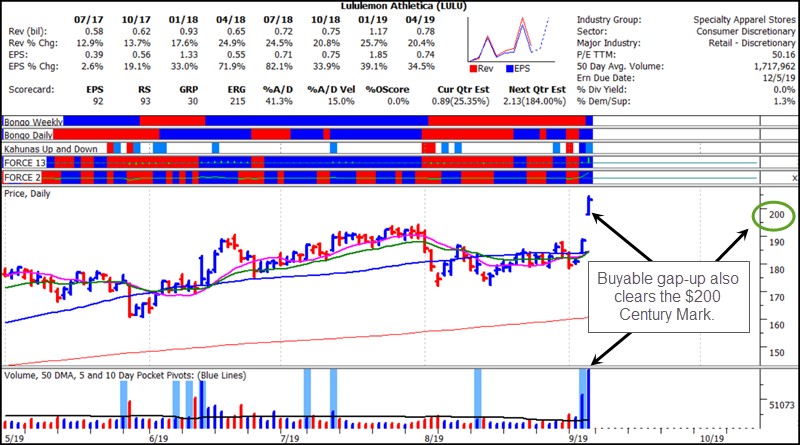 We reported on
Coupa Software (COUP)
on Wednesday after it reported earnings Tuesday afternoon. Initially, the stock was a potential buyable gap-up (BGU) but it quickly failed. It also failed on the associated base breakout attempt before finding support at its 10-dma and posting a re-breakout move on Thursday. It then ran into resistance along the Wednesday highs before reversing and coming in to test the prior breakout point. This is erratic, volatile action, but its possible the stock may try and settle down in here and maintain its re-breakout attempt.
What we know for certain is that there was no BGU based on the final action on Wednesday. With the cloud group overall quite weak currently, it will be interesting to see if COUP can hold this breakout position, or if it fails and morphs into a late-stage failed-base (LSFB) short-sale set-up. One to watch closely here as a potentially two-sided situation depending on how it plays out from here.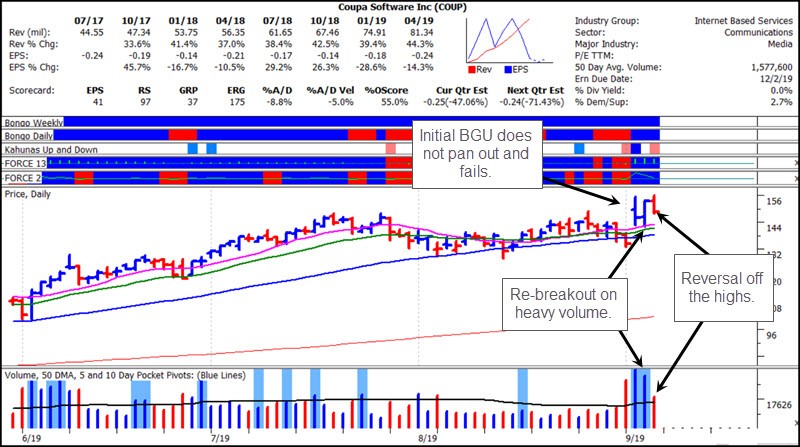 Overall, a puzzling week given the mixed action among individual stocks and the continued general breakdown and persistent selling seen in the formerly leading cloud-software group (with COUP being one exception for now) and the crop of recently hot IPOs. If looking to get long this market, we would pick our spots carefully and look to maintain tight risk control by buying as close to areas of support as possible.