Current Report Watch List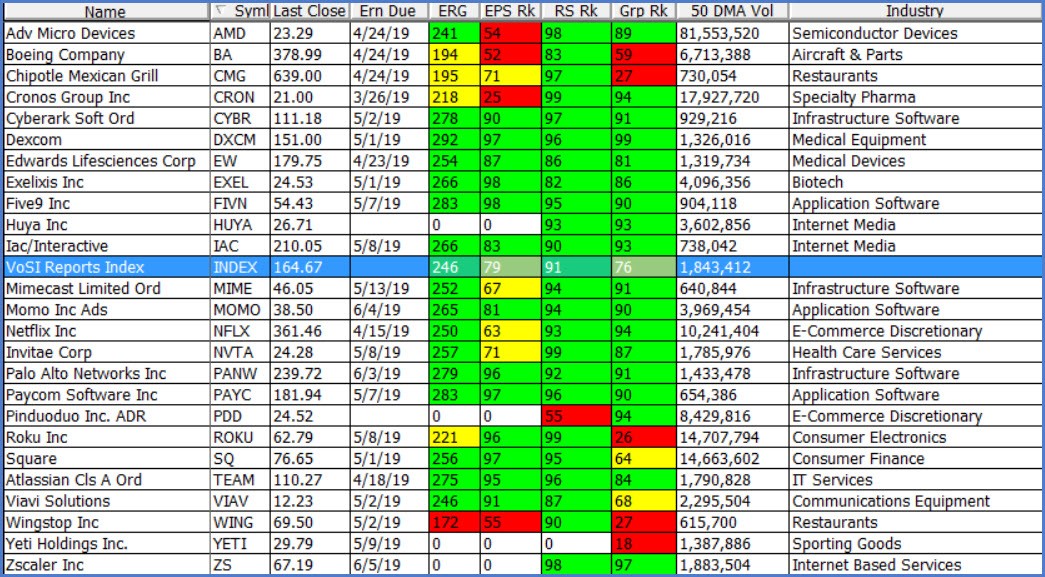 The VoSI Report Watch List is a compilation and reference list of stocks for which Pocket Pivot or Buyable Gap-Up Reports have been issued. It is not intended as a "buy list" or a list of immediately actionable recommendations. Stocks on the list may or may not be in proper buy positions, and investors should exercise discretion and proper judgement in determining when and where stocks on the list can be purchased. The following notes are intended to assist in this process. Please note that members can enlarge the list image by clicking on the body of the email and then holding the Control Key while pressing the "+" key until it is large enough to read.
General Observations:
All of the major market indexes moved to their highest levels since the market bottom in late December. The small-cap
Russell 2000 Index
is lagging as it remains well below its 200-dma. The index stalled on Friday on very heavy quadruple-witching options expiration volume. The Russell, along with the
S&P Mid-Cap Index
, are both currently trading below their 200-day moving averages.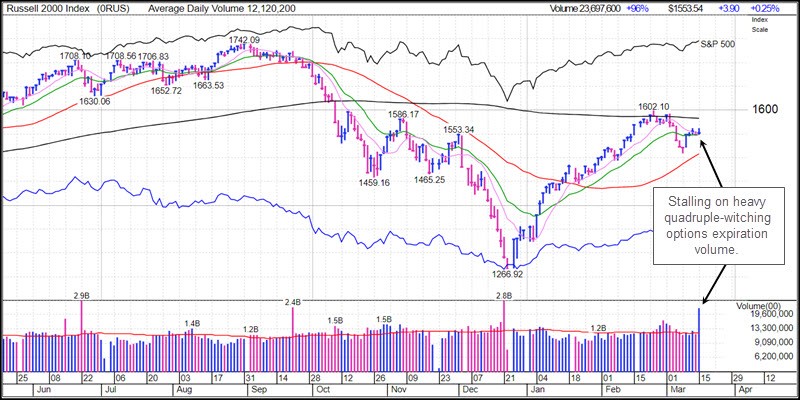 The
Market Direction Model (MDM)
remains on a buy signal.
Stocks Expected to Report Earnings this Week:
None.
Notable Action:
Roku (ROKU)
and
Pinduoduo (PDD)
both split wide open this past week. ROKU did so after announcing a $100 million shelf registration to sell securities from time to time and several analyst downgrades. The stock was already in a very deep-v-shaped move after doubling from where it was trading in early January, when we first reported on the stock. Thus, it was vulnerable to a pullback and must spend time re-building. PDD was in a similar deep, punchbowl-shaped formation as it sat near its highs. It broke down after reporting earnings.
Cronos (CRON)
has drifted into the lows of a five-week flag formation as volume dried up to -69% below-average on Friday. This puts it in a lower-risk early-entry position along the base lows. The stock had a parabolic move back in early February, which in our view was not a climax top. Final climax tops tend to occur after a stock has had a long upside run. CRON strikes us a being in the earlier stages of a potentially longer move, which is confirmed by the fact that the short-term climactic action in early February has resolved constructively into a tight flag base formation.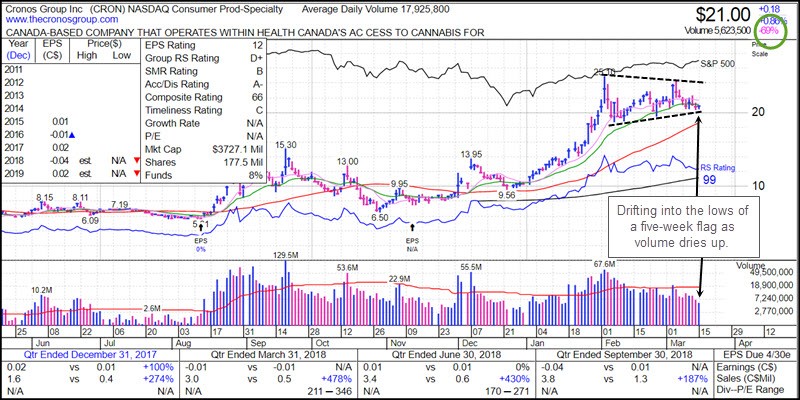 D
excom (DXCM)
posted a pocket pivot on Friday. Volume was likely heavy due to triple-witching options expiration, but the stock has recovered well since breaking down after earnings three weeks ago. We have noted over the past two weeks that the stock has been buyable along the 50-dma. It is now making a bid for new highs once again.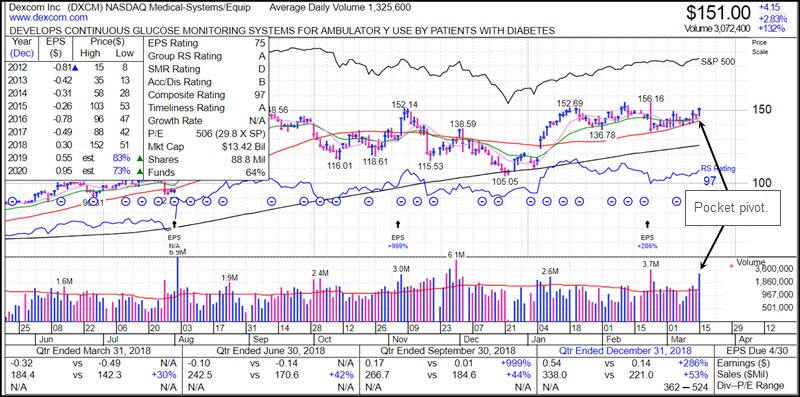 Huya (HUYA)
has had a wild ride since reporting earnings eight trading days ago on the chart below. A big-volume upside move had zero follow-through, and the stock came dropping back down to its 20-dema. However, the fundamentals for this stock are strong, and particularly so among Chinese names in general. To some extent, the stock can be buffeted about by the daily news flux relating to the current U.S.-China trade discussion. Pullbacks to the 20-dema would be our preferred entries, or the stock can be purchased at current prices while using the 20-dema as a tight selling guide.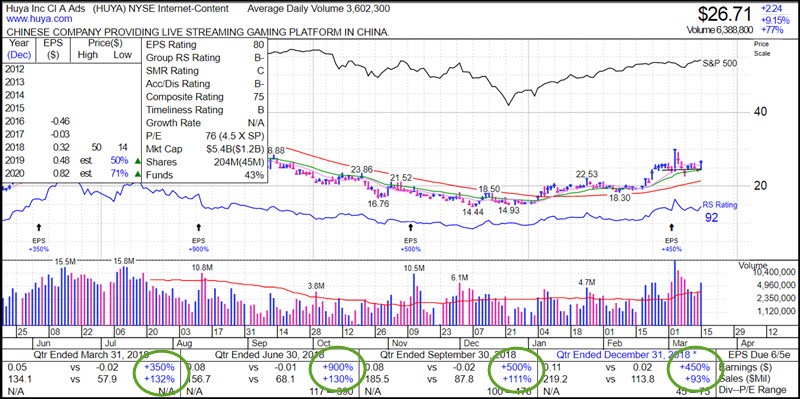 Viavi Solutions (VIAV)
has drifted below its 20-dema, where it has been living for over a week. Note that the true and proper entry point occurred on the small pullback following the post-earnings buyable gap-up (BGU) move back in early February. The base breakout through the prior left-side peak of the cup formation at 12.82 was not an optimal entry. In our view, the BGU was more of a strong trendline breakout and a preferred entry vs. the mindless buying of new-high "breakouts." Watch for a test of the 50-dma as a potentially lower-risk entry from here.
Among other names on the list, most of which are currently extended from lower-risk entry points, there are a handful at support levels.
Paycom (PAYC)
and
Square (SQ)
are both sitting at their 10-dma,
Advanced Micro Devices (AMD)
is sitting at its 20-dema, and
Interactive Corp. IAC)
is sitting at its 50-dma.