The VoSI VooDoo Report
Offbeat Ideas and Commentary from the Depths of Gil's Trading Notes
After a brief dry period, some voodoo set-ups are showing up again. Meanwhile, the general market has remained volatile and highly news-oriented, which has made it difficult for investors in general. I find the market to be quite ripe for day-trading, as much of the intraday volatility is huge, especially when stocks post BGUs after earnings. Not all of them work, while others work quite well. This makes them tradeable as both buyable gap-ups and
shortable
gap-ups, often on an intraday basis.
Part of my daily routine during earnings season is to every day review the list of stocks on Briefing.com for companies reporting earnings after the close on the same day and for companies reporting earnings before the next day's open. I jot down the names I'm most interested in and I then dump these into a list on HGS Investor Software so I can monitor them in real-time the next day. HGS Investor Software links to a variety of free quote data sources, and provides a highly unencumbered way to have your charts updating in real-time. This provides me with a nice action list of names that might be playable long or short based on the high-velocity moves that often develop after earnings. I would also make the very important point that some of these can start out as longs and end the day as shorts, or start out as shorts and end the day as longs. In some cases, they are clearly
shortable
gap-ups, but after a couple of days, even when the BGU has failed, a voodoo volume pullback sets up an Ugly Duckling type of entry
Etsy (ETSY)
is a good example of this. We can see that the stock gapped up after earnings on Tuesday after reporting earnings Monday after the close. It printed 49.78, rallied up to 50.60, and then slid lower all day to close at 43.84 and near the intraday lows. While the BGU quickly failed, the stock still found support at the 10-dma and 20-dema, with volume drying up on the second day as it found support along the two lines. From there it pushed back to the upside on Friday in a re-breakout attempt that is still technically within buying range as a standard-issue base breakout.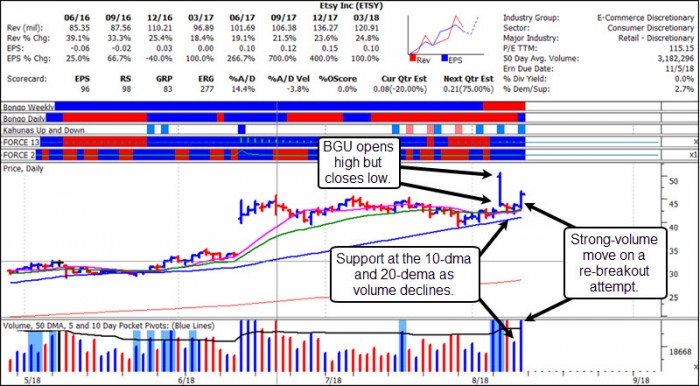 Four ideas from my voodoo screens that appear to have "ripened" somewhat:
1)
Fleetcor Technologies
has been moving tight sideways after reporting earnings week before last. It spun around that day and closed mi-range and down for the day. However, the action also has the look of support at the 50-dma given the high volume and failure to break down. Volume dried up to -64% below-average on Friday as the stock again tested and held the 50-dma. Buyable here using the 50-dma as a tight selling guide.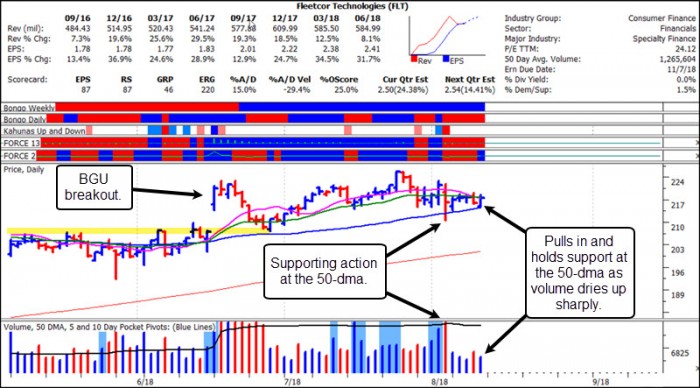 2)
Momo (MOMO)
, along with just about every other Chinese stock in the market, has been beaten to a pulp over the past two months. Following a big BGU breakout in late May after earnings, the stock has pulled a round trip all the way back to the top of its prior base. More recently it has undercut a late June low and rallied above it this past Wednesday. It has since held tight over the past two days. MOMO is expected to report earnings week after next, but it might be able to generate an upside trade here, using the 41.44 low of late May as a tight selling guide.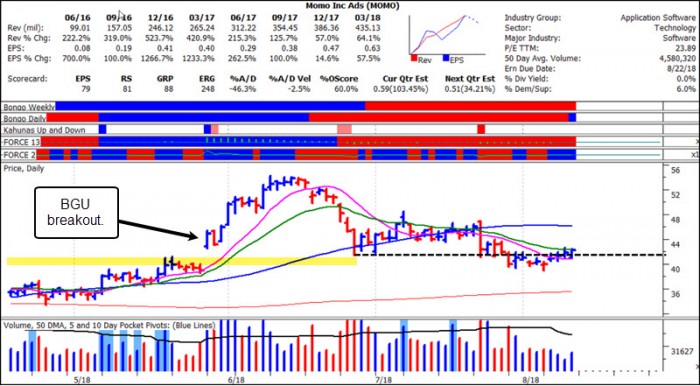 2)
Shake Shack (SHAK)
looks like its in a short bear flag after blowing apart on its earnings report. In the "old days" this would be a bearish formation, but in this market there is always the chance of a "LUie" pattern as the final outcome. That's when an L-formation (a.k.a. a bear flag) turns into a U-formation as the stock simply holds tight and then turns back to the upside. You will see this occur a lot in this market, and in a lot of different stocks. It is part and parcel of the Ugly Duckling market. On Monday of this past week, SHAK, despite its ugliness, undercut a prior low in the pattern from late May and rallied above it. Note the gray "bingo" oversold indicator bars occurred at the same time as the U&R. It has since held very tight sideways, triggering this as a U&R long set-up using the prior May low at 56.26 as a very tight selling guide.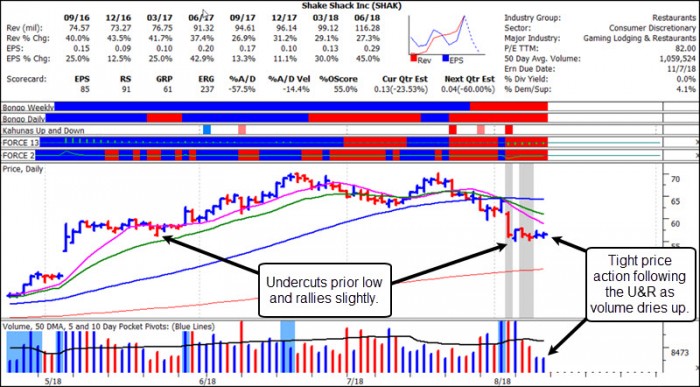 GrubHub (GRUB)
had a massive-volume gap-up move after earnings over two weeks ago that, unlike ETSY, opened low and closed very high as it streaked to the upside all day long. It has since pulled back in and is now sitting tight along its 10-dma as volume dries up to extreme voodoo levels at -62% below-average, putting it in a voodoo buy position using the 10-dma as a tight selling guide.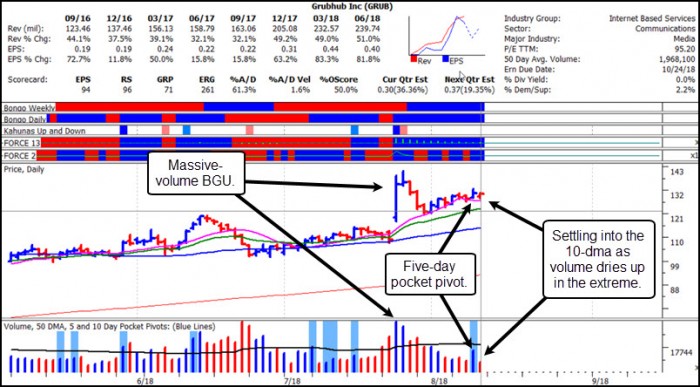 The market remains highly volatile, and we could see strong index reactions to the continuing news flow regarding trade, as well as any other number of geo-political and geo-economic events. Sometimes, however, I find that we can ignored what the indexes are doing and focus on what stocks are doing, as long as I have viable set-ups that come with the ability to maintain tight risk management. You will notice that all four of these set-ups have one thing in common: tight selling guides. That is critical in this market, where things can change quickly. Have a great trading week.