The VoSI VooDoo Report
Offbeat Ideas and Commentary from the Depths of Gil's Trading Notes
A couple of related ideas for you to consider this weekend,
Yelp (YELP)
and
GrubHub (GRUB)
which could develop into new leaders IF this market is going to continue higher:
Yelp (YELP) reported earnings Thursday after the close and gapped up on heavy volume. This of course qualified as a buyable gap-up move using the 37.85 intraday low as a selling guide. The stock closed at 40.05 on Friday, so is about 6% extended from the 37.85 low. That could be considered to be within buyable range, but any pullback towards the 37.85 price level, even a 50% retracement, might be buyable.
The chart below is a composite with a daily on top and a weekly below. I find it useful to be able to look at dailies and weeklies simultaneously while scrolling through my various watch lists. Note that YELP is pushing up through the 40-week moving average and could move higher from here. The stock has been in a long consolidation extending back to early October of 2016, so its not like it has had a big move, yet. It could, and I think that if this market is going to continue higher than you're to need some "name-brand" leadership, and YELP may be the ticket.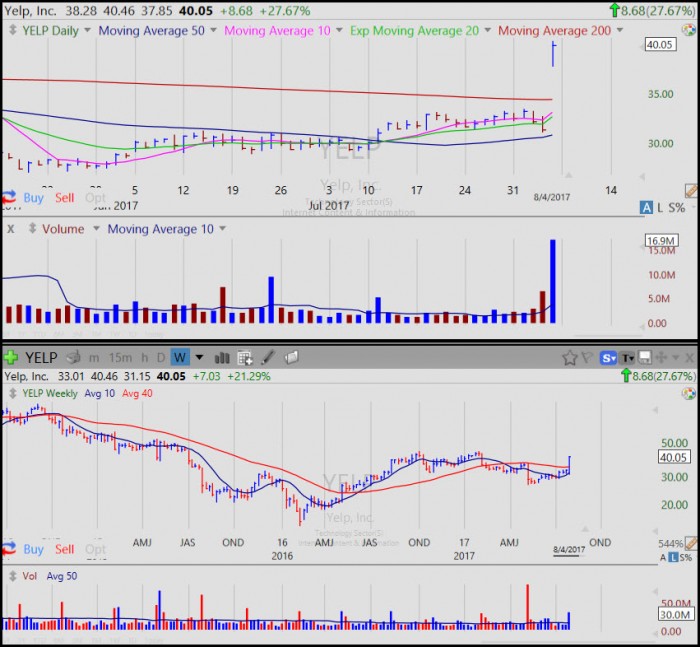 GrubHub (GRUB) has been discussed in recent VoSI Live-Action market webinars, but there has been nothing to do with the stock ahead of earnings, which were reported Thursday after the close. The stock initially didn't react to its earnings report as it opened up slightly at 49.04, then traded down towards its 10-dma at 47.70 before finding its feet and launching to the upside in a big-volume base breakout.
We can see on the composite chart below that GRUB is breaking out from a long-term cup-with-handle formation on strong weekly volume and clearing to all-time highs. This is constructive, and could lead to a more sustained move higher.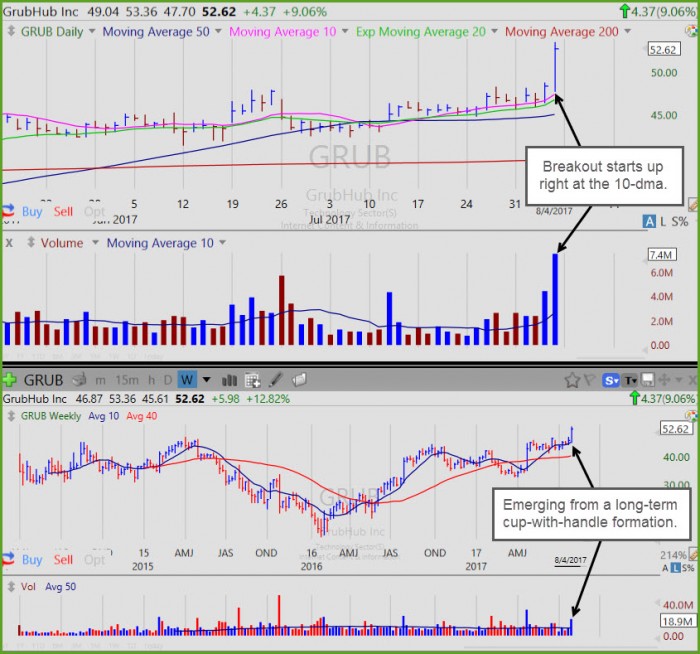 The two companies, YELP and GRUB, have crawled into bed together, so they are "kissing cousins" of a sort. On Thursday they announced a strategic partnership, and also that GRUB would purchase YELP's "Eat24" online food ordering business. Picking up Yelp's entry into this business line is probably good for GRUB, and shows that they perhaps have a better handle on the execution of this business model than YELP does. YELP, meanwhile, will benefit from the sale as well as partnering with GRUB as the two services would seem to me to be complimentary. Food for thought, literally!