The VoSI VooDoo Report
Offbeat Ideas and Commentary from the Depths of Gil's Trading Notes
There are some interesting things going on in the Realm of the Ugly Duckling. But first, something a bit more orthodox was seen in
Tesla (TSLA)
today as it posted a pocket pivot today at the 50-dma. That looks buyable using the 50-dma as your selling guide.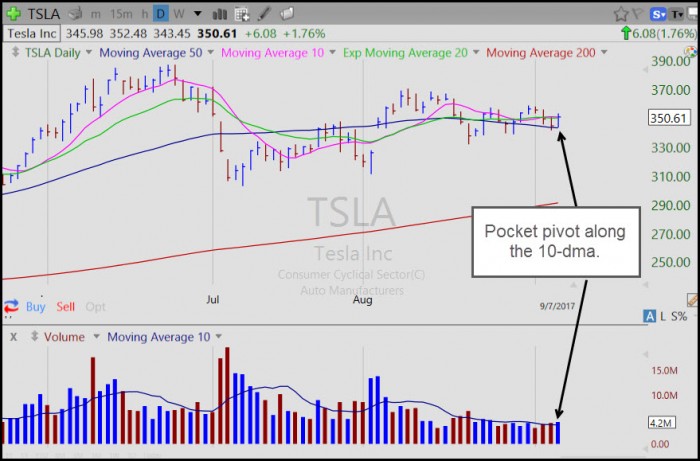 With
Baozun (BZUN)
recovering and regaining its 50-dma today on a five-day pocket pivot today, watch to see if
Momo (MOMO)
follows suit. Here we see the stock holding tight along the 10-dma on a Wyckoffian Retest type of set-up as volume dries up. MOMO bounced hard off the 200-dma a couple of weeks ago, and a move at least as high as the 50-dma might be in the cards if the general market goes higher, and with stocks like FB, NFLX, and TSLA posting pocket pivots over the past few days, that looks likely.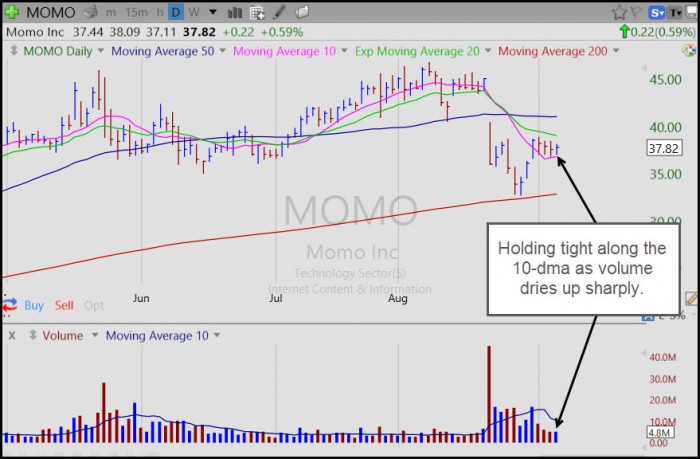 JD.com (JD)
is in a similar position as it holds tight along its 10-dma with volume drying up to -52% below average today, well below "voodoo" levels. This is constructive action following the prior undercut & rally (U&R) long set-up as it came back up through its 39.93 low of August 18 seven and eight trading days ago on the chart. Both MOMO and JD would be in buyable positions here using the 10-dma as a selling guide to keep things tight. Unorthodox set-ups for unorthodox traders.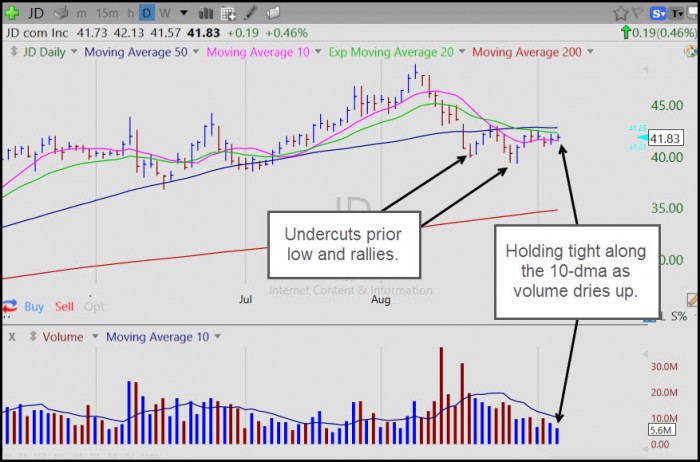 Veeva Systems (VEEV)
is probably the most off-the-wall idea on my radar. This gapped down after earnings a couple of weeks ago and would have worked out as a shortable gap-down on that day since it opened up at 58.51 and closed at 55.11. At that point, it did not continue any lower, however, and we saw several days of above-average volume come into the stock and hold it in place. That was accumulation after some sellers had been washed out on the earnings gap-down. Since then VEEV has pushed back up to the 10-dma where it has run into resistance and backed off a bit. The first two days of the pullback saw volume drying up. On those two days the stock closed near the lows of its intraday trading range. Today VEEV continued lower, but volume, which is still light, picked up as the stock closed above the mid-point of its intraday trading range. That was minor support, and could indicate the lows of a Wyckoffian type of retest. So one would expect the stock to hold above today's low at 57.21, and if testing a long position here, that same low would serve as a very tight selling guide.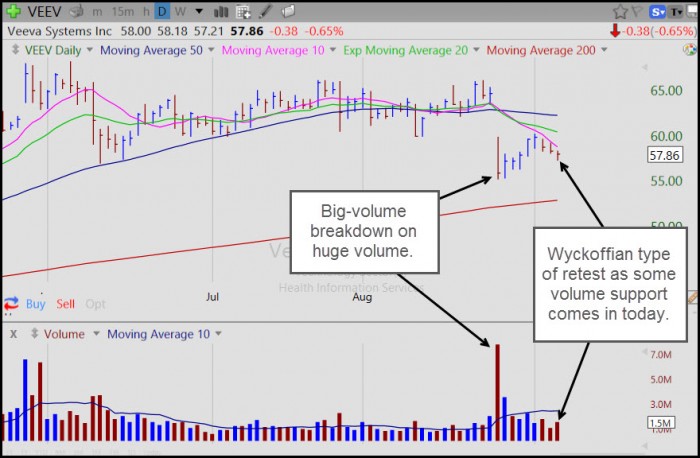 If we were in a sharp market correction or if the market began to roll over from here, VEEV might become a shortable rally. But if the general market continues higher, then a move back up as far as the 50-dma is possible as a trade, perhaps more, depending on how things play out from here. In this market, odd sorts of Ugly Duckling trades like this seem to work more often than not. Look at BZUN's recent butt-ugly gap-down afters earnings and how it is has now quickly recovered well above its 50-dma. In fact, if you study BZUN's chart very carefully, you will see that it had a big-volume gap-down, and then held there the next day on heavy volume. It then pulled back to the lows of the gap-down day and held as volume dries up sharply. That's a classic Wyckoffian Retest, and I show it here as an example to put into your Ugly Duckling Model Book!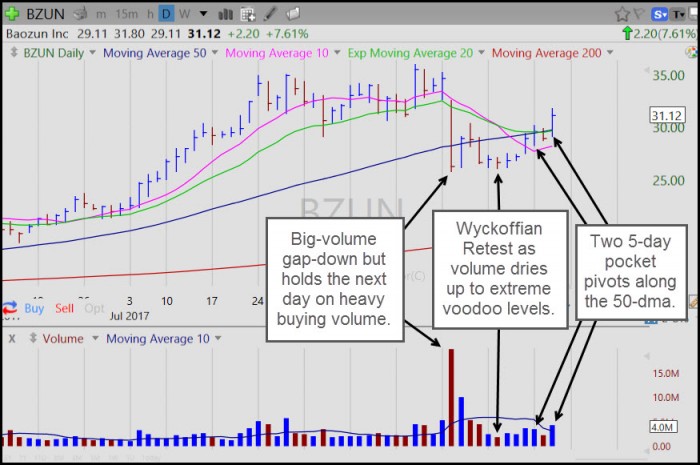 We issued a Buyable Gap-Up Report today on cyber-security name
FireEye (FEYE)
today, but I also like, maybe even prefer,
Palo Alto Networks (PANW)
. The stock posted a BGU last Friday after reporting earnings. This also coincided with a breakout from a three-month price range. The stock has since pulled down into the top of the prior base and near the 143.23 intraday low of last Friday's BGU. This comes into play here as a long, using the 143.23 price level as your selling guide.