Dr. K's points:
What Gil wrote is very true regarding the backtesting of models, much of which is "baloney". This is why it is important to test results in a real-time environment before going live. If the changes can prove out outside of a backtest in real-time before going live on VoSI, then they should continue to work UNLESS the market environment happens to change once again. And should that happen, the model must adjust.
Calling the two market timing strategies "models" is a misnomer. There are no black boxes that can run indefinitely. And context, as always, is a factor. Of course, this is true of any trading strategy which is why we strive to stay in sync with the markets which have changed in various ways over the years. Nevertheless,the VVM has been a loss leader since I made the material change to the VVM on April 3, 2017. Prior to April 3, VVM was up +54.3% YTD starting with the 12-29-16 to 1-12-17 sell signal (returns from 12-29-16 to end of year were negligible). Meanwhile, MDM was left untouched and continues to perform. I too would love to know how members have done using either or both models. Gil and I both value constructive feedback, though most all of you have been very kind and understanding with respect to difficulties encountered by the VVM.
The pre-April 3 version of VVM continues to put in a strong performance as I'm tracking it in real-time though this does not help members profit, and profit is what it's all about. But for now, I stand by the change I made on April 3 to the VVM for reasons discussed in the results section. I have also started including UVXY 620 buy signals as they come. So far, three recent buy signals at small losses have occurred. Not an impressive start, but the potential for sizable gains remains intact.
-----
The Market Direction Model using TECL had achieved a +43.75% return over a rolling 12-month period as of 8-18-17 using the most recent overlapping buy signal on 7-15-16 which ended on 9-14-16.
-----
While focusing on stocks using our various strategies can result in higher returns, the market timing strategies are for those who dont have the time to manage a stock portfolio using our methods. Some also prefer to split their investment capital between stocks and market timing.
-----
Shorting the VIX when it is near record lows can be a major headwind. That said, context is everything as we have both said numerous times. The VIX was near all-time lows in a trading range between roughly 11-12 from Jan-Apr 2017 yet the VIX Volatility Model still managed a return of more than +50%. From here, because QE has been at record levels all year, the VIX was pushed to an even lower trading range of 10-11 starting in late April. There are no signs as of yet that QE will be tapered anytime in the near future. That said, the lower the VIX goes, the worse the odds in being short the VIX, and the greater the opportunity to benefit from Gil's piece on buying UVXY at the right time using the MACD 620 as a guide post.
-----
This year, markets have gone the longest without a correction beyond 3-4%. This is a historic record. The chart below shows a number of "one-day" wonders where the market plunges then no further meaningful correction occurs. Instead, the market baby-steps higher over the ensuing days and weeks or trades somewhat sideways. Post April 3, 2017 has been the most challenging environment for market timing, even more so than in prior years. Indeed, the trend following wizards who make up all-star performers that have been interviewed in "Market Wizard" type books continue to well underperform the major averages:
http://www.automated-trading-system.com/trend-following-wizards-june-2017/
. The UVXY 620 can be a formidable weapon though losses should be kept to within 1-2% or less because a number of false signals can occur before a sizable gain.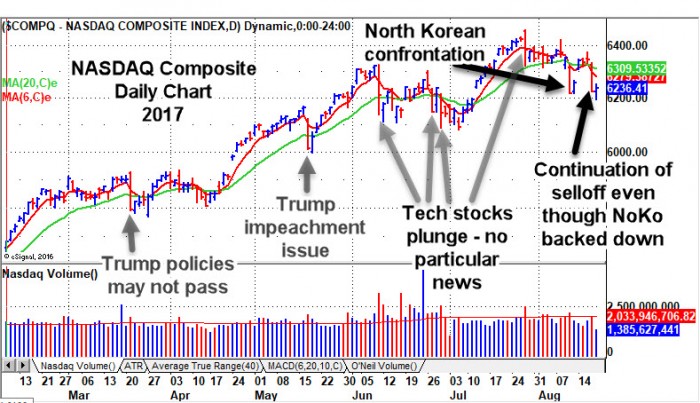 As a general rule, it is good practice to monitor a number of studies on an ongoing basis so you can see in real-time how they perform. This is also essential if you have backtested results which often fail if the backtest has been overoptimized. Testing your backtest in real-time will show you whether it will continue to work going forward. You may then wish to make live such a study when you think the time is right since markets can and will change.