The VoSI VooDoo Report
Offbeat Ideas and Commentary from the Depths of Gil's Trading Notes
Some of the better patterns holding up in this market are biotechs and medicals. I've put together a screened list of bio-techs and medical names below. They are sorted by HGS Investor ERG Rating, which is comparable to O'Neil's Composite Rating.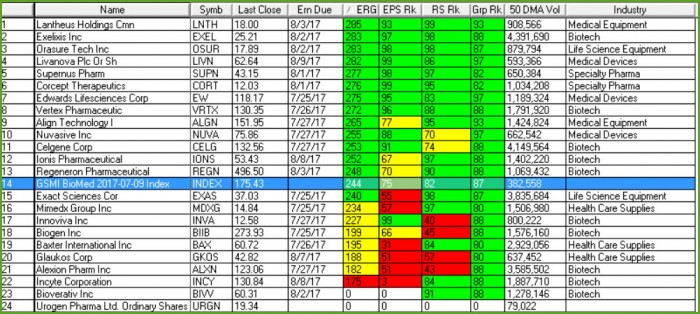 We can see a familiar name, Glaukos (GKOS) on the list. It is back above its 50-dma as it tries to round out the right side of a potential new base. One that looks similar is Incyte Pharmaceuticals (INCY) which has also regained its 50-dma as it too attempts to round out what may be the right side of a new base. Here's INCY's chart: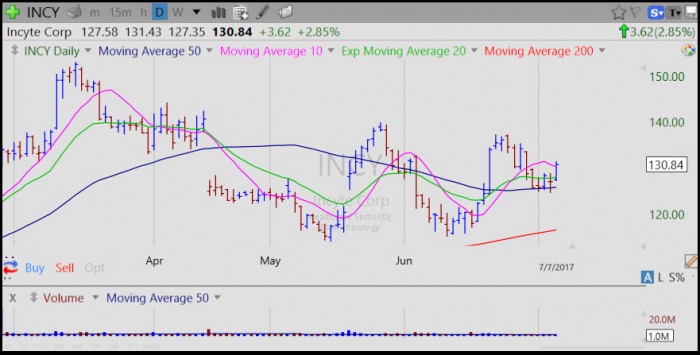 Both GKOS and INCY represent chart patterns in search of a concrete buy signal, although for now it appears that only low-volume pullbacks into the 50-dma or perhaps the 20-dema represent buyable moves. Vertex Pharmaceuticals (VRTX) and Bioverativ (BIVV) are also on the list, and both are pulling back into areas of support after recent breakouts. Here's the daily chart of BIVV, which is a recent IPO that was a spin-off of Biogen's Global Hemophilia business: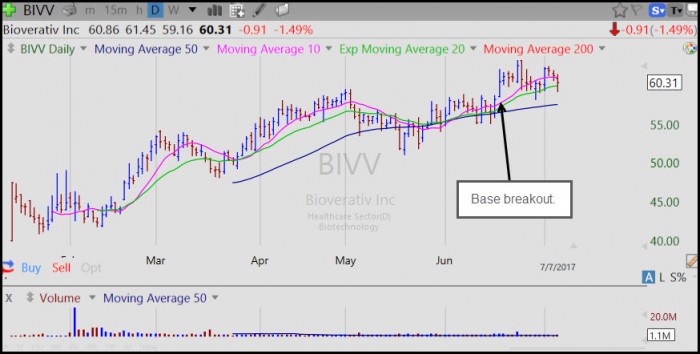 And then there are the big-stock names in the "bio-med" space like Biogen Idec (BIIB), Celgene (CELG), Alexion Pharmaceuticals (ALXN), Baxter (BAX), and Regeneron Pharmaceuticals (REGN). Most of these can be found in the iShares NASDAQ Biotech ETF (IBB), which is forming a flag formation here after jacking to the upside in mid-June. Among these bigger bio-techs, BIIB looks interesting here, as does BAX.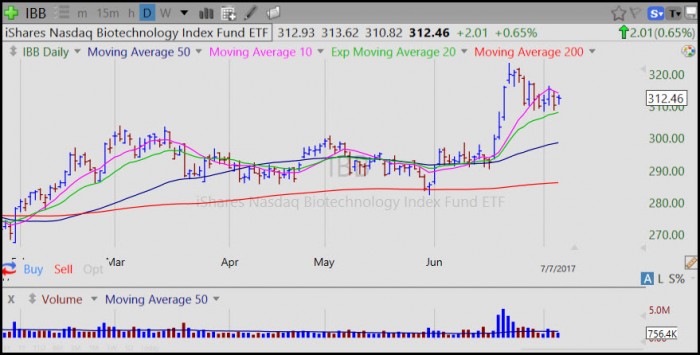 And then there are the tiny bio-techs like Corcept Therapeutics (CORT) and Lantheus Holdings (LNTH). Exact Sciences (EXAS), which makes the new "get, go, gone" colon cancer test you see advertised on TV, is also an interesting situation. I would suggest going through each of the stocks on this list I've posted at the top of this VooDoo Report and investigating each more thoroughly. I intend to continue monitoring this list as an area of interest where I hope to find concrete buy points show up in real-time. If I see something actionable, it will likely be mentioned in a real-time VooDoo Report or the usual Pocket Pivot or Buyable Gap-Up Reports, depending on the specific set-up.