The VoSI VooDoo Report
Offbeat Ideas and Commentary from the Depths of Gil's Trading Notes
Looking for Love in all the Right Places...
On Tuesday we expect that Electronics Arts (EA) will report earnings after the close, at least according to the company's own press release. Video-gaming names have been strong performers since mid-2016, but since mid-2017 EA has spend a number of weeks and months chopping back and forth as it builds a long base structure. A couple of weeks ago the stock got hit with an analyst's downgrade, sending it gapping to the downside on very heavy selling volume.
That looked quite ugly, and any O'Neil-style "down on volume = sell" investor would have likely tossed the baby out with the bath water. On the other hand, an OWL-style investor, invoking the Ugly Duckling and a pattern that has now become almost classic in the QE market, might have seen it as a big, ugly, undercut & rally set-up in progress. While the stock probably required a little work on the part of any investor trying to buy the U&R since it fluttered back to the downside on the next day, it was actionable again later in the day. This illustrates the need for persistence when trying to exploit Ugly Duckling set-ups.
That led to a rally, completing the U&R equation, that then ran headlong into the 50-dma on heavy volume Friday. That doesn't look like a shortable move since buying volume was strong. However, there is no reason to do anything with the stock ahead of earnings, just be cognizant of the overall pattern and where the real-time set-ups might materialize. After earnings, does EA blow-up, or does it act more like NOW did last Thursday, or does it gap-up like FSLR on Friday? We shall see, but understanding what might occur after earnings and how to react to it before the report is necessary for having a game-plan. Otherwise, you're just staring at your quote screen missing opportunities where and when they are at times least expected. Empower thyself!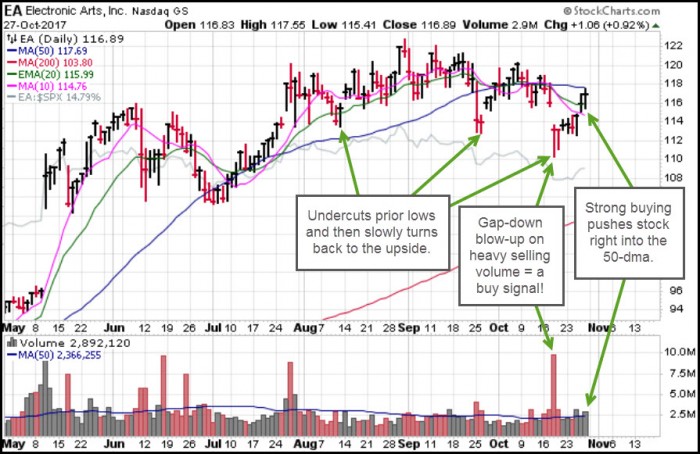 We will see a number of big-stock leaders and so-so leaders reporting earnings this week, including EA's cousins. Activision Blizzard (ATVI) is expected to report on Thursday, November 2nd, after the close. Here we see that the stock already posted two five-day pocket pivots over the past week, the first occurring at the 10-dma/20-dema confluence and the second on Friday as the stock pushed above the 50-dma. This move on Friday was also a clear moving average undercut & rally set-up (MAU&R). Maybe this breaks out before earnings on Thursday, but my guess is it will be heavily influenced by EA's report on Tuesday. Keep an eye on this as well - if it wasn't reporting earnings this week I'd be all over this MAU&R long set-up at the 50-dma.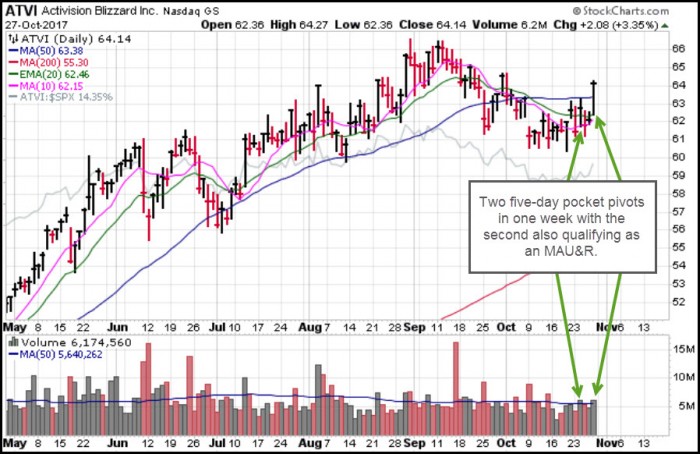 Take-Two Interactive (TTWO) the de facto near-term "monster" among the video-game names that has remained on our Focus List, is expected to report during the following week on Tuesday, November 7th, after the close. Note that the stock posted a continuation type of pocket pivot on Friday on about average volume. Obviously, we don't want to be chasing strength here since TTWO will also likely be influenced by EA's report on Tuesday. However, I think it is important to watch how EA reacts to its own earnings reports, and whether this sets up any opportunities in it or its cousin-stocks on Tuesday after the close.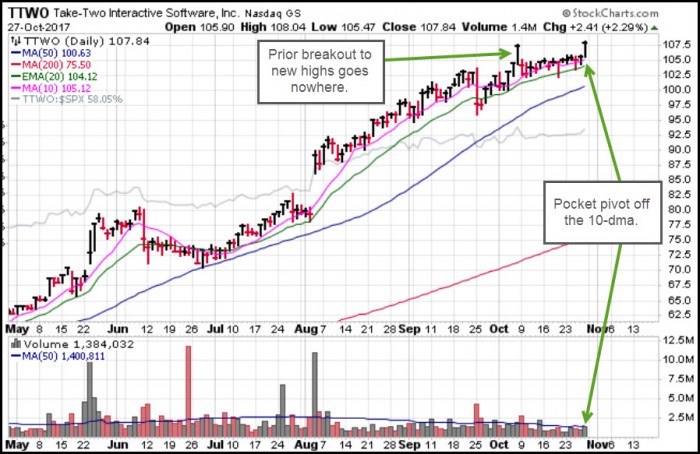 Among names we've discussed in recent reports and in our webinars, we are expecting to see EA report on Tuesday along with ATI and SCHN, CAVM, FB, TSLA, and YELP on Wednesday, and ATVI, BABA, AAPL, ANET, DATA, and OLED on Thursday. My suggestion is to review the charts of all of these in detail, along with names on your own long watch list that are reporting this week. Understand both the daily and weekly patterns, particularly with respect to any OWL-style Ugly Duckling permutations that might arise, and have a game plan for each once earnings are reported. My guess is at least one of these will present another FSLR or NOW type of opportunity. If you missed those, don't cry, just resolve to find the next one, because as Dr. K is fond of saying, in the stock market, the next opportunity of a life time may occur at any time. So get to work!