The VoSI VooDoo Report
Offbeat Ideas and Commentary from the Depths of Gil's Trading Notes
Notes on Nutanix (NTNX)
Nutanix (NTNX) is a name we've had on the Focus List at various times, and most recently the stock gapped up on huge volume in a standard base-breakout move. If you saw that move in real-time, the opening price of 24.13 was 82 cents above the 23.31 close of the prior day. The 40-day Average True Range at that time was 95 cents, so the 82-cent gap-up move was greater than 0.75 x the 40-day ATR of .95. Thus NTNX was a buyable gap-up at the open that day.
The interesting thing here is that with two prior breakout attempts in the pattern that both failed, it may have been difficult to act on at the open as one may have lost interest in the stock by then. But sometimes, the third time's the charm, and by the close on Tuesday, NTNX was sitting at at 25.61, It has since moved as high as 27.33 before settling in to close the week at 26.62. While someone alert to the BGU in real-time could have acted on it, the move also constituted a standard O'Neil-style base breakout through a 24.97 buy point. For this reason, pullbacks closer to that price level, as we saw on Thursday, would be more buyable, since the stock is technically just out of "buying range."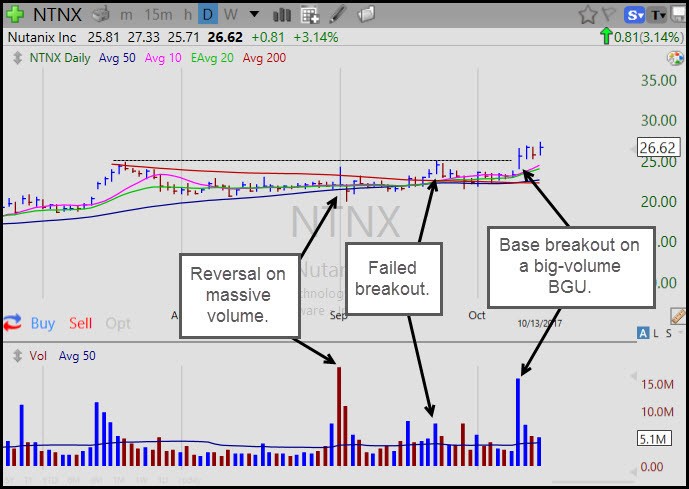 On the weekly chart we can see a strong cup-with-handle breakout. Notice also the pattern of accumulation on the weekly volume bars over the past several weeks, I have arrows pointing to the four biggest upside volume weeks in the pattern. but I count at least nine weekly volume bars that are above-average, indicating lots of accumulation off the lows.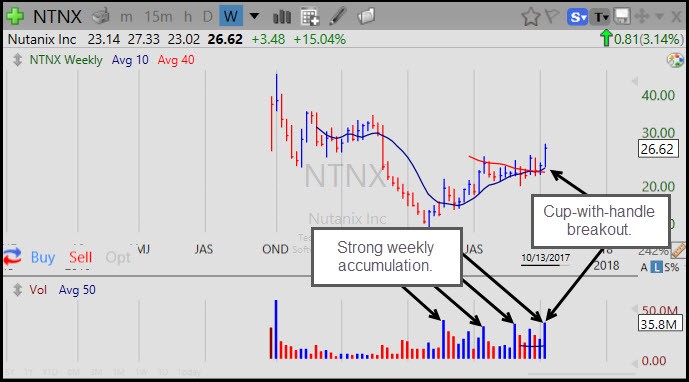 The reason for this latest breakout attempt, which is so far acting better than the prior two breakout attempts (is this the Rule of Three in action?), was a buy recommendation from analyst firm William Blair on Tuesday, citing strong channel checks. On Friday, Oppenheimer was also out positive on the stock:
https://finance.yahoo.com/news/analyst-4-reasons-why-nutanix-174313453.html?.tsrc=rss
When analysts get behind a stock like NTNX, which has cutting-edge technology, it can have a positive effect, especially when the analyst chatter is being driven by several who are seeing strong trends in the company's business. In addition, NTNX reported on September 28th that it had rejected buy-out offers from Cisco Systems (CSCO) and Hewlett Packard (HPE).
For that reason I think you have to take this recent breakout at face value, and so pullbacks closer to the 25 level would be buyable, although anything under 26.21 would bring the stock within 5% of the 24.97 "buy point." I'm not sure how well this sort of thing works in this market, but I know one thing, which is that if I saw some kind of sharp yank closer to the 10-dma or just below the 24.97 "buy point," faking out the breakout buyers, I would be all over NTNX.