The VoSI VooDoo Report
Offbeat Ideas and Commentary from the Depths of Gil's Trading Notes
Bitcoin has been selling off a little bit lately, but given the huge run from our original entry at $4.60, the
Grayscale Bitcoin Trust (GBTC)
is entitled to a period of consolidation. I've noticed that it tends to be sloppy around the various moving averages, so the fact that it failed to hold the 50-dma yesterday doesn't necessarily surprise me. However, note that it reached a low of 12.04 yesterday, undercutting the prior late July low at 12.10, and then rallying back above that low today to close at 12.71. That sets up an undercut & rally long set-up here using the 12.10 low as a selling guide. Overall, GBTC is just moving in a sideways consolidation and is bouncing along the lows of that consolidation.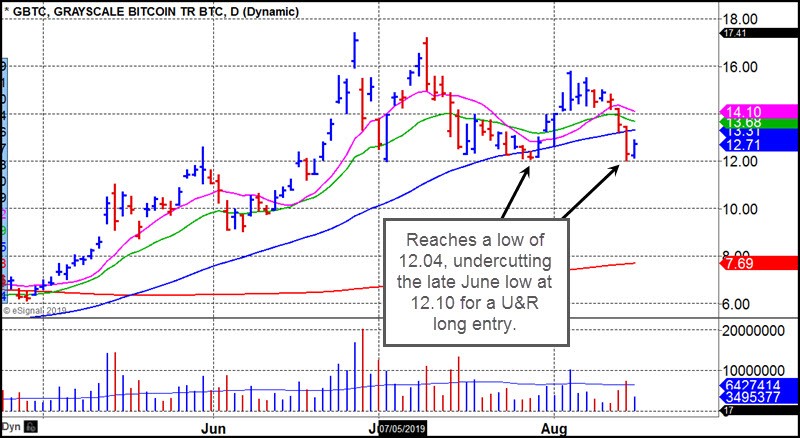 With the indexes taking some hit this week, formerly leading stocks have also taken hits of their own.
Advanced Micro Devices (AMD)
was looking quite strong last week, but things have taken a turn for the worse this past week. This is why we do not chase strength in this market, and we most certainly don't chase breakouts. AMD attempted to breakout last Friday, and that was met with a barrage of selling that sent the stock gapping below its 50-dma yesterday. However, note that today it filled the prior gap of last week, just barely undercutting the lows of the gap-up rising window at 29.28 when it posted an intraday low at 29.21. It closed at 29.67, and in my view this is a much better potential entry than chasing last week's breakout. In this case, risk is kept much tighter by using the 29.28 low of the gap-up rising window as a selling guide, and then looking for a move back up through the 50-dma as confirmation.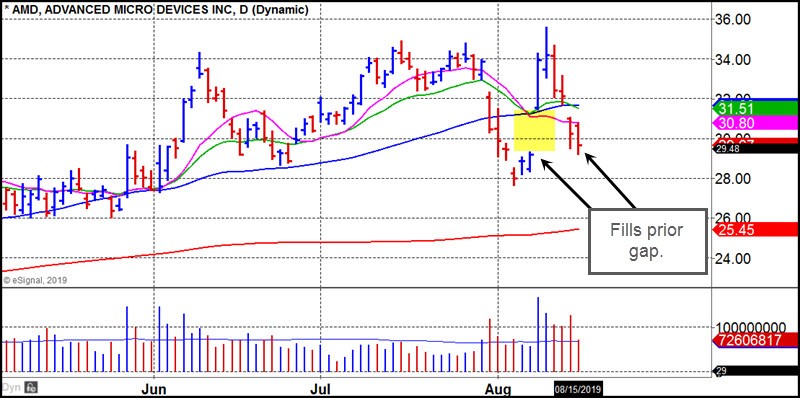 Here's another gap-fill on a pullback in
Sunpower (SPWR)
. The low of the prior gap-up rising window was at 12.15, and SPWR hit a low of 12.07 yesterday and closed today at 12.41. If the general market has a short reaction rally, then this is another Ugly Duckling set-up that may have a reasonable chance of working as a swing-trade, at the very least. Risk can be kept to a minimum by using the 12.15 low of the gap-up rising window as a stop.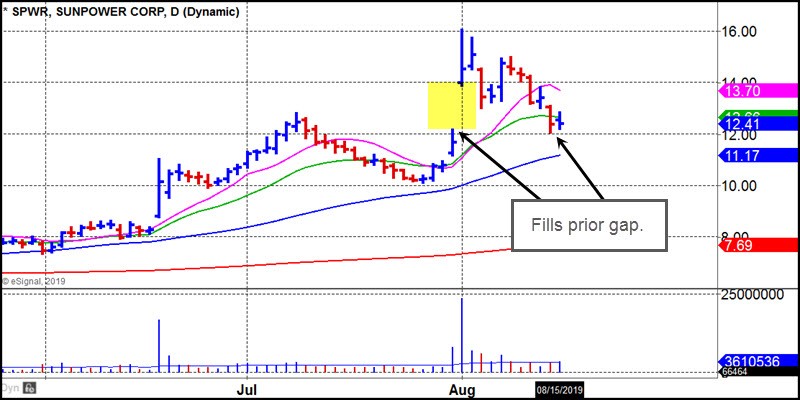 Look for these types of gap-fill set-ups among stocks on your prior long watch list. Leading stocks that fail and roll over with the general market can often fill prior gaps or post U&R long set-ups along their lows, particularly when things look their ugliest. In many cases these offer reasonable swing-trades, and sometimes more if any market reaction rally off the near-term lows builds into something more substantial. Think Ugly Duckling.