The VoSI VooDoo Report
Offbeat Ideas and Commentary from the Depths of Gil's Trading Notes
Here are a couple of set-ups I'm seeing in beaten-down Opticals, Applied Optoelectronics (AAOI) and Lumentum Holdings (LITE). Beaten-down former leaders often come rallying up off their lows after being pulverized to a fine powder in Ugly Duckling fashion. The first, AAOI, is showing us a big bottom-fishing pocket pivot about two weeks ago that comes on the heels of a big, fat, oversold gray "Bingo" indicator bar. That indicator was devised by my late friend, Ian Woodward, one of the older brains (there are several) behind HGS Investor Software, my "weapon of choice" when it comes to finding long set-ups.
Now the stock is holding tight along the 20-dema as volume dried up to -59% below-average on Friday. For those who are so inclined, this might be worth a shot using the 20-dema as a tight selling guide.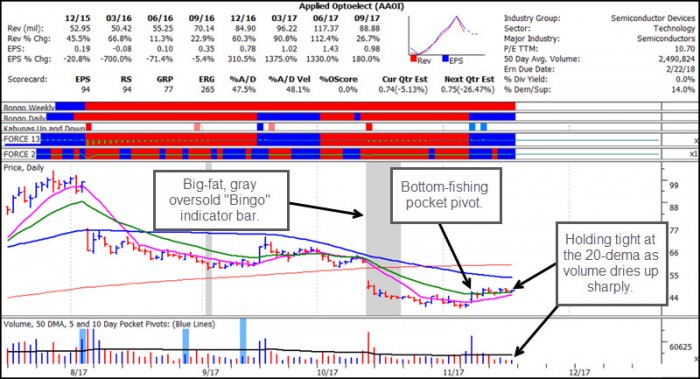 Here we see LITE undercutting some prior lows in the pattern from mid-October as it also bounced off the 200-dma, triggering a U&R long set-up at that point. On Friday, the stock found support along the 10-dma, which is tracking just below the 50-dma. A move back up through the 50-dma might confirm this as a potential rally back up to the prior highs, but the bottom line is that this is actionable here on the basis of the prior U&R up through the prior 54.45 low. One could use that as a selling guide or keep things tighter by using the 10-dma.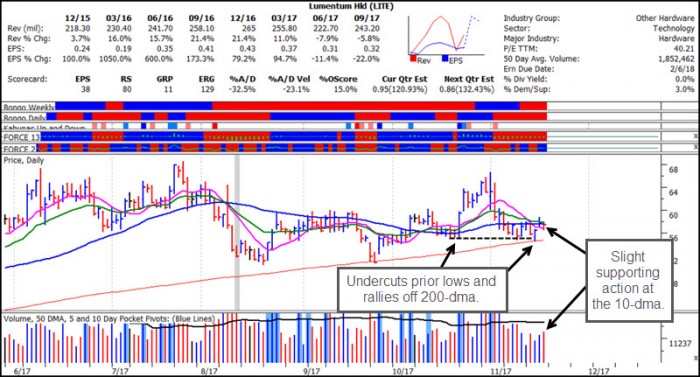 These are the types of unorthodox OWL/Ugly Duckling (yes we have a thing for ducks and owls), set-ups that often work in this market, at least for decent upside trades. Often, the trades that you get from these types of set-ups results in moves that are much more profitable than anything you might see after a standard O'Neil-style base breakout.Such is the nature of this highly-rotational, QE-infused Ugly Duckling market!