The VoSI VooDoo Report

Offbeat Ideas and Commentary from the Depths of Gil's Trading Notes

Roku (ROKU)
has been busy over the past two months trying to build a new base after a huge upside move. Remember that I first discussed in a ROKU in a Voodoo Report back when it was trading under 20 in early November. Since then the stock had a huge move. It is scheduled to report earnings next week, but ahead of earnings I note that it is holding tight along its 10-dma as volume dried up to -79.3% below average today. An interesting set-up looking for a pop ahead of next week's earnings report.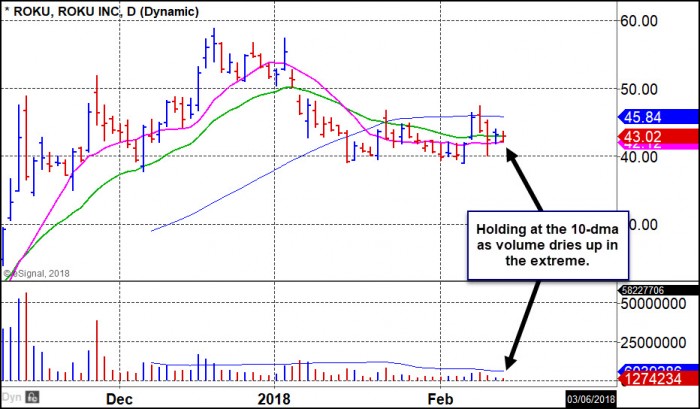 Another one that I think bears watching here is
Abbvie (ABBV)
which recently failed on a big-volume buyable gap-up (BGU) move. The stock is tightening up here along the 20-dema after shaking out to the 50-dma last week during the market sell-off. While selling volume hasn't dried up in the extreme, it has steadily declined as the stock tightens up along the 20-dema. Thus, if the market rally continues from here, this might recover off the 20-dema, making it buyable along the line while using it as a tight selling guide in case it doesn't work.