The VoSI VooDoo Report
Offbeat Ideas and Commentary from the Depths of Gil's Trading Notes
I hate meme stocks. Even if I make money in one, I still hate them. That's because even if I do catch one and make some decent coin, there's always two handfuls of other similar meme-stocks that had bigger moves. One member mentioned CXApp (CXAI) as an addition to the meme-stock watch list that has burgeoned in the current market environment. The stock even adorns itself with the shiny bauble of having "AI" in its symbol, prefaced with a mysterious and high-tech sounding "CX," and is a good example of what I am talking about.
Basically, I hate meme stocks because they make me feel like such a loser. Amid all the volatility and uncertainty of the whole meme-stock mania, it is easy to feel very, very lucky if you make even 20-30% trading one of these heaters. But along comes CXAI and we can see how it posted a 1,212.5% gain in just two days back in early April, and more recently a 113.99% move in another two days.
Okay, I can see missing the first move, as one might have been less than impressed with the pattern headed into early April, but the stock certainly had that classic Meme Signature, which is a pattern where it goes tight sideways forever primarily because nobody really cares about the stock, so no one is trading it. Average volume is around 8-9,000 shares, meaning that CXAI was basically trading by appointment, as we older traders like to say. When volume does pick up, it is to the downside, and CXAI blows apart, dropping from the $10 area where it had been living forever, to a low of $1.20. That's an 88% loss in just a couple of weeks, which I could understand for a regional banking stock, but an AI stock staring over the horizon and into the dawn of the AI Meme Age?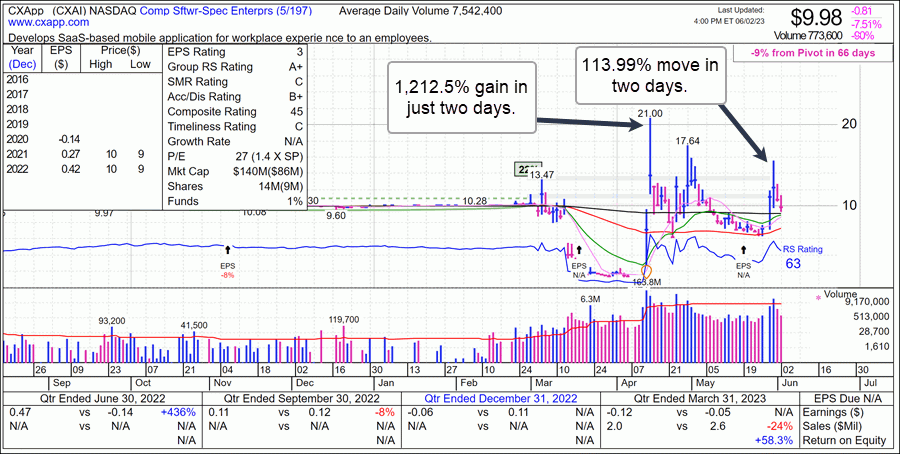 So now here it comes, pulling in, right into the 50-day moving average with the 10-day and 20-day lines just below but rising rapidly. Volume on Friday dried up in extreme VDU fashion at -89.7% below average. Is this the next big entry point? You decide!
There is a certain irony in this messy chart that gains some clarity on the weekly chart. CXAI closed Friday at $9.98 a share, exactly where it was before it blew up early March and headed for a final $1.21 low on April 11th. Three days later it hits an intraday high of $21.00. This is what we refer to as the meme-stock Poofkaboom move. First it goes Poof! then it goes Kaboom! Often, this can be followed by the Kaboompoof retracement, although in extreme meme environments, this can take a lot longer to deflate, as we saw in 2021 with the EV, SPAC, GameStop, and Space memes.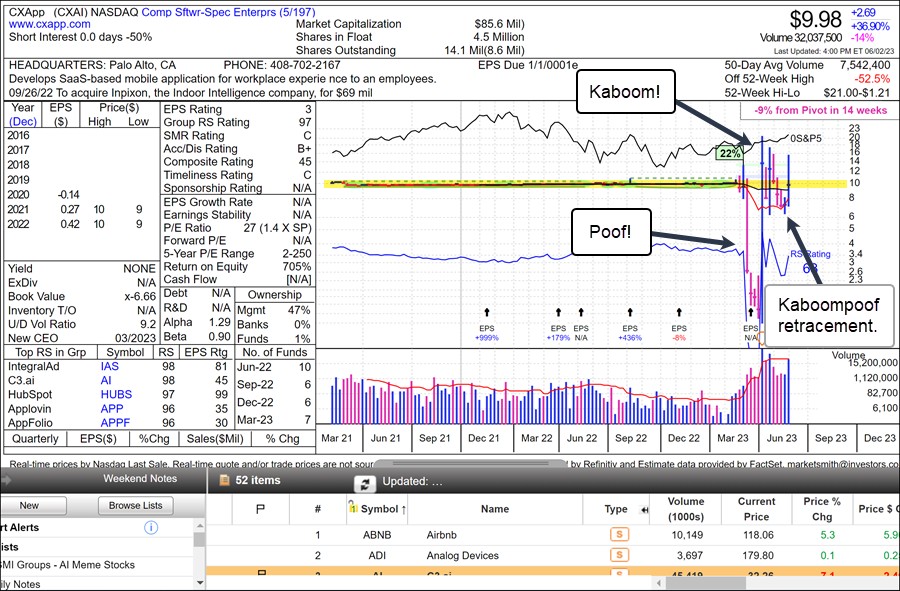 The hard reality about most meme stocks is that the absurd upside movement is often followed by similarly absurd moves to the downside, or just general price action that creates a 50% volatility band. Get long at the wrong time, and you can get sliced and diced quite efficiently. What might make the current AI meme theme less dangerous, but also less profitable, at least in hindsight, is that it is occurring among more established tech names, with earnings and sales, and real products. This may be constructive, or perhaps a newer more ominous strain of the dreaded Meme Virus that will, in its own twisted way, have consequences of as yet unknown.
Meanwhile, my custom VPA chart view on HGS Investor Software shows CXAI posting some interesting VPA action on Friday. As Maxwell Smart would say, "Ahhh yesss, the old pseudo upthrust trick!" I hate meme stocks, even when I love them.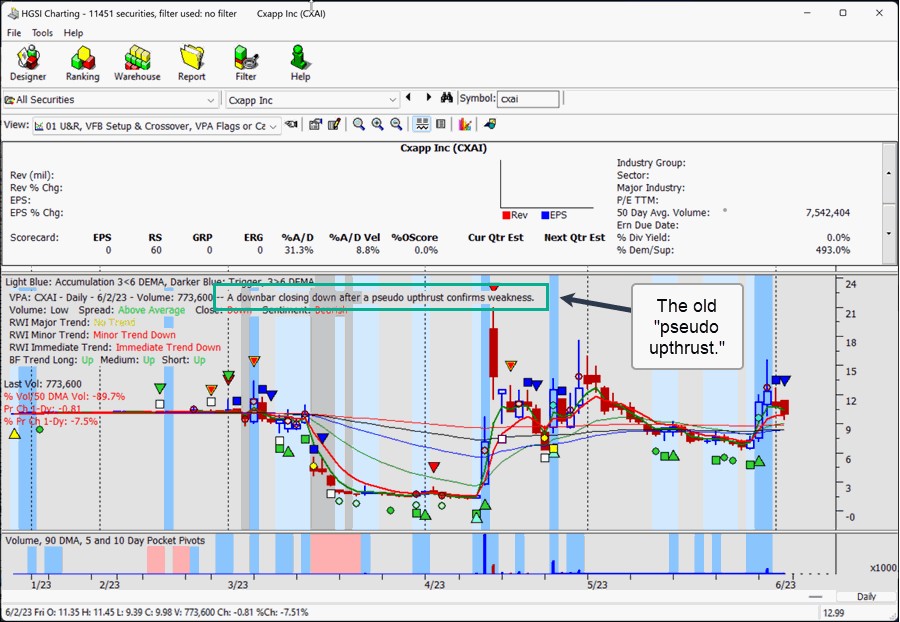 Gil Morales
June 4, 2023