by Dr. Chris Kacher
Riding the Revolutionary Rocket with Cryptotechnologies... Entirely Evolutionary™
There's a big difference between the sources of wealth between Wall St and cryptotechnology. Bankers made their money stealing from the public. Crypto made its money stealing from banks. So it should be no surprise that people trust Satoshi Nakamoto, the creator of bitcoin, more than they trust the U.S. Federal Reserve:
https://www.ccn.com/people-trust-satoshi-nakamoto-more-than-us-federal-reserve-nyse-owner
Well, obviously. Or "It's about time!"
Satoshi launched bitcoin in 2009 to address the financial collapse of 2008 though its overarching purpose was to decentralize power by removing the need for
trusted third parties (TTP)
so all such artificial market manipulations that led to such bubbles would be eliminated. After all, central bankers made their money stealing from the public while bitcoin made its money stealing from banks. As Changpeng Zhao, CEO of Binance, the fastest growing exchange in the world, recently said that when central banks print money, they are effectively reducing the value of each person's bank account. If they took money directly out of each person's bank account, people would complain. Yet when they print more money, people don't complain. He sees this as illogical.
As shown in the chart below and as I wrote in an earlier
piece
, given the exponential price rise of bitcoin, it should exceed the US M1 money supply by 2022. In other words,
it will overtake the world's reserve currency by 2022.
Note, Bitcoin Money Supply = Bitcoin Market Capitalization. The steep exponential trajectory shown below is equal to the rise in price of bitcoin. While the slope of the chart below has been slowing somewhat, other
factors
may sustain or steepen the current slope.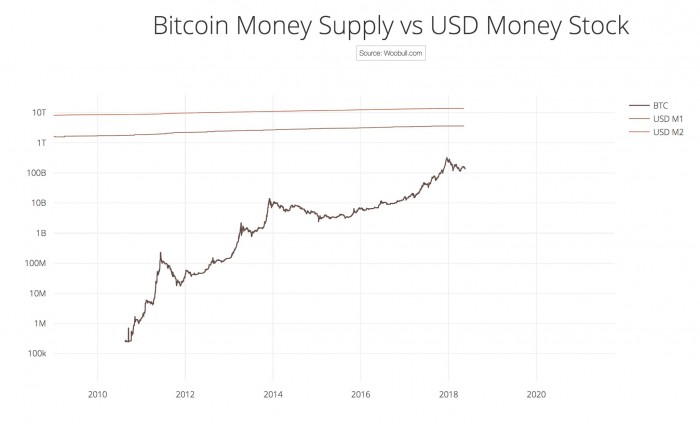 That does not mean we will not have future bubbles, but those will not be government induced. Bitcoin is a prime example. It has had numerous bubbles since 2009. It often loses between 66% to 94% of its value each time its bubble bursts. It is the only vehicle in the history of speculation that has had such massive bubbles which burst
then was able to eventually make new highs.
This explains how $1 invested in bitcoin in 2009 (at an average price of $0.001) currently is worth about $8.5 million. Every other bubble whether it be the infamous South Sea Bubble or Dutch tulip craze found its end
the first time
their respective bubbles burst.
Bitcoin's most recent bubble burst in December 2017 and is currently off about 56% from its prior peak. We are about 6 months into the current base formation. How much lower and how long it will take before bitcoin turns around and achieves new price highs is difficult to predict as many factors are at play, but demographically, as more institutions and individuals start using bitcoin in trading/speculation, store of value, or transactions, its value should rise once again. Indeed, some 3 billion people over the next few years who are unbanked or marginally banked will start using bitcoin via services such as Bitpesa.
Further, as central banks find QE less effective, devaluation will be the next step. This is based on Ray Dalio of Bridgewater's study of long term debt cycles. We are at the tipping point of one at present. Devaluation will further help the price of bitcoin as it is deflationary thus a better store of value than gold. It is deflationary in the sense that no more can be minted while some are lost due to misplaced keys. This is the opposite of fiat which is inflationary since money printing is always a constant. It is just a question of how much money is bring printed at any given time. At present, QE is still near record levels as global central banks have no choice but to continue to print as the can continues to get kicked down the road ad absurdum and ad infinitum.
(͡:B ͜ʖ ͡:B)