Market Lab Report / Dr. K's Crypto-Corner
by Dr. Chris Kacher
The Metaversal Evolution Will Not Be Centralized™
There has been much recent FUD about bitcoin's 21-week exponential moving average. The fear is it will close below this important line. In past bull markets such as 2016-2017, bitcoin always closed above this line up until early 2018 when it closed below this line after the major top it had achieved in Dec-2017.
But take note. I published an
article
in Mar-2019 as the Dec-2018 low of bitcoin was most likely a major low, ie, the end of the bear market and the start of the new bull market. Bitcoin was still trading below $4000 at the time. Since then, bitcoin has closed below its 21w-ema a few times, including in Mar-2020 when Maker DAO was hacked. The selling was intense, causing exchanges to freeze. We have replayed this situation most recently as I discussed
here
.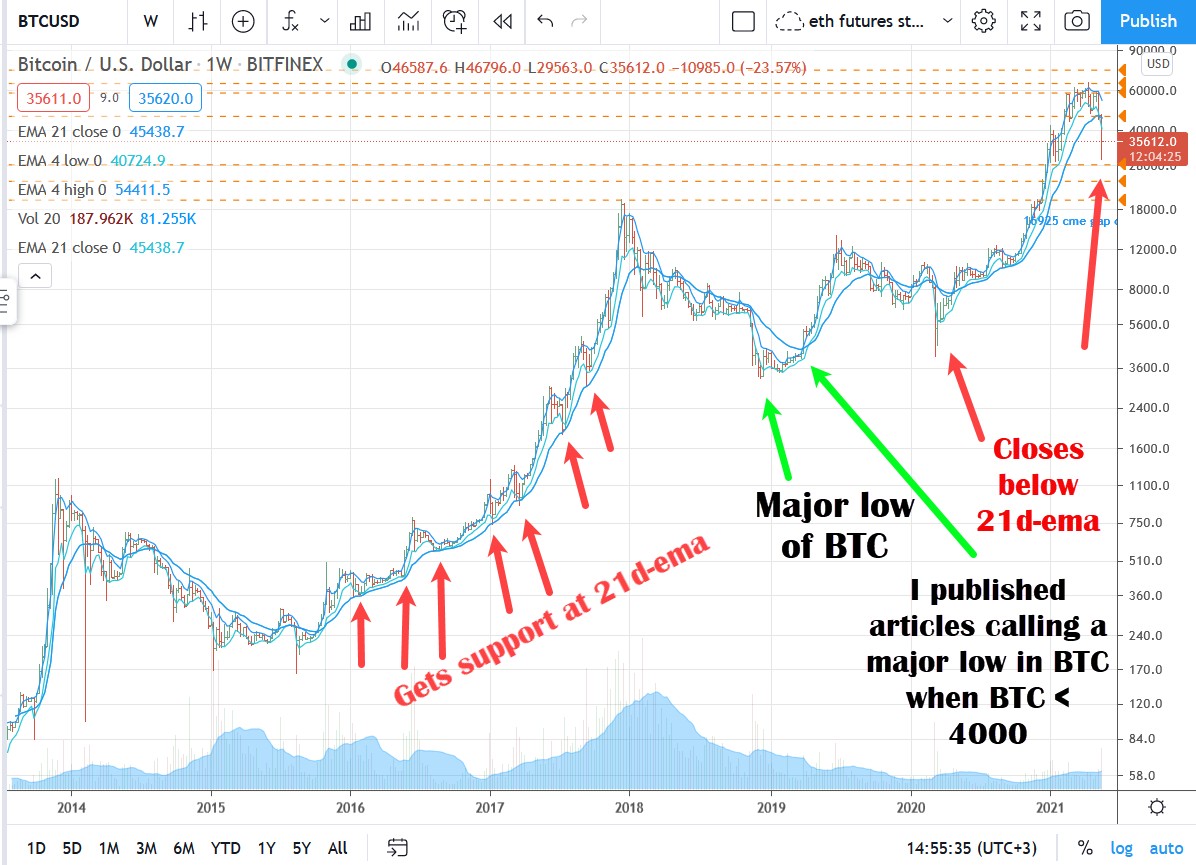 It is therefore likely, new black swans notwithstanding, that the crypto market will head higher from here. Bitcoin is retesting recent lows much as it did back in Mar-2020. Will we get the sharp V-bounce seen post Mar-2020? Some things to consider:
=Back then, a strong acceleration in stimulus to address the COVID pandemic helped rocket cryptos and stocks.
=This time, we have 3 stimulus packages under Biden's presidency totalling $6 trillion which should provide strong tailwinds.
=Further, COVID vaccinations are taking effect enabling businesses to reopen en masse overall.
=We also have massive utility in this bull market via DeFi, NFTs which transform private ownership, and other major blockchain technologies compared to prior bull markets where most of the utility was only in theory.
=S2F suggests bitcoin should reach at least $300k in this bull cycle. Since bitcoin tends to overshoot, it could hit $500k for an instant. $300k is 9x from current prices. Ethereum therefore with its EIP-1559 coming in July that will make it deflationary thus add to its scarcity, as well as 2.0 coming next year, could very well do twice the performance of bitcoin, or 18x, for a peak price of at least $36k.
Stay tuned.