Dr. K's Crypto-Corner
by Dr. Chris Kacher
The Revolution (Evolution) Will Not Be Centralized™
Bitcoin has a number of factors in its favor as I discussed
here
though remains greatly overvalued as I discussed
here
. Among the factors in its favor are store of value, limited supply, and growing utility, but one factor puts bitcoin leagues ahead of the other cryptocurrencies. Bitcoin's hash rate is orders of magnitude greater than all the other coins combined.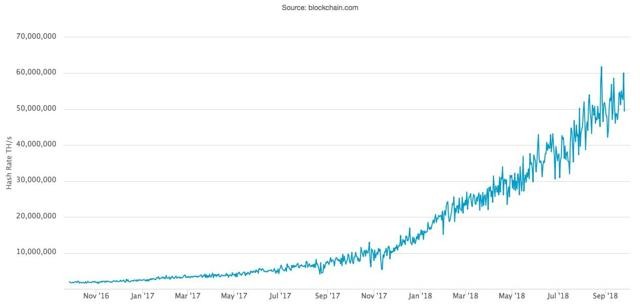 So despite the bear market in the cryptospace, bitcoin's usage continues to climb. It is only a matter of time before bitcoin finds a major price low, spurring on the start of a new bitcoin/blockchain bull market. Bitcoin's price remains stronger than the other cryptocoins taken as an aggregate as bitcoin's percentage of market capitalization, ie, its dominance, has risen all year. It is currently just above 50% as shown in the chart below, up from a low of 32% due to the onboarding of many ICOs onto Ethereum's blockchain in 2017.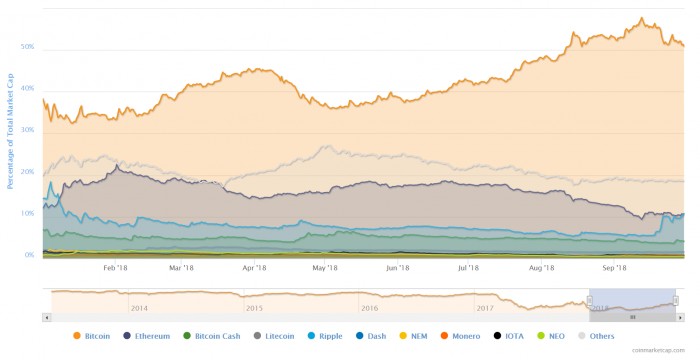 Which begs the question... how well can other coins co-exist with bitcoin? While other coins such as Ethereum, Ripple, and Dash which currently co-exist with bitcoin may continue to do so well into the future, one should not rule out the possibility that bitcoin may become the equivalent of TCP/IP which eventually became the infrastructure of the internet, dominating all other technologies at the time, and it managed to do this despite its technical inferiority. But it had first mover advantage thus achieved the required network effect which kept it in pole position.
Nevertheless, some rightfully say bitcoin's scalability remains an issue. Indeed, in bitcoin's present form, it would be an inferior technology with vastly lower scalability rendering it useless as a practical transaction tool. But with the onboarding of Lightning layering technology, bitcoin's scalability will eventually even surpass that of Stellar, the 6th largest coin which competes with Ripple and can transact at 3-times the processing speed of SWIFT.
In addition, other bitcoin add-on technologies such as Rootstock will enable other platforms to build on the bitcoin blockchain, thus duplicating and potentially dominating the efforts of Ethereum, EOS, Cardano, and other protocol platforms. But bitcoin's dominance of the network may have various ICOs and equivalents migrating over to the bitcoin blockchain because it offers superior security, privacy, stability, and immutability.
Furthermore, while Ethereum has had a number of forks where its fundamental rules were altered, the original bitcoin remains unaltered and fully decentralized. Certainly, while bitcoin may spawn the likes of bitcoin cash and bitcoin gold, it could be said that the original bitcoin is the only true decentralized currency. Interestingly, the SEC ruled earlier this year that bitcoin is not a security because it is decentralized. While the SEC also included ethereum as sufficiently decentralized, they could change this view in the future since Vitalik Buterin himself has declared himself a "benevolent dictator" in regards to the amount of ethereum that could be unleashed into the open market. Of course, he would do nothing to harm the evolution of ethereum but it does not change the fact that, unlike bitcoin, ethereum is technically not decentralized.
So a major price low in bitcoin should come once its market capitalization comes back in line with the number of transactions taking place. This could nicely trace out over the next 3 to 18 months. The chart below shows a proposed Cycle 4 with the logic that each cycle has been longer than the last, though keep in mind the many tailwinds at bitcoin's back that will be coming online may certainly shorten this cycle. Further, RSI as shown at the bottom of the chart could find its low in early 2019 much as it did in early 2015. This would imply an end to the bear market on the short end of the 3 to 18 month time span. But whether longer or shorter, a price of $3000 as the chart below suggests would make the correction about as deep as the one that started in Dec-2013.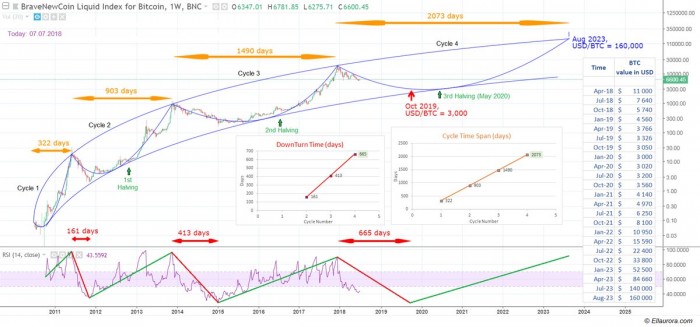 Over in stocks, we mentioned NASDAQ ticker: DOCU (Docusign) in our VooDoo report at http://www.selfishinvesting.com. DOCU is integrating blockchain technology onto its platform. Docusigned agreements are automatically written to Ethereum's blockchain which is not owned by any particular entity. Anyone with a copy of the agreement can check it against the blockchain to verify the copy's integrity against the original Docusigned agreement. DOCU is also going to use smart contract technology to digitize paper agreements. A smart contract is just lines of computer code which monitors incoming data which in turn may trigger the smart contract based on its pre-programmed rules. This form of automation greatly reduces man power and middle men. Finally, DOCU is also using blockchain technology for identification, ie, KYC/AML.