Market Lab Report
by Dr. Chris Kacher
The Web3 Evolution Will Not Be Centralized™
AI plays
AI would not be possible without data and that makes data the new oil as the most valuable commodity today. In consequence, massive demand for NVDAs chips continues due to technologies such as differentiable computing which revolutionizes software. Google's Bard will likely win against ChatGPT because it has massive distribution power, they understand how to index information better than anyone, have the largest ad network, plus can entice companies to do deals with them when using Bard by offering to include product links in the answers to questions users ask Bard. When Google puts Bard on their home page, they can attract traffic from its search engine which could increase cost-per-click because they will know so much about each user. This makes GOOG along with NVDA two of the top plays in the AI space. Other worthy competitors include the companies such as META, MSFT, AAPL, and AMZN that also sit on massive stockpiles of data they have been collecting for over 20 years that can be used to build hugely profitable ad recommendation engines, among other impactful areas.
One can use the 21-ema as a buying and selling guide for both stocks which obey this moving average. NVDA obeyed its 21-ema since January. Buying on pullbacks to the 21-ema keeps risk small as a sell stop can be placed on a violation of the 21-ema. I discussed NVDA in a
prior report
.
META has also obeyed its 21-ema since January. Its last two earnings reports were hugely bullish as they have repositioned themselves to take full advantage of Web3 and AI. Language-based generative AI applications are expected to be powered by a system called LLaMA, META's own answer to ChatGPT and Google's Bard. Unlike GPT-4, which has a reported one trillion parameters, LLaMA is deliberately designed as a smaller language model with its largest model trained on 65 billion parameters. This smaller size offers certain advantages such as requiring less compute power and resources for retraining in order to test new approaches and use cases. These smaller models have the potential to run on devices much smaller than cloud servers, such as personal computers or even smartphones. META also uses AI for targeted advertising on its platforms such as Facebook, Instagram, and Messenger. AI algorithms analyze user data to understand individual preferences, interests, and behavior, allowing Meta to deliver personalized ads that are more likely to generate engagement and conversions. Also, it is creating a more immersive version of the internet, featuring virtual reality (VR), avatars, and shared online experiences. META's own metaverse platform, Horizons, allows users to build their own homes and environments in VR. They believe that their generative AI technology will play a crucial role in this process. The idea is that users can simply describe the world they want to create, and the large language model will generate it for them. By simplifying the process of creating personalized virtual spaces within Horizons, META hopes to spur mass adoption with content creation this simple. It hopes users will transition from Facebook's traditional 2D platform to the 3D worlds of Horizons. This democratizing effect may act as a catalyst for Meta's large customer base to embrace the metaverse concept and explore new possibilities within it.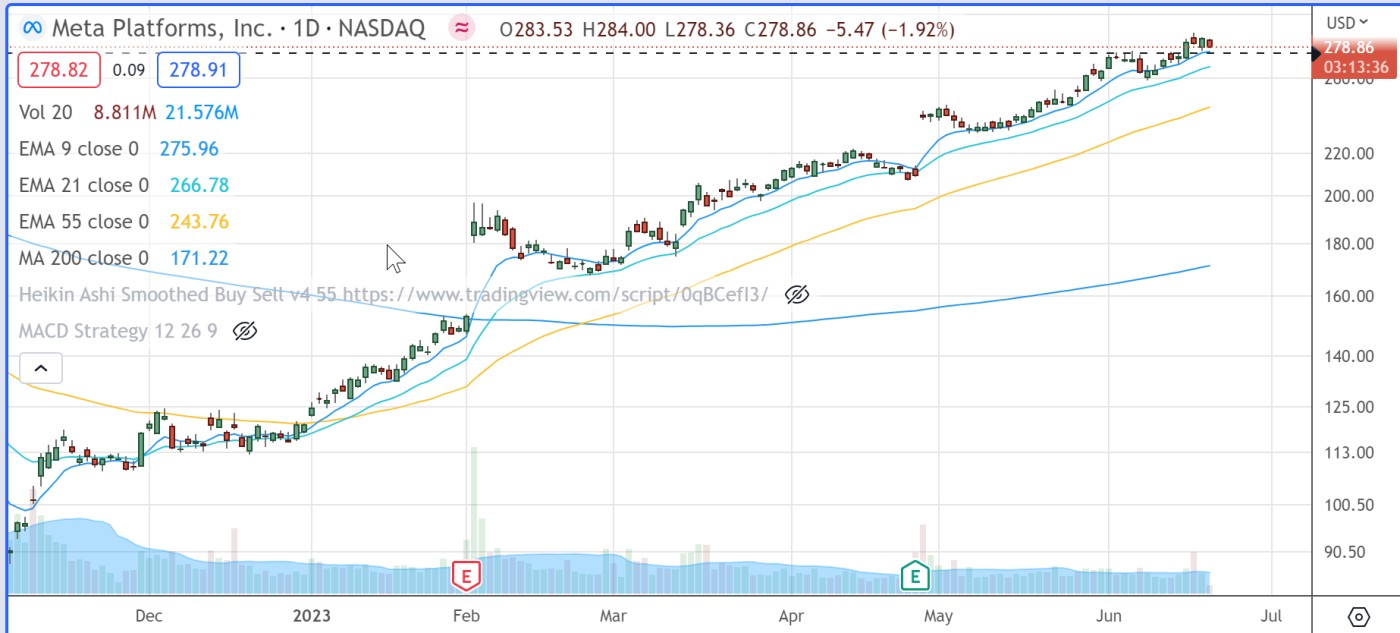 AAPL has obeyed its 21-ema since March. AAPL has a deep monopolistic moat that protects it from competitors especially with its app store and 30% take. Its devices use AI to position itself as a pioneer of in-device AI technology.
Siri
became the first widely used AI-enabled and natural language processing (NLP)-powered assistant. Recent upgrades use real-time, machine
learning-driven translation between 40 pairs of languages.
Web3 + AI can manifest truth
Ideas beget ideas and AI accelerates the creation of ideas. Scientific breakthroughs will expand. The creative arts will enter a golden age as new visions can be easily realized in a fraction of the time at a fraction of the cost. Eventually, anyone from student to career novice or pro to politician to government official will benefit from AI-based assistants, mentors, coaches, tutors, and teachers. And AI chatbots are proving to be better at human interaction with their limitless patience and empathy than actual humans. Users were falling in love with their Replika chatbots, calling them their perfect relationship thus establishing virtual relationships, and were heartbroken when the code was changed to exclude any romantic undertones.
The combination of Web3, AI and blockchain technologies hold great potential to create decentralized systems that are far superior to existing centralized systems. AI can contribute to the functionality of smart contracts by enabling advanced decision-making capabilities, such as data analysis, pattern recognition, and predictions. Moreover, generative AI can be combined with blockchain technology to create unique digital assets that can be monetized on a decentralized platform. The ultimate goal is to maximize personal and economic freedoms while minimizing casualties resulting from revolution or war. To achieve this goal, we need AI systems that recognize deep flaws and biases in human history and ideology. By using AI to verify truth versus lies in published articles and spoken words, we can hold writers, speakers, and publishers accountable for their content. Eventually, this truth-telling system could become a standard feature for all communication channels and social media platforms. Mainstream media could actually become a reliable source of news and information as it will have entered a golden age.

Inflation issues abroad
Inflation in the UK came in above expectations at 8.7% vs est 8.4% for the CPI while core CPI rose to 7.1% from 6.8%, above estimates that called for 6.8%. Core CPI is at its highest level since 1992.
In the EU, three key interest rates were raised 25 basis points also due to troublingly high inflation.
Bitcoin/GBTC
Two major catalysts have pushed Bitcoin higher- the potential of a Blackrock spot ETF and TradFi's new crypto exchange EDX involving Citadel, Charles Schwab, and Fidelity. Blackrock (~$10T in AUM) has huge political influence so could be granted the first Bitcoin spot ETF. While the US has been on a rampage against crypto with its Operation Chokepoint 2.0 which debanks crypto while the SEC sues exchanges, history shows the US has a way of favoring the largest institutions. The Dodd-Frank Act of 2010 was created to break up the "too big to fail" banks, but instead, the act prevented the creation of new banks so the big banks became even larger than they were at that time by the use of regulatory capture, insulation from competition, and the formation of a cartel. Lobbying groups accelerated the process. So Blackrock and EDX could be ways for the US government to keep the trading of just a handful of cryptocurrencies in the hands of the most powerful.
EDX is only for institutional investors and only offers Bitcoin, Ethereum, Litecoin, & Bitcoin Cash. This is a good way to hamper most cryptocurrencies from being traded in the US.
Meanwhile, other major asset managers want a piece of the crypto markets. Deutsche Bank (~$1.4T AUM) applied for a license to run crypto custody services, Invesco (~$1.5T AUM) filed for a Bitcoin ETF, and rumors are that Fidelity will apply for its own Bitcoin ETF.
It will be revealing if the SEC actually approves BlackRock's Bitcoin ETF and not Grayscale's who is embroiled in a lawsuit with the SEC for continuing to reject their Bitcoin ETF application.