Federal Reserve Chairwoman Janet Yellen remains clueless about why inflation remains persistently low, under their 2% target. Meanwhile, since last December, the U.S. dollar has been in its steepest downward trajectory since 2010, and is so far showing the weakest performance since 1985: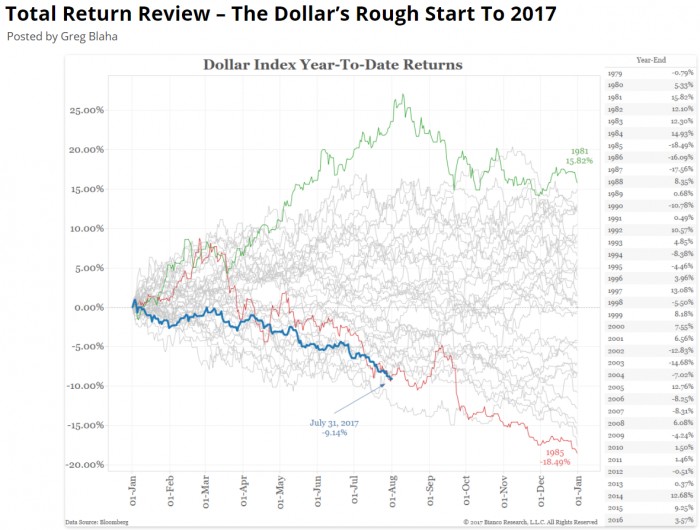 Click on the image to view a high-resolution version.
In other countries where hyperinflation has taken hold, locals and business have moved to transact primarily in dollars. This begs the question how much faster the dollar would be falling if it were not for these countries buying dollars.
In addition, money velocity is at all-time lows:

Money velocity is the rate at which cash is moving to our economy. It has been on a steep downtrend since 2008. So despite all the money being created since 2008 whether at home or abroad via global central banks, money velocity remains on a sharp downtrend. As long as this continues, the rate at which money moves into the economy will not spur an economic recovery.
This money creation has spawned the largest QE sovereign debt bubble ever, both in size and scope. The U.S. stock market is a direct beneficiary of this as it continues to push on a string into new highs as it has many times over the past few years. This artificial environment created by the Federal Reserve and global central banks by keeping interest rates at record low levels "will not end well," according to former Fed chair Alan Greenspan. Yellen can perpetuate the lie of a recovering economy because the Fed simply continues to artificially inflate the stock market which is then used as evidence. This has been ongoing now for several years.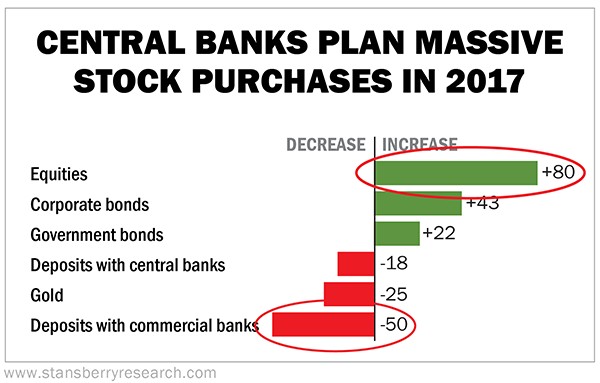 As a consequence, central banks are now the majority shareholders in major stocks. The money they have created is used to buy bonds and now stocks directly. The central banks also loan the money to the big banks who loan to the corporations who, in turn, buy back stock instead of investing in their businesses. It's the largest "legal" Ponzi scheme ever.
That said, one should not try to guess when such a bear market will come. At
Virtue of Selfish Investing
, the price/volume action in our stocks have always guided us to safety or to the short side where steep profits can come quickly as can be seen in our
Archived Reports
section. The market takes the stairs up but the elevator down. Fear is a more visceral emotion than greed.