Market Lab Report
by Dr. Chris Kacher
The Web3 Evolution Will Not Be Centralized™
Note on moving averages:
I use the 9ema, 21ema, and 55 ema for cryptocurrencies as my studies going back multiple crypto market cycles shows these work best compared to using the 10dma, 20ema, and 50dma which work best for stocks.
AI-meme stocks as well as major averages are at critical tipping points as shown in the
prior report
. The AI-meme stocks NVDA, AAPL, and MSFT have put in their worst performance in months. The NASDAQ Composite closed just under its 50dma on Wednesday with appreciable selling pressure.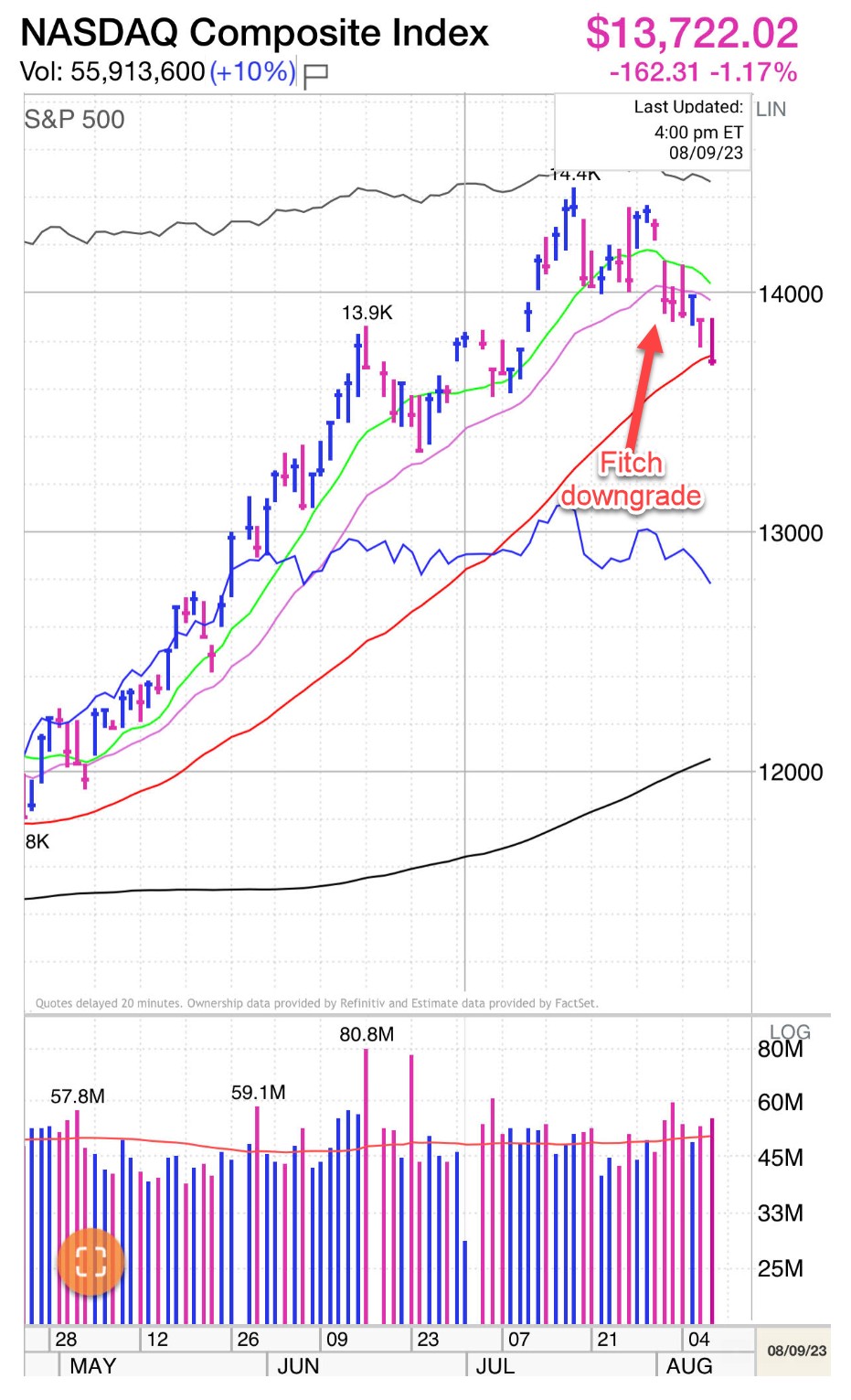 The S&P 500 has more headroom as it remains above its 50dma but then is somewhat less heavily weighted in these stocks.
Today's CPI report hits at 830 am EST. Month-over-month core CPI estimates are 0.2%, matching 0.2% the prior month. Year-over-year core CPI estimates are 4.7%, down from 4.8% the prior month. Should the number come in above estimates, this would raise the odds of another rate hike. Bond yields would therefore head higher putting further pressure on the stock market as higher yields attract more capital away from the stock market. The Fitch downgrade on Aug 1 caused 10- and 30-year bond yields to spike higher shown in the chart below prompting the recent selloff in the major averages shown in the chart above. The dollar is also likely to rally.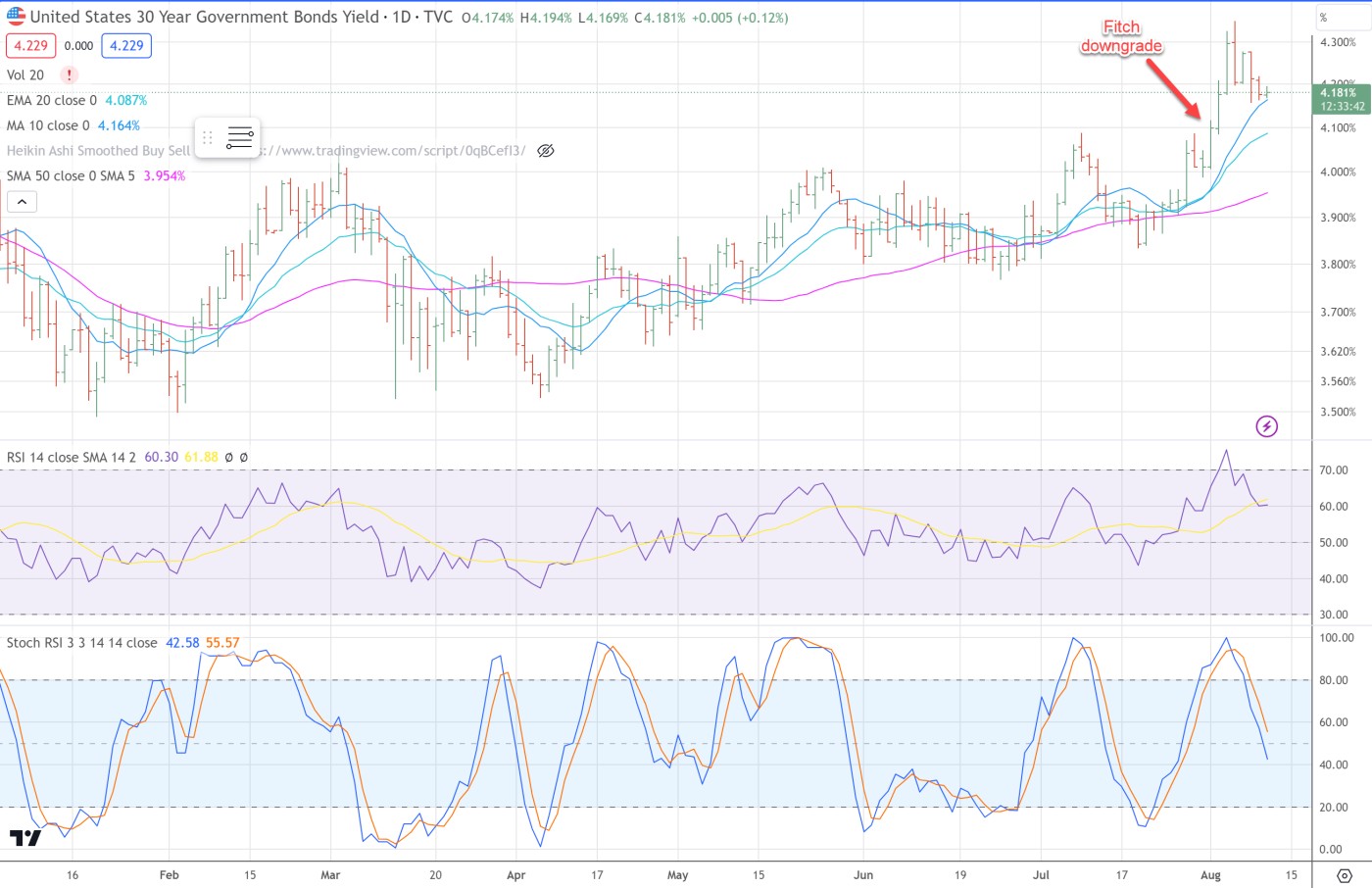 US and global liquidity both remain in downtrends.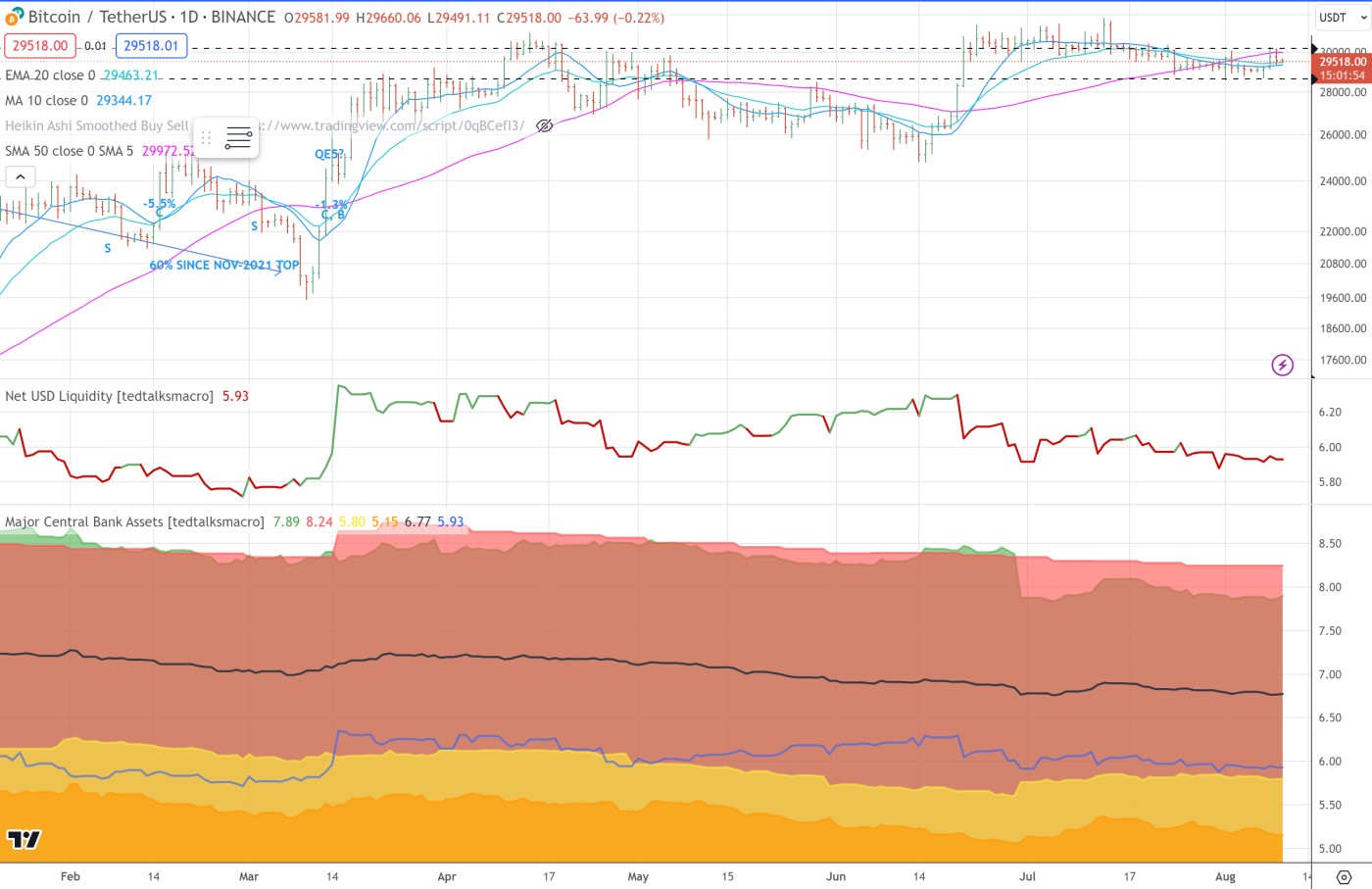 This could all trigger further selling in the major averages, AI-meme stocks, and cryptocurrencies. In consequence, the NASDAQ Composite which is struggling for support at its 50-dma is likely to fail. The same goes for NVDA which too is struggling for support at its 50dma. Bitcoin is likely to roll back over as it has been prone to do since the start of the year after it has had its sharp news-driven rallies.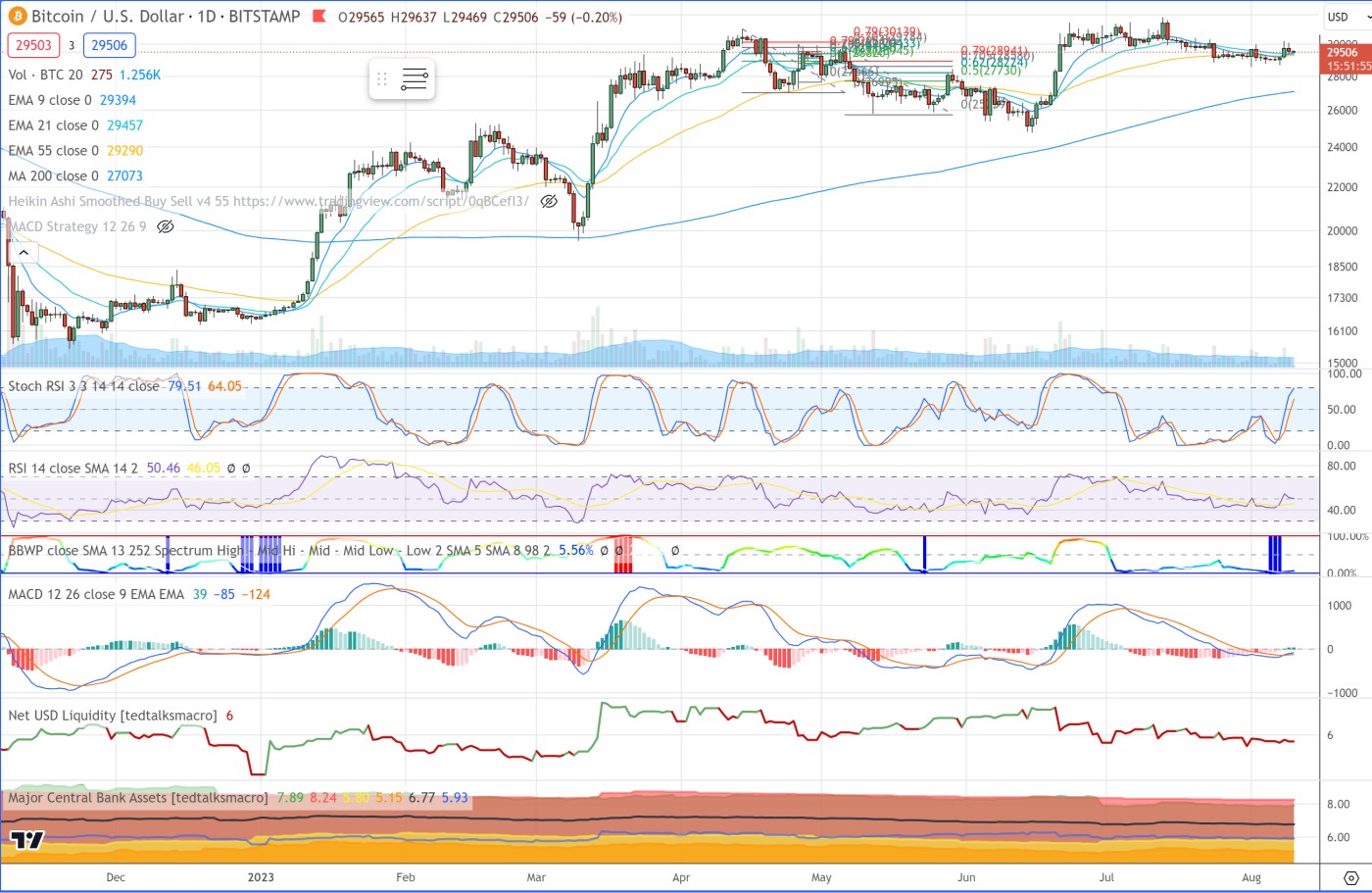 This sets up potential shorts in fundamentally weak cryptos such as PEPE which will likely roll over since it correlates with BTC and ETH but has shown weaker price performance overall. Further, since it is still up appreciably after its meme rally earlier this year, it has a long way to fall.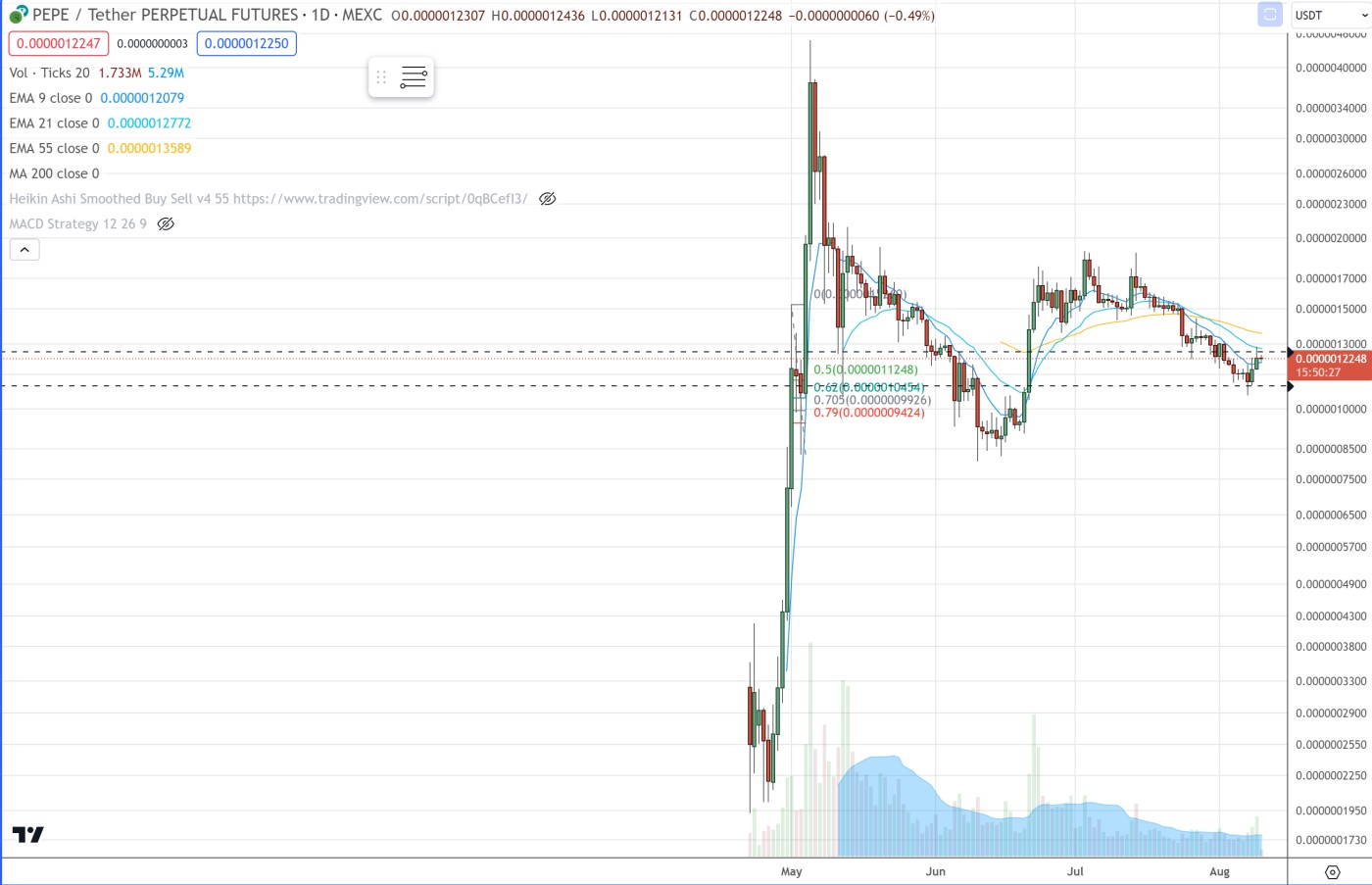 XRD is another crypto which is showing little signs of life. When BTC and ETH rally, XRD can barely budge any upside.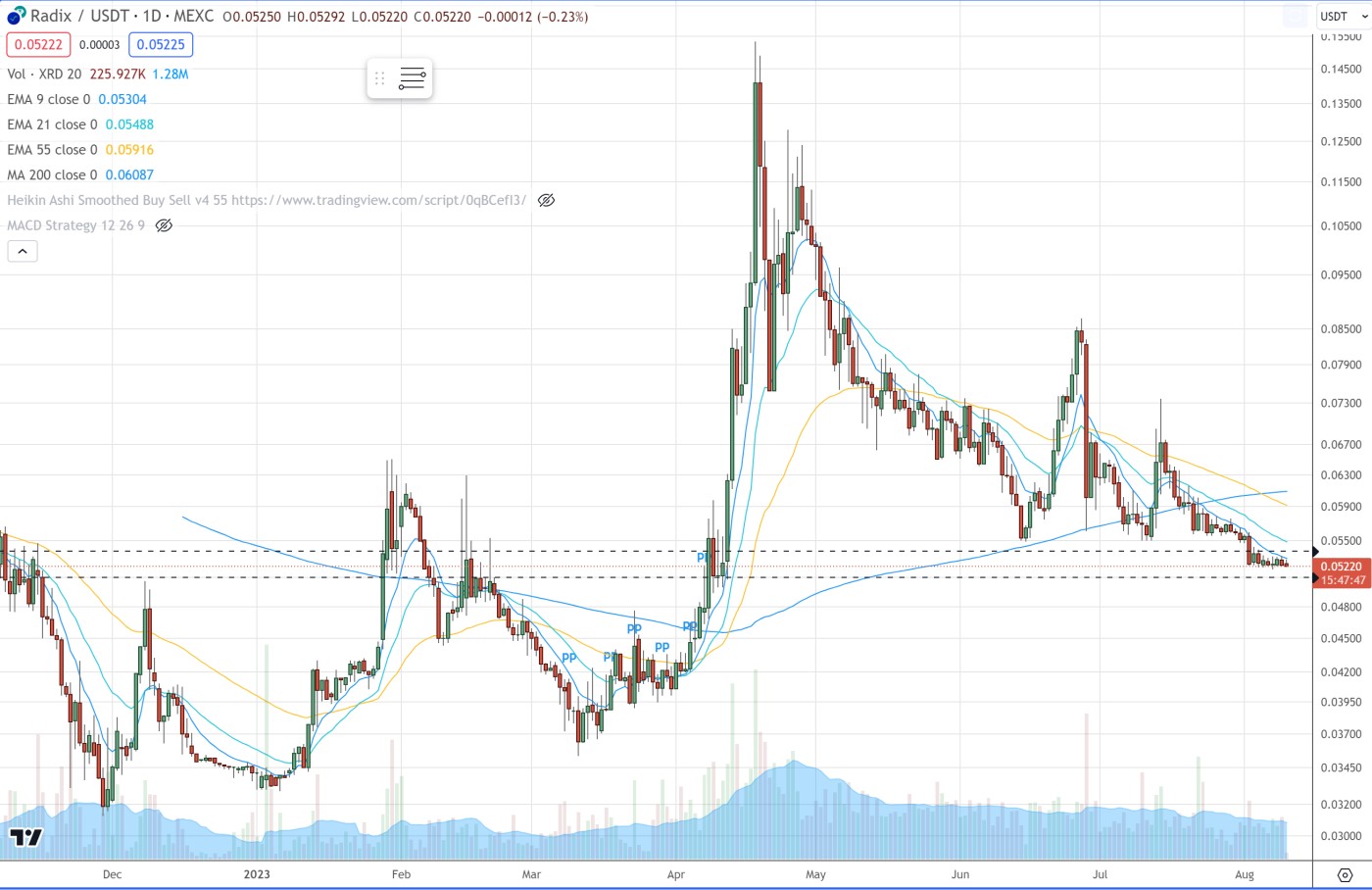 Keep in mind when shorting cryptos (and stocks) that short squeezes do occur every so often, so keep your stops tight. Such squeezes can make good shorting opportunities once the buying pressure has eased and the cryptocurrency has started to roll over again.
On the other hand, should the core CPI numbers come in under estimates, this could be an opportunity to accumulate positions in AI-meme stocks that are near areas of support such as NVDA. Keep in mind that the technical picture remains poor so the downtrend could continue despite weak CPI numbers. Matching CPI may be insufficient to restart the uptrend given where bond yields sit, so the downtrend could continue. Coming in 0.1% under estimates on either MoM or YoY could help stabilize the markets. Coming in 0.2% under estimates could restart the rally. Stay tuned.